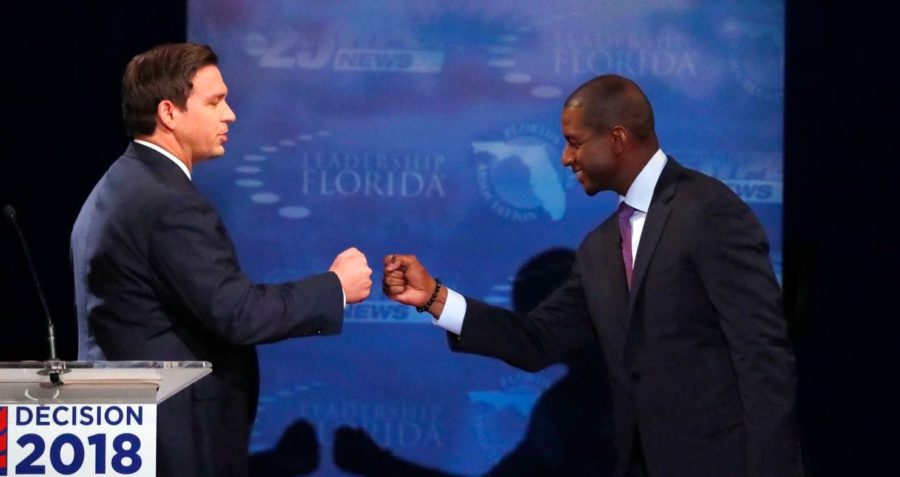 More than $106 million later, Republican Ron DeSantis and Democrat Andrew Gillum have all but wrapped the books on their eye-popping cash race for Florida Governor.
Each candidate closed their campaign accounts Thursday, recording just shy of $29 million between the two of them.
Florida taxpayers accounted for $4.5 million of that figure, as both DeSantis and Gillum accepted $2.3 million and $2.2 million respectively from the state's taxpayer-funded match program for their bids.
Each candidate's political committees are still active. But as of Friday, they combined for a total of more than $77 million raised.
DeSantis, the now-former congressman from Ponte Vedra Beach, raised about $1 million more than Gillum, Tallahassee's 'leadership mayor.' Gillum has currently raised $52.5 million, DeSantis $53.5 million.
In his individual campaign account, where donors are limited to a maximum aggregate contribution of $3,000 for each election, Gillum outraised DeSantis, reporting nearly $16 million to the former congressman's roughly $13 million haul.
But in their committees, DeSantis collected $40.6 million — about $4 million more than what Gillum's committee has reported.
DeSantis' big-money breakdown
DeSantis' much-expected wade into the gubernatorial race was preceded by news that he had corralled an extraordinarily affluent finance team, consisting of names like Palm Beach billionaire Thomas Peterffy, along with more than two dozen other wealthy individuals, notably topped by Las Vegas casino mogul and conservative political rainmaker Sheldon Adelson.
Before Friday, Petterfy and Adelson, or their close relatives, would combine for $710,000 collected by DeSantis' committee, Friends of Ron DeSantis.
Meanwhile, $5.75 million — more than 10 percent of DeSantis' total fundraising — would come from another billionaire, Kenneth C. Griffin.
Griffin is a Chicago-based investor, hedge fund manager and philanthropist who is also serving as the national finance chair for New Republican PAC, the political committee fueling Gov. Rick Scott's campaign to unseat U.S. Sen. Bill Nelson.
Isaac Perlmutter, the chairman of Marvel Entertainment, and his wife Laura accounted for $2.5 million collected by DeSantis' committee.
The Republican Governors Association, which as its name suggests supports GOP gubernatorial candidates nationally, chipped in $3 million to Friends of Ron DeSantis.
The RGA, by way of a different PAC, funneled another $7.6 million behind DeSantis, making their grand total investment in the state in excess of $10 million.
Progressives have money, too
Billionaires George Soros and Tom Steyer each combined for a total of $5 million — or about 10 percent — of Gillum's total fundraising.
Steyer, via his NextGen America PAC, would chip in $2.8 million to the Tallahassee Mayor's candidacy. Soros followed close behind at $2.2 million given.
The Democratic Governors Association, while still outdone by its GOP counterpart, kicked in $7.4 million to Gillum's committee.
Steyer's PAC had also pledged to spend another $5.2 million for Gillum and other "progressive candidates" in the state. If that spending is included, Steyer, of California, has spent $8 million in the Sunshine State this cycle.
Gillum also received $1 million from Slim-Fast founder and philanthropist Daniel Abraham and $1.5 million from financier and philanthropist Donald Sussman.  
Both Gillum and DeSantis demonstrated to Florida in the primaries how far they can stretch a buck.
Exhibit A: Agriculture Commissioner Adam Putnam, DeSantis' Republican primary opponent, put more than $30 million into his race, but lost to DeSantis, who spent around $16 million.
Exhibit B: Gillum doled out less than $7 million ahead of the Aug. 28 primary and won against the other four Democratic candidates for Governor — all of which had outspent him.
Billionaire Jeff Greene and multimillionaire Philip Levine unloaded $34.8 million and $26.6 million respectively from their own fortunes. Gwen Graham, who finished second behind Gillum, raised and spent more than $16 million.
As of Friday, Gillum had spent almost $47 million collected by his campaign and committee accounts, leaving him with about $5 million in the bank. DeSantis has spent more than $52 million and has about a $1 million on hand.
Election Day is Nov. 6.
__
Gainesville correspondent Drew Wilson contributed to this post.