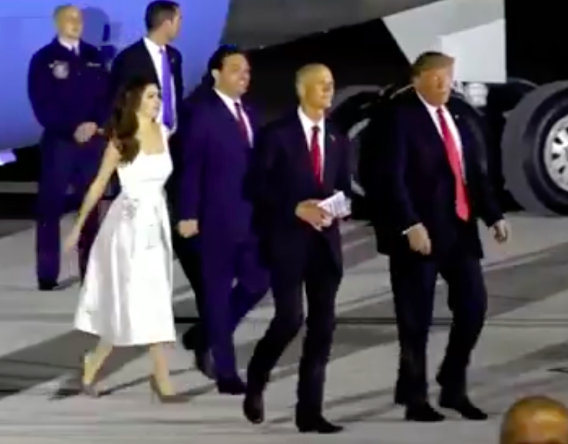 Does a personal relationship with President Donald Trump make it easier to do a good job for Florida?
Well, Ron DeSantis on Saturday night promised that as Florida Governor, he would try to lure Donald Trump Jr. and Eric Trump to relocate The Trump Organization to Palm Beach County. "We can save you a lot of money," the Republican gubernatorial nominee said.
The exchange, at a Pensacola rally, prompted a rapid response from Florida Democrats.
"Before our very eyes, Ron DeSantis literally promised to bribe the Trump organization to come to Florida," said Florida Democratic Party spokesman Kevin Donohoe. "DeSantis won't invest more money in our schools — but he's happy to offer Donald Trump cash to come to Florida."
Gov. Rick Scott, the Republican U.S. Senate nominee, at the same event said it was his pestering of Trump that landed the funding to speed repairs to the Herbert Hoover Dike around Lake Okeechobee.
"He [Trump] invited me to the Oval Office. I said, what are we doing about Lake Okeechobee?" Scott said.
The comments came at Trump's last visit to Florida in advance of the midterm elections. The president riled up Republican voters at the Pensacola International Airport for his second Sunshine State "Make America Great Again" rally this week
Trump touched on many of the same talking points raised at a Fort Myers rally on Wednesday night.
Most importantly, he stressed the importance of sending Scott to the U.S. Senate and DeSantis to the governor's mansion, and he laid into both men's Democratic opponents.
"In Rick's case, he's going up against someone who's falling asleep," Trump said, referencing incumbent Democratic Sen. Bill Nelson.
Today, Trump tweeted that Nelson never once called him in the past two years. He hit on the same point in his speech in Pensacola. "He never calls and says I'd like to do something for Florida," Trump said.
Scott said during his first six years as Governor, he repeatedly called on President Barack Obama and on Nelson to fund dike repairs because that's a federal project, but said he never saw any funding come Florida's way.
As for the Governor's race, Trump laid heavily into Democratic gubernatorial candidate Andrew Gillum.
"In Ron's case, its somebody who has a lot of energy but is running one of the worst cities in the country," Trump said.
The slam on Tallahassee, Gillum's city, comes a day after a mass shooter killed two women and himself and left five more injured.
One significant difference in tone at this rally compared to the Fort Myers rally? While Trump continued to hammer on immigration and the need to build a wall, he pushed hard on ending "birthright citizenship" on Wednesday. Tonight, Trump talked about the need for qualified immigrants to come to the country legally and for criminals and illegals to be kept out.
"They have to come through legally. That to come in on their merits," he said. "They need to help all the companies moving back to Florida and back to the United States."
Scott, after campaigning with South Carolina Sen. Lindsay Graham, released a statement making similar contrasts in legal versus illegal immigration.