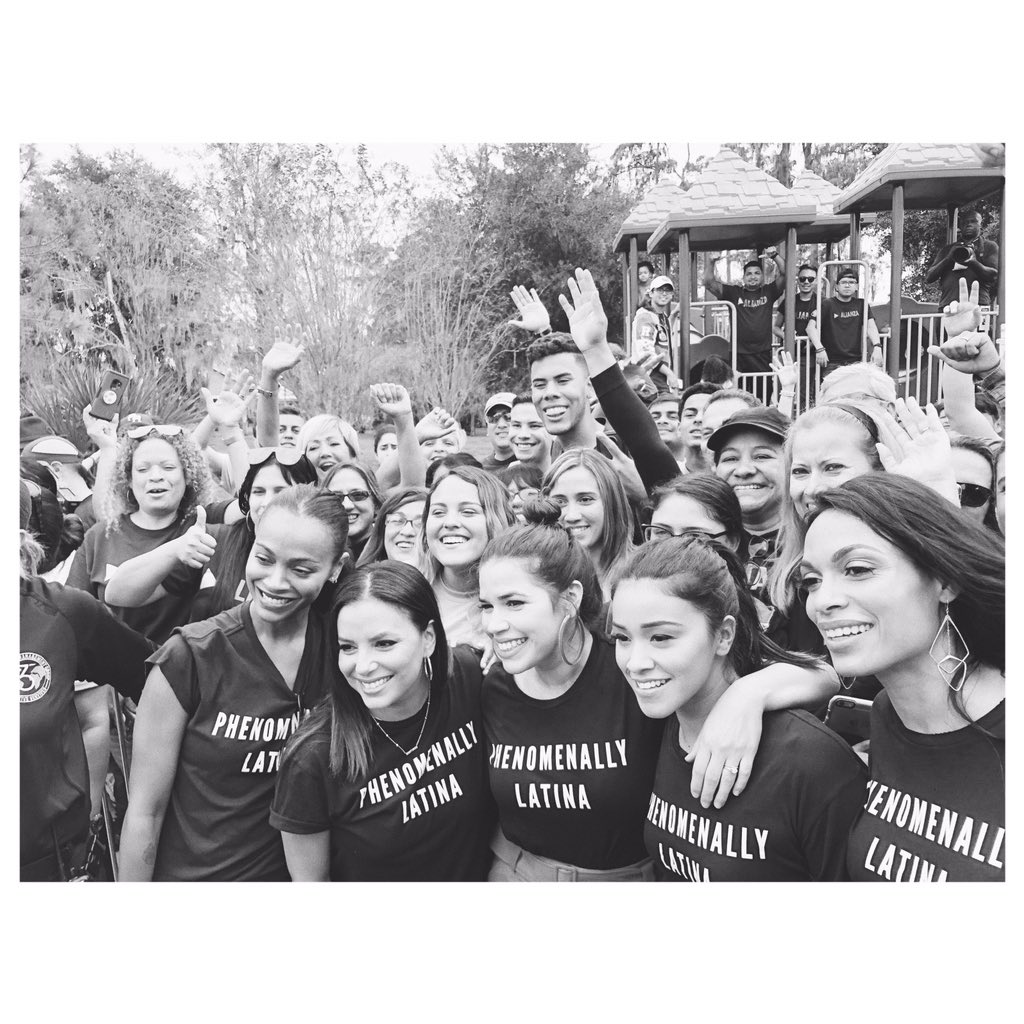 Some of the most prominent Latina names on American television gathered in Kissimmee to promote Democrat Andrew Gillum's candidacy for governor.
Eva Longoria Bastón, Zoe Saldana, America Ferrera, Gina Rodriguez and Rosario Dawson, each one wearing a "Phenomenally Latina" T-shirt, shared a stage together with R. Jai Gillum.
The actress-activists stressed the importance of making Hispanic voters count this election.
"I need you to put a face a face to our democracy," Dawson said.
Salsa singer Frankie Negrón also appeared at the event.
The political rally held more star power than most.
Longoria Bastón, best known for her role on Desperate Housewives, has been involved for years in Democratic politics, and she spoke at the 2016 Democratic National Convention.
So did Ferrera, star of NBC's Superstore, and she served regularly as a surrogate for Hillary Clinton's presidential campaign.
Rodriguez, star of the CW's Florida-based Jane The Virgin, includes political storylines about immigration and other issues on her show regularly and endorsed Clinton in 2016.
Dawson, who starred in the film adaptation of Rent, has been involved in activism for years, recently recording an anti-Donald Trump PSA. She's even toyed with the idea of running for office.
Saldana, star of the Guardians of the Galaxy franchise, said she felt moved to get involved in politics after having children.
The women visited Florida for an early voting rally organized by The Latino Victory Fund, a national political committee funded by George Soros. Longoria Bastón co-founded the organization in 2014 with Texas philanthropist and activist Henry Munoz III
Voters rallied in Kissimmee at 65th Infantry Veterans Park, in the heavily Puerto Rican Buenaventura Lakes community.
The actresses plan to hold another early voting rally today in Miami at the Ball & Chain, Ferrera announced on social media.
"We need to speak out by voting," read a message posted on Twitter by Saldana and Longoria Bastón.
Vote! Early if you can. Have a plan. Bring a date. Bring several folks! Phone bank. Canvass. Be the face and engine of democracy. You are powerful. Own this moment. I need you. We need each other. I am one vote…together we are many! #SomosMas pic.twitter.com/x1rcOTCYz8

— Rosario Dawson (@rosariodawson) November 4, 2018
We're heading to Miami, FL to rally the Latino Vote!  Meet us at Ball and Chain at 4:00pm https://t.co/fDLPoM1XY1 Join us!  And follow our journey on @nowthisnews #LatinosStandUp @evalongoria @hereisgina @rosariodawson @zoesaldana pic.twitter.com/4KK6gOTvvE

— America Ferrera (@AmericaFerrera) November 4, 2018