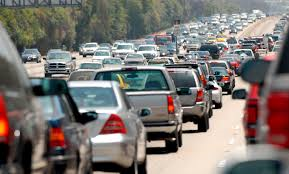 Hillsborough County finally accomplished what some thought impossible.
After years of inaction on the issue of transportation, not only did voters approve a historic initiative Tuesday, but they did so by a wide margin — passing All For Transportation with 57 percent of the vote.
Despite the majority, several areas of the county kept with history and once again rejected raising taxes to fund transit or transportation enhancements.
Of Hillsborough County's 390 precincts, 76 of them voted against the 1 percent sales surtax. Those precincts were mostly in suburban and rural areas, which typically vote conservative and staunchly oppose any tax hikes.
Included were Brandon, Riverview, Sun City Center and parts of east and north Hillsborough County.
Nevertheless, All For Transportation was different from past proposals. The 2010 Moving Hillsborough Forward measure was transit-centric. A map of Hillsborough County precincts compared voting results in that election, showing substantial support for the initiative in the county's urban Tampa core.
Majorities in almost every other precinct in the county opposed that tax.
This year, the measure sought to include benefits for the entire county, even in areas where transit solutions weren't a viable option. It earmarks just 45 percent of the $280 million raised each year for transit. Fifty-four percent would go toward congestion relief, road maintenance, and safety projects.
Supporters of All For Transportation emphasized the plan's flexibility and inclusivity, catering its message to each community.
The results were staggering.
Hillsborough County voters rejected the 2010 measure by a wider margin than All For Transportation won — 58 percent of voters opposed it.
The difference was that it won over some of the areas where voters were previously opposed to a tax increase.
A comparison of voting patterns in both elections shows the 2018 transportation initiative campaign managed to extend its support from downtown Tampa and surrounding areas to the affluent South Tampa and suburban Carrollwood and Westchase areas. Voters in parts of Lutz also joined the transportation tax train.
Even more shocking is that rural Wimauma (in south Hillsborough) and Plant City (in east Hillsborough) each voted in favor of the plan.
In precincts that opposed the plan, vote margins were close.
Most of the 76 opposing precincts had vote margins with a less than 10 percent spread. Just a percent or two separated some, while others were so close the difference was statistically negligible. 
For example, Precinct 921, in the southern part of the county, was split dead even at 746 votes each. Precinct 814 (between Brandon and Riverview) only leaned against the referendum by four votes.
While the vote count was astonishing compared to 2010, it might have been more than the campaign's attention to inclusivity or a shift in focus from solely transit to both transit and transportation.
Another possible factor: In these midterms, Hillsborough saw a countywide shift to the left.
Voters throughout the county elected two Democrats to the Hillsborough County Commission, flipping the board blue for the first time in 14 years. For more than a decade, Republicans held these seats.
Traditionally conservative legislative districts also went blue; this includes former Rep. Ross Spano's House District 59, where Democrat Adam Hattersley beat Republican Joe Wicker.
Democrat Fentrice Driskell also unseated Republican Shawn Harrison in his House District 63 seat.
And in Tampa, former Minority House Leader Janet Cruz looks poised to unseat Republican Sen. Dana Young in Senate District 18. That race is likely headed to a manual recount as just 355 votes separate the two candidates.