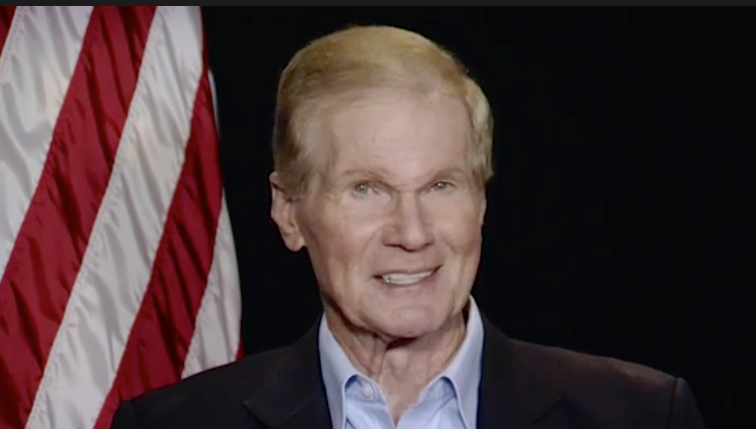 Making his first appearance since the election – and doing so only by video-download, Democratic U.S. Sen. Bill Nelson accused his opponent Republican Gov. Rick Scott of abusing power to stop votes from being counted, and Nelson vowed to not let that happen.
In a video statement downloaded via satellite or through YouTube, Nelson charged that Scott is not telling the truth when he talks about votes being "found" and he said the governor was seeking to discredit the votes or prevent them from being counted.
"I won't stand for anyone using his position to undermine our democratic process, and neither should the people of Florida," Nelson said. "It's wrong and it goes against every value that we have in our country.
"Scott is abusing the full force of his public office as governor to stop a complete and accurate counting of all the votes in Florida – which would determine whether he wins or loses," Nelson said.
Usually one of the most accessible politicians in Florida, Nelson has not appeared publicly or spoken directly with the media since before the election.
In fact, he did not even make an appearance Tuesday at his own Election Day party, sending campaign staff members out to appear on his behalf, although that evening was a certain downer for him as it ended with news that he was down 60,000 votes, and some media were calling the election for Scott.
The margin in the race has since dropped to less than 15,000 votes, about 0.18 percent of the 8.17 million votes cast, meaning the election apparently is headed for a by-hand recount next week.
Key to that has been the counting of votes in Broward and Palm Beach counties, where several thousand votes were not tabulated on Tuesday and are being counted now.
In a press conference he held Thursday night at the Florida Governor's Mansion, Scott alleged the votes were myseriously found, openly accusing the counties of coming up with them through partisan-fueled election fraud, and that they could be expected to find votes more until Nelson wins.
Scott's campaign has filed suits against the supervisors of elections in both counties, seeking information about the late votes and court orders about how they should be handled. The campaign also asked the Florida Department of Law Enforcement to investigate criminal fraud. But that department, seeing no concrete allegations, has declined.
Still, Friday afternoon Scott won a preliminary decision in one of his lawsuits, which will require Palm Beach County Supervisor of Elections Susan Bucher to submit "overvoted" and "undervoted" absentee ballots to the Palm Beach County Canvassing Board for an open and public review of each vote before they are counted.
Nelson, through his campaign and his campaign's attorney, Marc Elias, has contended that all of the votes were legally cast and so they should legally be counted, regardless of how it is done.
Elias has contended in two press conference calls that he believes the trends, through recounts, will end with Nelson ahead, and that he believes that Scott and his campaign suspect the same thing.
"This process is about one thing: making sure that every legal ballot is counted and protecting the right of every Floridian to participate in our democracy," Nelson opens in the video. "No one should stand in the way of the people of our state exercising their right to vote and to have their voice heard.
"Clearly, Rick Scott is trying to stop all the votes from being counted and he's impeding the democratic process. You can see this from his irresponsible, unethical and unprecedented press statement last night that he's worried and he's desperate," he ontinues. "The reason why he feels that way is obvious: we believe when every legal ballot is counted we'll win this election."
Nelson's video statement Friday is his first, other than written statements released by his campaign.
"The governor has decided to abandon the most fundamental of all rights, because he fears that he will lose the election if all the votes are counted. He isn't telling the truth, which is: votes are not being found; they're being counted," he added.