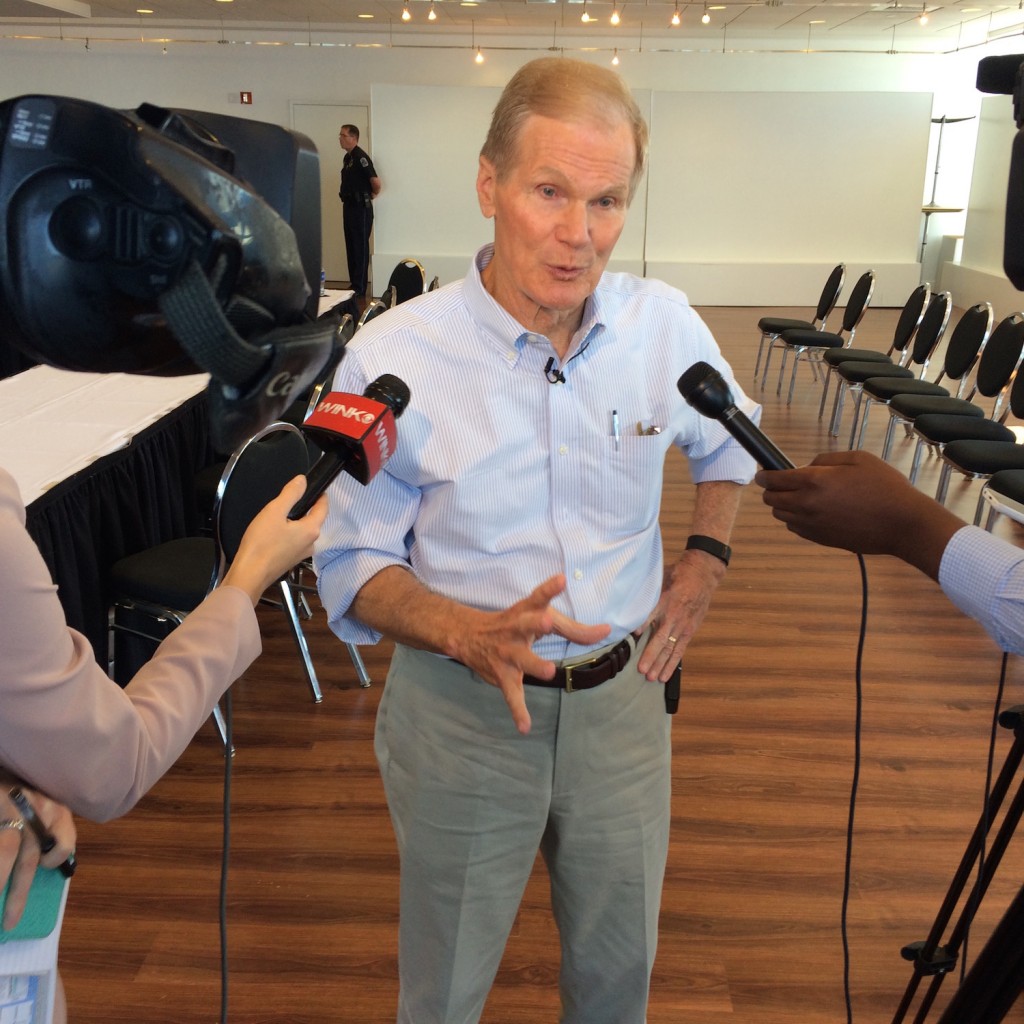 After a brief scheduling call Friday afternoon, lawyers will be in court Wednesday to argue for and against Democratic U.S. Sen. Bill Nelson's lawsuit to count provisional and mail ballots invalidated because of mismatched signatures.
And it only took a short while before Senior U.S. District Judge Robert Hinkle brought up the specter of Bush v. Gore.
Nelson this week filed in federal court in Tallahassee for court orders allowing such ballots to be tallied in his race with outgoing GOP Gov. Rick Scott.
There is some precedent: For example, U.S. District Judge Mark Walker in 2016 ordered the state to notify voters if signatures on a vote-by-mail ballot and their voter registration forms did not match. The idea was to give those people an opportunity to prove who they were before Election Day.
Nelson's suit bemoans "election officials' subjective determination that the signature on the voter's ballot does not match the voter's signature in the precinct register." The case is against Secretary of State Ken Detzner, Florida's chief elections officer.
Those "entrusted with the fate of a provisional or absentee voter's ballot are not trained in signature verification, nor do they follow any pre-determined standards or other regulations that ensure accurate, uniform processes when comparing signatures," according to a legal memo filed in the case.
"Rather, they employ a litany of procedures … using their collective best judgment as to what constitutes a signature match," it said.

Nelson attorney Uzoma Nkwonta told Hinkle that his client "wants a resolution as quickly possible," noting Saturday's noon deadline for county elections supervisors to turn in "unofficial" results to the state.
"The object of the endeavor is to get this right," Hinkle said, rather than rush to judgment. "It's far more important to do this well."
After allowing lawyers from various parties — including the Attorney's General's office — to augment their filed briefs, Hinkle set a hearing for 1 p.m. Wednesday in his Tallahassee courtroom. That's the day before machine recount returns would be due, assuming one in the Senate is triggered.
Hinkle telegraphed at least one issue when he asked about the mechanics of how officials tell voters whose ballots were rejected that they can "cure" their ballots by showing they're the same person who registered.
It varies among counties, he was told, with smaller, rural areas having more "personalized" ways, and others using email.
The judge was concerned about "how that squares with Bush v. Gore," he said. He didn't get an answer.
__
Updated 9 p.m. — Hinkle issued a scheduling order late Friday, noting that Walker's previous order and "now a state statute provide a limited right to cure a rejection."
He refers to a measure (HB 105) introduced by then-state Rep. Janet Cruz, a Tampa Democrat, passed unanimously by lawmakers and signed into law by Scott in 2017 that applies to vote-by-mail ballots with mismatched signatures.
It allows a voter "to complete and submit an affidavit in order to cure the vote-by-mail ballot until 5 p.m. on the day before the election."
"The plaintiffs assert that, if a preliminary injunction is not entered by (noon Saturday), votes by mail will be unconstitutionally rejected," Hinkle wrote. "But if there has been a constitutional violation—a proposition the defendant and intervenors do not accept—the ability to remedy the violation will not end on (Saturday)."
He did not alter the hearing previously set for Wednesday: "The plaintiffs will suffer no irreparable harm before their motion can be addressed on the schedule established by this order."
Cruz, who exited the House this month as Democratic Leader, is now locked in a struggle for her own potential recount in her race with incumbent GOP state Sen. Dana Young for the Senate District 18 seat.
As of Friday night, according to the Division of Elections, she led Young 104,001 votes to 103,625, a difference of 0.18 percent.