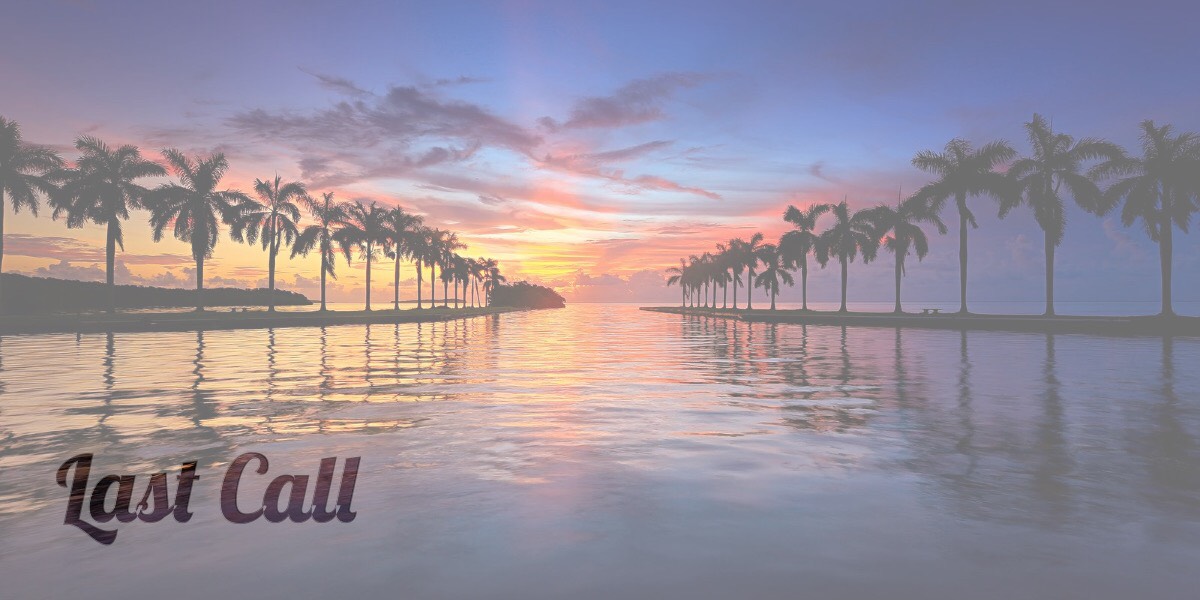 Last Call — A prime-time read of what's going down in Florida politics.
First Shot
U.S. Sen. Bill Nelson isn't "follow(ing) the basic rules of the road" — the legal road, that is.
That's what attorneys for the National Republican Senatorial Committee (NRSC) told a federal judge Monday, objecting to Nelson's request for a court order.
As counties re-tally the votes in the race between him and GOP Gov. Rick Scott, Nelson's pending lawsuit seeks to get Chief U.S. District Judge Mark Walker to order ballots with mismatched signatures counted toward the total.
Rejecting ballots because of signatures is unconstitutional because it uses a "demonstrably standardless, inconsistent, and unreliable signature matching process," Nelson's complaint says.
It results in "the disproportionate rejection of (vote-by-mail) and provisional ballots cast by ethnic and racial minorities, as well as young, first-time voters," it adds.
GrayRobinson attorneys Andy Bardos and George Levesque, representing the NRSC, counter that Democrats complained two years ago about mismatched signatures and got a fix — a 2016 court order by Walker, and a 2017 state law that requires voters to be told of a problem with their mail-in ballots and be given a chance to fix it; that is, to come in and prove they are who they say they are.
The "issue could easily have been raised in the prior suit — or at any point over the past two-plus years. But it was not," Bardos told the court.
Nelson "waited until three days after the election to do so on an 'emergency' basis in a transparent effort to upset the outcome of the race for the United States Senate and other offices … These tactics are impermissible," he said.
Bardos added that Nelson and the Democratic Executive Committee of Florida, the other plaintiff, "seek to force all 67 Florida counties to immediately halt or change the machine recounts … and to require them to consider ballots that were excluded based on a signature mismatch after an opportunity to cure.
"Yet they cannot demonstrate irreparable harm since they cannot identify a single voter who was unable to utilize the ability to cure.
"Moreover, they ignore the strong public interests counseling against an injunction, including the undeniable fact that an injunction at this point in time would throw the canvassing process into chaos by changing the rules long after Election Day."
A hearing in the case is set before Walker at 1 p.m. Wednesday — the day before machine recount results are due to be reported to the state.
—
Second shot
Breaking news this evening — Governor-elect Ron DeSantis announced "key staff recruited to lead his transition operations."
James Blair, Director of Policy: "The longtime adviser to House Speaker Richard Corcoran and Enterprise Florida board member will serve as Director of Policy for the transition efforts."
Chris Clark, Director of Recruiting: "The longtime adviser to Gov. Jeb Bush and former Chief of Staff to Senate President Don Gaetz will serve as Director of Recruiting for the transition."
Drew Meiner, Director of Operations: "The former Deputy Campaign Manager for Operations of the DeSantis campaign and recent Deputy District Director for DeSantis' Congressional office will serve as Director of Operations for the transition."
Amanda Emmons, Director of Scheduling: "The former staff assistant for U.S. Sen. Marco Rubio and DeSantis campaign aide will serve as Director of Scheduling for the transition team."
Ben Gibson, General Counsel: "Former Deputy General Counsel to Gov. Rick Scott and current Partner at Shutts & Bowen will serve as General Counsel to the DeSantis transition."
Dave Vasquez, Press Secretary: "The former campaign manager to Rep. Bob Cortes and longtime DeSantis communications aide will serve as Press Secretary for the transition team."
Claire Whitehead, Assistant to Incoming First Lady: "The former appointments analyst and Regional Representative for Gov. Scott will serve as assistant to Incoming First Lady Casey DeSantis."
Evening Reads
"Political, legal fights overtake vote counting process" via Matt Dixon of POLITICO Florida
"Rick Scott's glaring conflict of interest" via Julie Hauserman of the Florida Phoenix
"Judge rejects Scott's bid to impound voting machines. Instead, he offers a compromise" via Jay Weaver of the Miami Herald
"About 150 hurricane victims were allowed to vote by email. That's against Florida law." via Elizabeth Koh and Nicholas Nehamas of the Miami Herald
"Brian Mast defends Scott, rips Bay County Supervisor of Elections" via Ryan Nicol of Florida Politics
"Don't forget: Three legislative races are cliffhangers and are undergoing recounts" via CD Davidson-Hiers of Florida Phoenix
"Amid Florida recounts, frustration grows for those whose votes didn't count" via Zachary Sampson of the Tampa Bay Times
"Linda Stewart: Calm down and let the elections officers do their work" via Scott Powers of Orlando Rising
"Lawyers agree to more deputies at recount site" via The Associated Press
"Alachua County finishes machine recount" via Andrew Caplan of the Gainesville Sun
"Searching for any silver linings for Florida Democrats" via Peter Schorsch of Florida Politics
"Florida voters are saying yes when school districts ask for more money. Is that a good thing?" via Jeffrey Solochek of the Tampa Bay Times
"Jeb Bush reacting to young socialists is absolutely priceless" via Nahima Bonfiglio of The Daily Dot
Quote of the Day
"The real story should be that little Bay County was able to get a greater voter turnout than in the last gubernatorial race, even given the fact we had a Category 4-plus hurricane hit." — Bay County Supervisor of Elections Mark Andersen, after admitting accepting vote-by-mail ballots by fax machine and email, despite an executive order explicitly prohibiting the practice.
Bill Day's Latest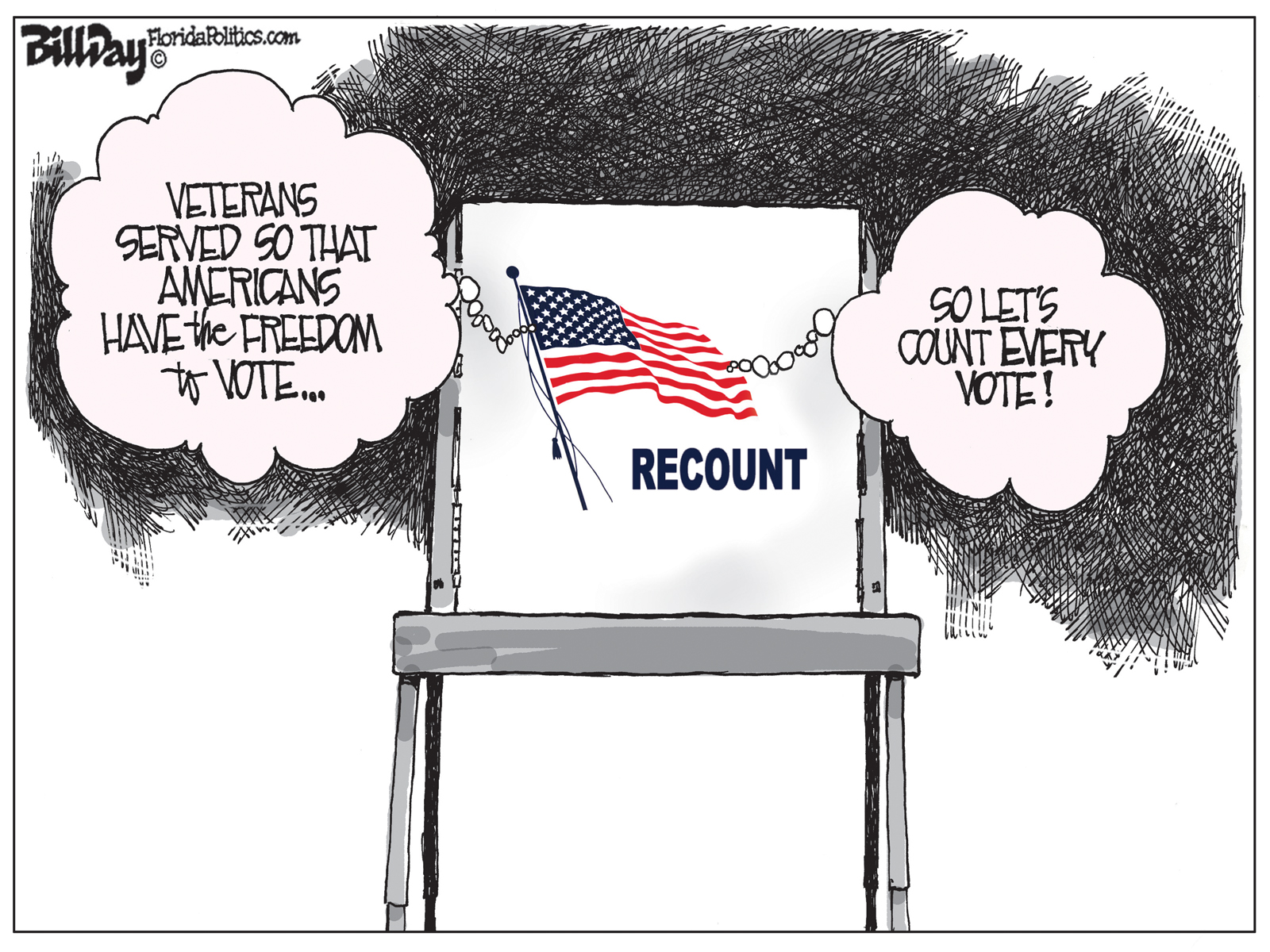 Breakthrough Insights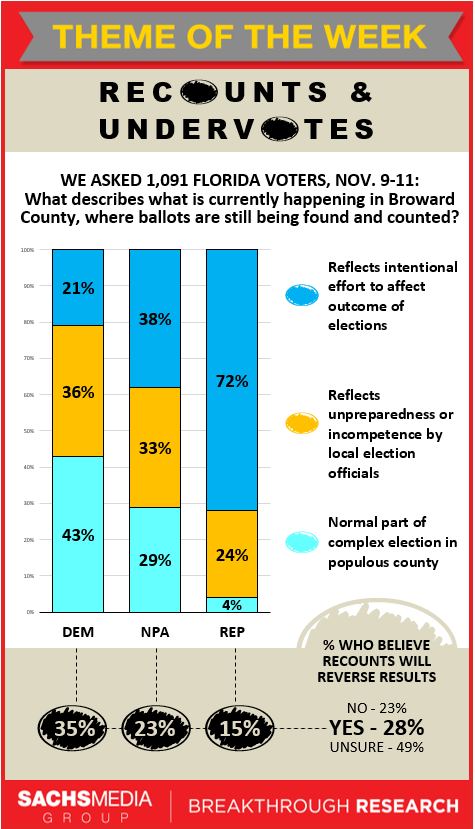 Wake Up Early?
The Marjory Stoneman Douglas High School Public Safety Commission will start a four-day meeting in Broward County. Among the topics will be a presentation about 911 calls on the day of the shooting. That's at 8:30 a.m., BB&T Center, Chairman's Club, 1 Panther Parkway, Sunrise.
Sen. Aaron Bean, a Fernandina Beach Republican, is scheduled to speak to third-grade students from Fernandina Beach Christian Academy during a field trip. Later, he will speak during a Leadership Nassau Youth Government Day. That's at 9:50 a.m., Nassau County Commission chamber, 96135 Nassau Place, Yulee; and 11 a.m., Hilliard Town Hall, 15861 County Road 108, Hilliard.
The Bob Graham Center at the University of Florida will host a discussion about the 2018 elections, with speakers expected to include Susan MacManus, a distinguished professor emeritus at the University of South Florida, and Dan Smith, a professor and chairman of the Department of Political Science at the University of Florida. That's at 6 p.m., University of Florida, Pugh Hall Ocora, Gainesville.
The Florida Department of Transportation will hold a hearing in Miami-Dade County on a five-year transportation plan. That's at 6 p.m. Hilton Garden Inn, 1695 N.W. 111th Ave., Sweetwater.