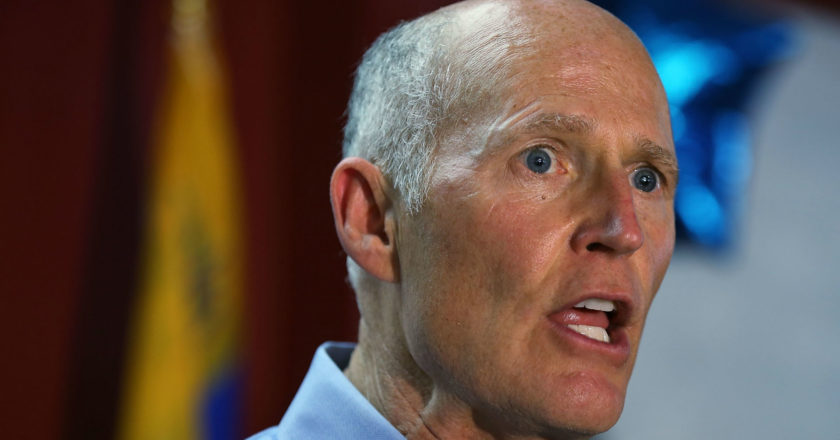 Republican Senate hopeful Rick Scott told Fox News that Democratic opponent Bill Nelson wants fraudulent ballots to count in Florida's U.S. Senate race.
"Sen. Nelson is clearly trying to commit fraud to try and win this election," Scott said on Fox News Sunday. "That's all this is."
Scott spoke to the cable news network about a recount that began today for the Senate race. Results certified Saturday showed Scott leading Nelson by 12,562 votes, or 0.15 percent of nearly 8.2 million votes cast.
Fox News Sunday host Chris Wallace pressed Scott on the accusation of fraud, noting the Florida Department of Law Enforcement has not yet received any written complaint of fraud.
Scott responded that Nelson's legal team wants fraudulent votes counted in the totals.
"We have very specific election laws in the state to try and prevent fraud," Scott said.
He noted lawsuits his campaign team filed against election supervisors in Broward and Palm Beach counties to ensure party officials could review the ballot counting process. A judge last week ordered the elections officials to release information to Scott's campaign.
Scott noted Nelson's legal team objected to a canvassing board in Broward County rejecting a vote from a non-citizen and, he said, now wants vote-by-mail ballots rejected because signatures don't match to be counted.
Nelson attorney Marc Elias on Saturday told reporters ballots should not be tossed because an election worker thought signatures didn't match closely. He also said votes still in the mail but not delivered before Election Day should be counted.
Scott seemed to argue against that today.
"Nelson has gone to court to say fraudulent ballots that were not properly delivered, signed, whatever, should be counted," Scott said.
Wallace said Nelson declined an invitation to appear on Fox News—and he did not appear on any of the Sunday political talks this morning—but played a clip of Nelson from earlier this week saying: "Votes are not being found, they are being counted."
But Scott cast doubt on whether new votes found since election day were cast at all, again singling out votes in Broward and Palm Beach.
"Another 93,000 votes were cast—or somehow they came up with another 93,000 votes after Election Day," Scott said. "We still don't know how they came up with that."