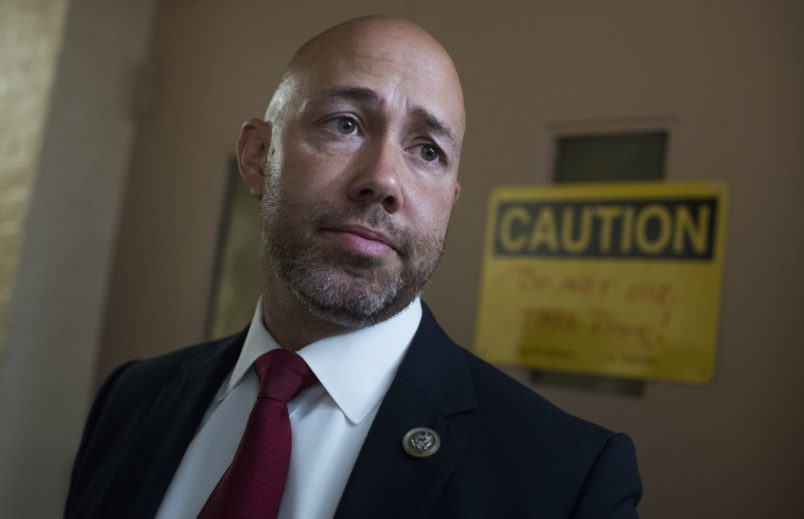 U.S. Rep. Brian Mast had harsh words for missteps by various counties' Supervisors of Election in a call to reporters Monday afternoon, including reports that Republican-leaning Bay County accepted votes by email and fax in opposition to Florida law.
Mast was speaking in defense of Gov. Rick Scott, and began by backing assertions that Scott would emerge the victor in his U.S. Senate race.
"No question this was a close race," Mast said. "But it has been decisive as well."
The latest tallies put Scott ahead of incumbent U.S. Sen. Bill Nelson by less than 13,000 votes.
A recount is currently being conducted in that race, as well as statewide contests for Governor and Agriculture Commissioner.
Scott attorney Tim Cerio of the GrayRobinson firm, who was also on the call, said nine counties have finished their machine recount, while 14 counties have not started. The remaining recounts are in progress.
Mast said he's already helping with the Scott transition team, as well as the transition of Florida's tentative Governor-elect, Ron DeSantis.
DeSantis leads Democrat Andrew Gillum by more than 33,000 votes at last count.
Mast also was outspoken about the process in Broward and Palm Beach counties. Both counties have earned heavy criticism for the way they have handled last week's vote.
"One of the most frustrating things to me, personally, is when I see the law simply not being adhered to, court orders not being adhered to," Mast said.

"We have laws in place for all elections at all levels so that we can try to ensure that people in our voting population can rely upon those laws and have confidence in that their vote matters."
Mast is referring to Scott's assessment that Palm Beach County Supervisor of Elections Susan Bucher was flouting a court order last week. Bucher said she would not be able to meet a court deadline to submit "overvoted" and "undervoted" absentee ballots to the county's canvassing board.
Republicans have openly criticized those two South Florida counties, even veering into conspiracy talk at times.
But Mast says criticism should be equally applied to Republican-leaning Bay County. Reports emerged Monday that the county ignored Florida law and accepted ballots by email and fax in the aftermath of Hurricane Michael.
"It has to go either way, no matter whether it's a Republican county or a Democrat county or a middle-of-the-road county," Mast said of the criticism.
"For us to have that trust in the system, we have to be able to show that everybody is accountable to this and we're not going to try to adjudicate elections based upon our party and how we can try to ignore some of these laws. That cannot be the perception for anybody on either side of the aisle."
Mast, whose congressional district covers Palm Beach County, also ripped Bucher further over comments she would not be able to complete machine recounts by Thursday's deadline, as the county's equipment cannot conduct multiple recounts at once.
"When you have failures like this, and these failures have ripples that go across the entire state and the entire nation and diminish people's faith in this system, that is one of the worst things that we can see happen," Mast said, again emphasizing public faith in elections.
"That is, unfortunately, entirely preventable by good preparation. And this is where I think we're seeing a failure to prepare for all of these possible contingencies when, in fact, that was their job to prepare for things like this. And that's sad to see."