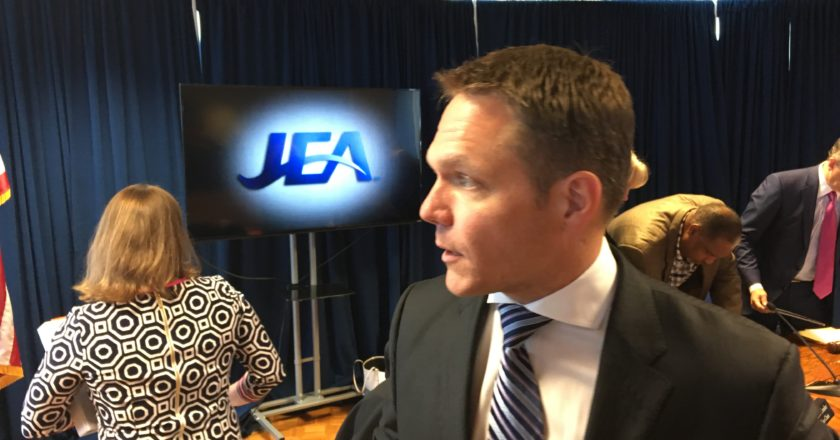 On Tuesday, Jacksonville City Councilman Matt Schellenberg, the liaison to local utility JEA, reiterated concerns about the Council's lack of oversight over the power provider.
Schellenberg had told the Florida Times-Union of his frustrations with not being able to get a meeting with interim CEO Aaron Zahn until after the utility decided whether or not to make Zahn permanent.
The subject of that meeting: JEA's ill-fated investment in the Plant Vogtle nuclear power plant in Georgia, a deal that has seen delays, cost overruns, a thus-far thwarted attempt to get out of the deal, and credit-rating downgrades in some cases.
Schellenberg has sought to be more involved as a liaison than the JEA Board would seem to like, and his comments Tuesday reflected a long-simmering frustration.
"Because of some of their actions," Schellenberg said, "some of the ratings agencies have downgraded our bonds going forward."
"They have a selection committee going forward," Schellenberg added, "and we're not part of the conversation that impacts the biggest asset of City Hall."
Schellenberg wanted to know what Plant Vogtle's impact would be on electric bills, given cost overruns "driving the price up substantially."
Schellenberg, who will be term-limited next year, seeks a "more transparent" discourse. However, it didn't seem he was getting much backup.
Council President Aaron Bowman suggested the matter be discussed during Charter Review, which commences next year.
Councilman Bill Gulliford, a former JEA liaison in his own right who spent many months negotiating with the utility regarding its yearly contribution to the city budget, noted that JEA is an "independent authority" with the best possible information on its decision process.
"If we start intruding on the decision-making power of independent authorities," the Beaches Republican said, "my concern is that our decisions may not be well-informed decisions."
"I would caution this body in the future … go back and look at the original intent of making these bodies independent to [prevent] political manipulation," Gulliford said.
Councilman John Crescimbeni, a termed-out, at-large Democrat, quipped that maybe a JEA Board member should be allowed to sit on the council dais in exchange for greater input into the utility's workings.
"Maybe we can compromise," Crescimbeni said. "It's a two-way street."
City Hall spent the better part of a year marinating in JEA drama, following what seemed to be a stalled push to privatize the publicly owned utility. Clearly, there's more of the same to come.