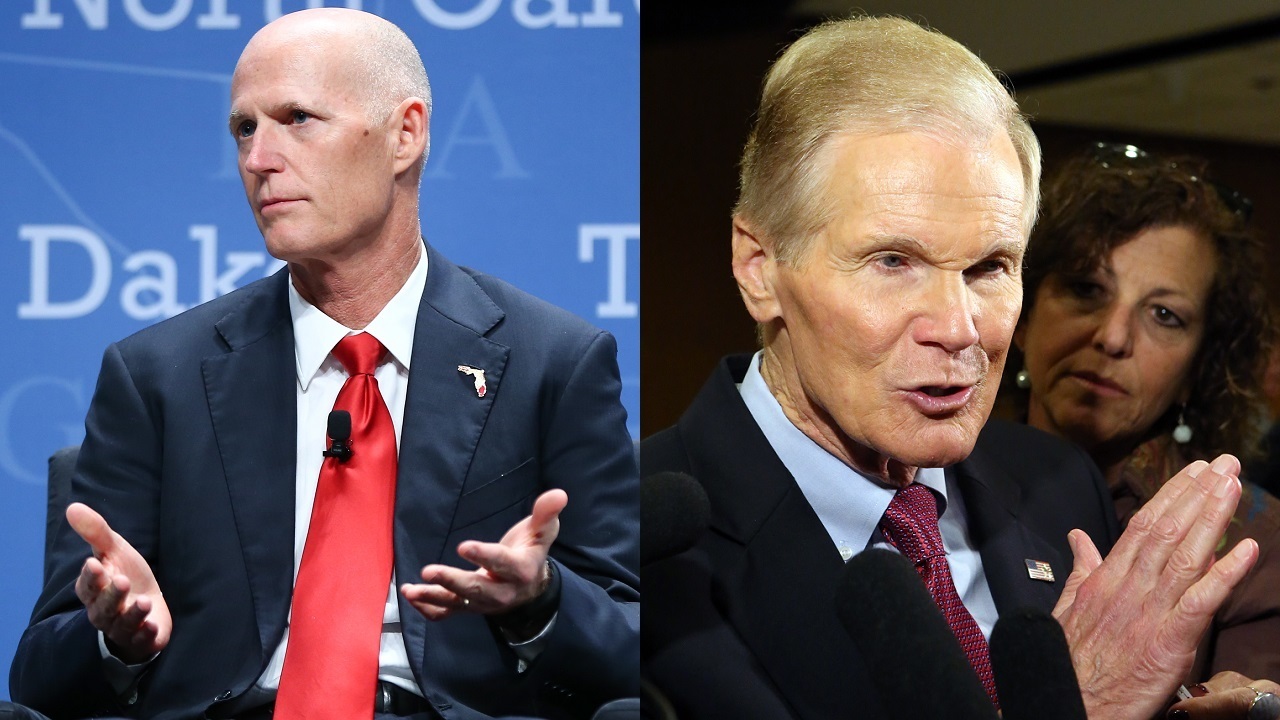 Even as a recount netted Republican U.S. Senate candidate Rick Scott votes, he continued to call on Democratic opponent Bill Nelson to somehow stop the process.
"With over two-thirds of the machine recount completed, our margin of victory has grown," Scott tweeted today. "It's time for @SenBillNelson to end this recount."
Scott spokesman Chris Hartline said with all counties reporting recount results, Scott's campaign netted votes statewide. Recount results released by the Division of Elections verify the gap between Scott and Nelson grew by 41 votes.
"Bill Nelson and the liberal groups backing him have filed lawsuits to disregard Florida law and count unlawful ballots," Hartline said in a statement.
"When the machine recount is complete this afternoon, Nelson will have to decide if he wants to preserve his legacy and go out with dignity or if he wants to forever be remembered as the guy that liberal interest groups used in an effort to win the presidential election two years early."
Of course, a federal judge today decreed a deadline of 3 p.m. today would stand on recounts, even though it's unclear Palm Beach County will be done in time. Counties had to submit numbers at 3 p.m. today.
In fact, even in Democratic Orange County, the first urban county to complete its recount, Nelson actually saw his local lead dwindle down by a net 25 votes from the original tabulation. That won't help close the 12,562-vote lead Scott held as of the Saturday deadline for counties to submit an initial count.
But why that would urge Nelson to call on an end to the recount when a third of counties could still report votes that assist his hopes of re-election to the U.S. Senate remains utterly unclear.
First off, Florida law requires a machine recount in the event of an election with less than a 0.5 percent margin. The difference in the Scott-Nelson contest was 0.15 percent.
And as long as the margin remains less than 0.25 percent, likely considering the miniscule motion reported in counties already done with their recount, the law also requires a manual count of under- and overvotes.
In particular, Nelson's chance of closing the gap relies heavily on results from Broward County, which completed its recount today ahead of deadline. It's unclear if the results were included in Hartline's calculations of a 76-vote Scott gain, but if so, that means Nelson didn't pick up a net of several thousand his camp hoped would come from a machine recalibration.
The biggest statistical question mark in the Senate recount in particular involves the fact that Broward elections officials counted 24,992 fewer votes for U.S. Senate than for Governor. That's caused some to speculate if bad ballot design led voters there to overlook the Senate contest.
Marc Elias, Nelson chief recount attorney, has brushed off that possibility. Instead, he hopes to find machines wrongly counted a disproportionate number of undervotes in the county. The machine recount didn't remedy the problem, but that means all those ballots counted for the moment as blank Senate votes go into a pile for inspection during a hand recount.
Especially with the machine recount producing few results for the Nelson team, this batch of votes continues to hold the greatest promise of closing the gap, though thousands of new ballots still left to be counted after a judge's ruling in Nelson's favor today could also help.
But taking as optimistic a view as possible for Nelson's prospects right now, things still don't look good.
Those ballots being counted following the judge's ruling come from all over the state. That means they could break evenly between Scott and Nelson.
And today marks the deadline as well for overseas and military ballots to come to elections offices, votes which typically break for the GOP.
Nelson desperately needs a hand recount to move forward, if only in hopes that the Broward County undervotes somehow have marks in bubbles after all. That's a Democratic county so those ballots should break his way. His legal team is rolling the dice on opening pretty much any other ballots in the state, including those arriving at elections offices after Nov. 6, but there's no reason to think any other pot of votes will help his totals and not Scott's.
Which begs the question, why is Scott so intent on stopping the count anyway? He most likely will be Florida's next U.S. senator, and double-checking the math ultimately helps firm up the credibility of whoever holds office the next six years.
To stop the recount now, when it remains so close, means leaving tens of thousands of ballots in Democratic-leaning counties uninspected.
Normally, its those who lose elections who spent the coming weeks calling into question the integrity of the vote. This year, it's been Rick Scott calling the race fraudulent. Why the likely winner would work so hard to question the integrity of a vote may be a question that follows Scott through his entire Senate term.