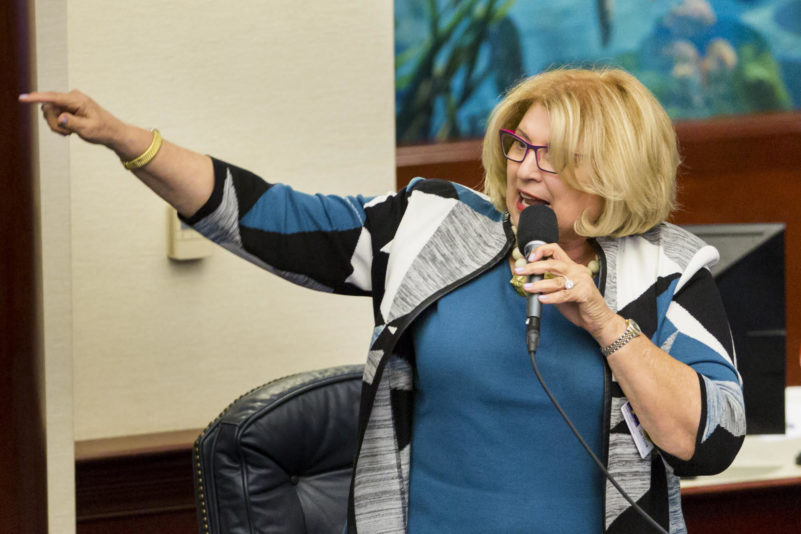 Janet Cruz got into the race for Senate District 18 to make an issue out of gun violence, but she discovered quickly that voters in her Hillsborough County district were even more passionate about restoring public school funding.
That became Cruz's battle cry throughout a tough, nasty campaign against incumbent Republican Dana Young. It proved to be the winning strategy in Cruz's 411-vote victory out of more than 207,000 votes that were cast.
Cruz, who was forced to leave her Florida House seat because of term limits, had an awakening after a chance meeting with a voter at a South Tampa Home Depot. That woman told her she had gone to the store to purchase portable air conditioners for some classrooms at Roosevelt Elementary School in the Palma Ceia section of Tampa.
Families had pooled money together to buy the units after cooling units at the school crashed. It was a county-wide problem as dozens of schools were affected. Officials said state funding cutbacks left them without enough money to combat the problem.
"Roosevelt Elementary is in one of the wealthiest areas of Tampa, but they still had this problem. We had been hollering and stomping our feet (in the House) when we saw dollars going away from public schools. Journalists wrote about it," Cruz said.
"But it wasn't until mothers saw their kids sitting in sweltering classrooms that people decided to make a stand."
The more Cruz met with those voters, the more she realized how determined they were.
"These were smart women, prepared," she said. "They knew the issue. I was up there (in Tallahassee) and saw what those guys (lawmakers) were doing, trying to blame the problems on mismanagement by the school districts. That's ridiculous and these women knew that.
"They came with spreadsheets … Excel charts. I started working with them. I remember one woman told me she was a lifelong Republican, but she was going to vote a straight Democratic ticket because of this issue."
Democrats targeted SD 18 as one of six districts they believed they could flip in this election and regain control of the Senate. Of those six, Cruz was the only Democrat who won.
She will be sworn in Tuesday.
The name Janet Cruz is well known in the western West Tampa area of Hillsborough, and it's no surprise she dominated there — piling up wins with totals at many precincts ranging from 61 percent to as much as 86 percent. Young had solid support in the northern precincts but didn't get the votes she expected in South Tampa.
The contest was marked by charges and counter-charges from the start.
Young's camp pounced on an unpaid property tax bill from 2010 that Cruz said was a mix-up she self-reported and paid in full after realizing the error.
Cruz fired back with an ad highlighting that Young's net worth had increased from $667,000 in 2010 to more than $4.6 million, suggesting it was due in part to bills Young sponsored that benefitted her bottom line.
She also attacked Young for walking out of a special Senate session last March in the aftermath of the Parkland massacre when it was time to vote on measures that included an assault weapons ban.
Young claimed she left the floor to tend to other pressing business and later registered votes against the ban and other restrictions. Cruz called Young a "coward" at the time and said that helped convince her to get into the race.
Cruz said that in addition to seeking bipartisan support for increased public-school funding, she will continue the fight for that assault weapons ban. She knows it will be an uphill fight, with Republicans again controlling both branches of the Legislature and the Governor's mansion.
"I'm not going to advocate for anyone to lose their right to bear arms," she said. "But I just don't think it's justified for just anyone to be able to obtain one of these weapons of death. I'll keep pushing."
And listening.