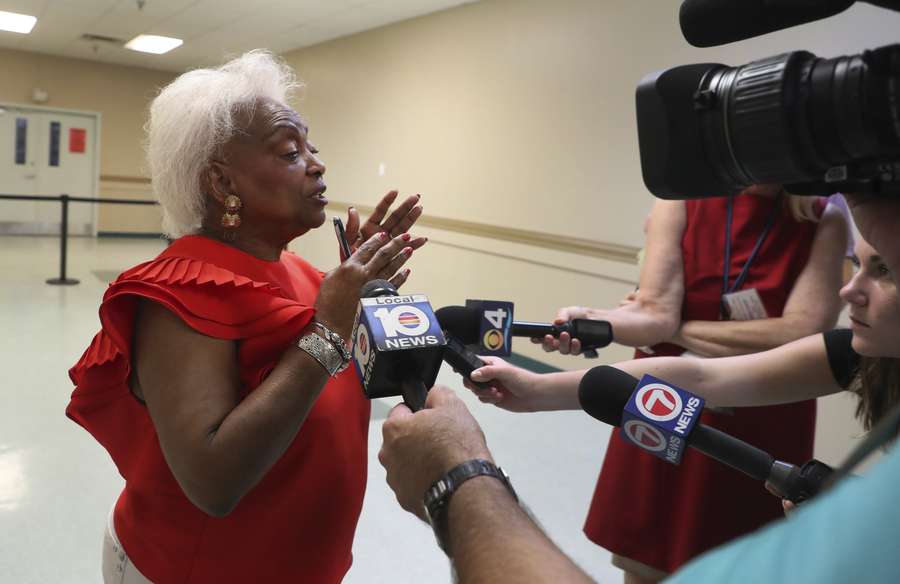 Broward County Supervisor of Elections Brenda Snipes submitted her resignation, according to a report in the Sun-Sentinel.
The departure comes after a contentious recount that drew national scrutiny on the office, and after a number of leaders called her for removal from office.
The Sun-Sentinel sources Burnadette Norris-Weeks, counsel for the Supervisor of Elections Office, who told the newspaper she had seen a draft of Snipes resignation letter. The paper could not confirm when Snipes planned to leave office but said she will likely stay no longer than early January.
Snipes already indicated earlier in the week she likely would not seek re-election.
She originally took office after an appointment by then-Gov. Jeb Bush in 2003, coincidentally after the Republican Governor removed Miriam Oliphant from the post following the mishandling of a midterm election.
Now Snipes has come under sustained fire for irregularities this year. Earlier this week, Bush joined a chorus of critics of the elections supervisor.
"There is no question that Broward County Supervisor of Elections Brenda Snipes failed to comply with Florida law on multiple counts, undermining Floridians' confidence in our electoral process," Bush tweeted on Monday. "Supervisor Snipes should be removed from her office following the recounts."
But she suffered heavy criticism from all sides.
With a recount concluded and Democratic incumbent Bill Nelson conceding in the U.S. Senate race to Gov. Rick Scott, Democrats think poor ballot design may have contributed to an unusually high number of undervotes in the contest in Broward County. Nearly 25,000 fewer voters bubbled in that race than the Governor's contest or even some constitutional amendments. The Senate race came down to 10,033 votes.
And after a machine recount on three statewide races this year, Snipes realized her staff had misplaced more than 2,000 ballots, prompting the office to leave in place original tabulations over the objection of Republican candidates.
The entire recount process became fraught with tension from the start when protracted vote counts in Broward and Palm Beach counties, both Democratic strongholds, dramatically tightened the margins in this year's U.S. Senate and Governor's races, and completely erased a lead Republican Matt Caldwell appeared to hold in the Agriculture Commissioner race on Election Day.
Caldwell declared victory on Nov. 6, he said, based on a belief his 40,000-vote lead over Democrat Nikki Fried at the time exceeded the number of outstanding votes left in the race. Then Broward County continued to add an additional 80,000 ballots into state totals over the next two days. Fried took the lead in Thursday and kept it through a statewide recount process.
Fried today declared victory herself after a manual recount that left her with a 6,753-vote lead. Caldwell, meanwhile, has sued Snipes office, his attorneys alleging elections officials logged in 6,873 vote-by-mail ballots accepted after polls closed on Election Day.