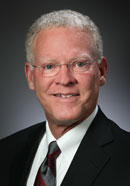 Riddle me this: How is a lobbyist like playing a professional sports team?
"You have a season, then you take a break, then you do the spring training, then take a little bit of a break, then you come back for the pre-season, and there's the season," veteran Tallahassee lobbyist Chuck Hinson says.
"You never can let yourself get out of shape. You've got to rebuild your roster, you've got to do all those things in the cycle — study what the other teams did last year, what are they going to do next year. There's just a lot to it."
Hinson has been doing the job for 40 years, mostly as vice president for state and community relations for Tampa Electric Co. and People's Gas, which he joined in 1994. Before that, he worked for Centel/Sprint and the Florida Dental Association.
He's closing his long career at age 66, entering retirement while planning to remain as a more or less half-time mentor to the corporation's lobbying team.
"In some ways, I consider myself an accidental lobbyist. I never charted a course to get to that. But it turned out to be really good thing for me," Hinson said during an interview in TECO's Tallahassee office.
"I consider lobbying to be a combination of teaching and selling, a little banging under the backboards. Because it's very, very competitive — every aspect of it," he said.
"We now have 20 million people in this state and 160 legislators. A lot of people are competing for their time. And when you get it, you don't have much, so you have to master the art of short messages and knowing what they need. I've been successful at it."
Tallahassee born and raised, Hinson got his start in politics in student government at the University of West Florida. He rose to become student body president.
He embarked on a master's degree in public administration, intending to become a court clerk. But a job fell through, and he landed a paid internship in the state energy office in the capital.
"That led to the job offer from the Governor's office two years later. Even then, I wasn't thinking about being a lobbyist. But I was a good writer and good oral and verbal communicator, pretty good with people, and a generalist. All of those skills have turned out to be very useful in government relations."
The Governor was Bob Graham, elected in 1978.
"It was back when the Governor's office had about 50 people. That included the people who opened the mail, the policy analysts, and the general counsel's office. I landed a junior-level aide job — sort of a utility infielder-type aide."
Two years in, the dentists came knocking. Hinson took to the work.
"It's like living on a river. You're standing in one place, and everything that you deal with is changing — the people, the issues, the rules," he found.
"It's helpful to have a broad range of aptitudes. You seldom need the really penetrating depth of a doctor or engineer or scientist. The real skill is translating what can be highly technical or jargonistic into lay language, plain English," he continued.
"Most legislators don't have time to go to school in the lexicon and at the depth that real deep-thinking professionals in any field have mastered."
He has seen 21 Speakers of the House come and go — Ray Sansom didn't serve a full two years because of some unpleasantness involving an indictment (he wasn't convicted) — and six Governors (not counting two who served a few days or weeks).
And dramatic shifts in the way Tallahassee does business, including the lobbyist gifts ban, term limits and the wide adoption of computer systems in posting legislation and amendments.
"It's not impossible to be surprised, but if you're diligent, no matter who you are, you have the ability to keep up with what they're considering, down to the punctuation, because it's right there on your iPad," Hinson said.
"We can thank Dan Webster" — the first Republican to preside over the House in 122 years — "for much of that. He and T.K. Wetherell, in my 40 years, have been the most skilled and the most important Speakers. And there's a pretty good handful of people right behind them."
He called Webster "a remarkable innovator. He's an engineer, and what he did for the process was organize all the committees that had similarities into policy council-types of groups, and then schedule days on the calendar well in advance where all the legislation that was in that group could be heard.
"And told the world well in advance they weren't going to work beyond 5 o'clock, even the last week of the session. You may remember, the Legislature used to work well into the night the last couple of weeks because they had such a backlog.
"His first year, the Senate apparently didn't pay him any attention, but the House finished at 5 o'clock on the 60th day and the Senate was about two days behind and got embarrassed," he said.
Importantly, Webster tightened the chamber's sense of organization.
"There used to be big games between the presiding officers to try to get an upper hand, and sometimes when one chamber was counting on working until 9 o'clock or 10 at night to finish its must-pass list, the other chamber would calculate they'd gotten enough of what they wanted and they would just walk out.
"But Webster stopped at 5 o'clock on the 60th day because he'd said he would two months before the session. He said, 'If we can't get our work done in 60 days, and not work past 5, we ought to be in a different line of work,'" Hinson said.
"But he organized the work so that you could see it coming. It wasn't as transparent on the computers as it is today, but the schedule of what they were going to do was published weeks ahead of time."
What makes a good politician?
"Every elected official I know has a couple of things in common," Hinson said.
"A lot of drive — what it takes to get up one day and say you're going to run for office and then do it and then win requires an unusual set of qualities, but it's a lot of drive and determination.
"With that, you have to have a thick skin — a really thick skin. People are more likely to tell you what they don't like than compliment you and thank you for what they agree with you on."
Finally, "most elected officials get the rewards from somewhere else. They have to have some sense that what they're doing is satisfying to themselves, because I don't think they get enough thank-yous."
What separates real leaders from also-rans?
"I don't know where this is in the literature, but there's always a 20-80 rule. When you're in an organization, 20 percent of the people are going to do most of the work. They tend to be the people who are most committed to doing what the organization is about. Sometimes, they're the smartest and the hardest working.
"There are other skill sets there. If they're really good at working in a collegial environment, they can be a leader and they can be a follower when it's their turn to do that. They're really good at working in a group. It's not an executive world, it is? Legislative work is collegial.
"So natural talents, intelligence and work ethic make the best legislators."
Hinson was there for one of the biggest debacles in recent Florida political history — the rise and fall of the services tax. This was the late-80s attempt to extend Florida's sales tax to the growing professional and business services economy that Gov. Bob Martinez helped push through the Legislature. Powerful interests soon forced state leaders to recant.
Then-Senate President John McKay "had all of his Republican Senators with him until they couldn't take it anymore. That was maybe the most lobbied business issue in my lifetime," Hinson said.
"It cost Bob Martinez re-election. The people who favored it were mad at him for caving in; the people who didn't like it to start with never forgave him for doing it in the first place," he said.
"He did it to wide applause from people who thought the state needed more money on down the list. They thought he had done the right thing. Who knows — he might have gotten renominated and re-elected if he'd just stayed with it."
For all the changes, does the public receive better outcomes?
"It's easy to look back over the best parts of the way it worked 20 to 30 years ago and say those were the good old days and they can't be matched. But we don't really think that a '57 Chevrolet is a better car than what we can buy today," Hinson said.
"Legislators who applied themselves understood what they were doing better at times when the work pace was slower. It's not unusual to see a legislator assigned to five or six committees today. Thirty or 40 years ago? Two, three. They had large gaps in their day. Some days they didn't have a committee meeting.
"That allowed them to read and prepare if they were so inclined. To talk to their fellow committee members if they were so inclined. But they also could be uninformed — deals could be made and they weren't involved in it; there wasn't anything to read associated with what they were doing sometimes.
"Today, the volume is higher. The pace is faster, but the information is all there. If the ability for the people involved and the people who are affected to understand what is done and the outcome is a measure, it's better today."
His personal bottom line:
"I enjoy what I do. It has always suited me that I worked for a single organization, in-house. All of them provided very essential services or products to society — whether it was the dental association or the telecom business," Hinson said.
"As opposed to a contract lobbyist who has six or seven or eight clients. I've managed quite a few of those. But it has suited me to be personally involved and employed by something that has intrinsic worth, and working on their policy work," Hinson said.
"There have been fundamentally important things I've engaged in over the years, and I've enjoyed it. A lot. If it hasn't come across that I've enjoyed it, write it down: I do."