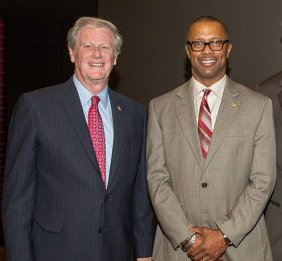 Florida State University President John Thrasher rushed to defend head football coach Willie Taggart Sunday against racist attacks.
"A recent racist social media post aimed at our football coach is ignorant and despicable," Thrasher said in a statement. "I speak for the entire FSU community in expressing our disgust and extreme disappointment, and I am glad the state attorney is investigating.
"Coach Taggart has our full support and as true Seminoles know, he is a respected member of the FSU family."
The statement came after someone posted a picture of a lynching with Taggart's face superimposed over the face of the victim.
The picture was posted after FSU lost Saturday to in-state rival University of Florida. The 41-14 win ended a five-year streak of the Seminoles besting the Gators in the annual matchup.
The loss also meant FSU would not go to a bowl game this season for the first time in 36 years.
All this led to the hashtag #FireTaggart trending on Twitter. But as the rhetoric turned from typical sports trash talk to racially charged hatred, Thrasher jumped into the conversation with a strict condemnation of the rhetoric.
Taggart is FSU's first black head coach in the football program's storied history.
Screen-captured tweets show plenty of angry FSU fans saw a correlation between the team's tough loss and the race of its coach. Some explicitly stated Florida State needed a "white coach" again.
Thrasher, of course, holds a loud voice in Florida's political world as well as in higher education. A former Florida Speaker of the House from 1998 through 2000, he also served as a state Senator after the death of Jim King in 2009.
He later served as chairman of the Republican Party of Florida after the resignation of Jim Greer during a period of record fundraising and political success for the state party.
He took over as president of FSU in 2014.