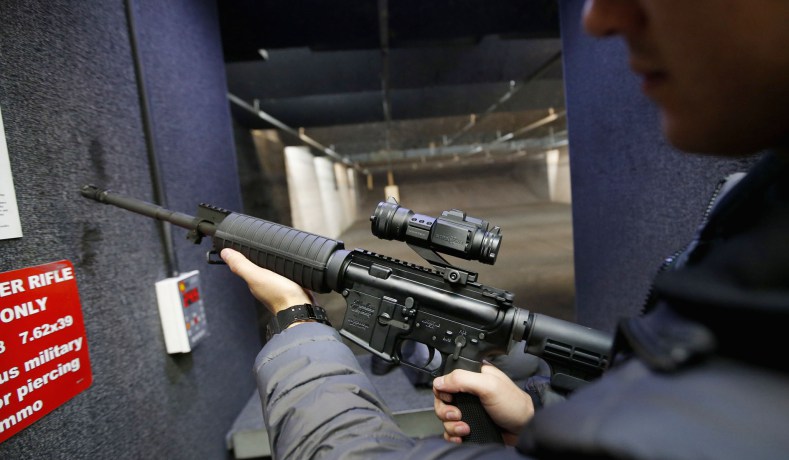 A proposed state constitutional amendment to ban assault weapons is coming into shape for the 2020 ballot, after the sponsor filed new language with the Florida Division of Elections this month.
The amendment, sponsored by Ban Assault Weapons Now (BAWN), would bar possession of "any semiautomatic rifle or shotgun capable of holding more than 10 rounds of ammunition at once." The restriction would not apply to handguns.
For those who already own the potentially barred weapons, they would be required to register the weapon "by make, model, and serial number with the Florida Department of Law Enforcement." Absent that, possession of the weapons after a year of the amendment's effective date would be illegal.
BAWN is a Miami-based political committee primarily comprised of family members of mass shooting victims at Marjory Stoneman Douglas High School and Pulse nightclub.
The group earned attention earlier this year, with news they were teaming up with Americans for Gun Safety Now to push for passage of a new constitutional amendment.

No less than 766,200 signatures were required for amendments to appear on this year's ballot. That number will likely rise for 2020.
The group's definition of "assault weapons" will likely be a primary driver toward whether the measure will receive the 60 percent support required for a constitutional amendment to pass.
Advocates for gun control have gone back-and-forth with gun rights supporters over what constitutes an "assault weapon."
BAWN's definition, listed above, includes semiautomatic weapons, excluding handguns. that hold "more than 10 rounds of ammunition at once, either in a fixed or detachable magazine, or any other ammunition-feeding device." Those devices include "any magazine, belt, drum, feed strip, or similar device for a firearm."
The amendment also defines "semiautomatic weapons" as those which "fire a single projectile or a number of ball shots through a rifled or smooth bore for each single function of the trigger without further manual action required."
The amendment would also exempt "military or law enforcement use" of assault weapons.
A violation would be considered a third-degree felony, and the measure would go into effect 30 days after it is approved by voters, if successful.
"Our goal is to take military-style firearms off the shelves, thus saving the lives of innocent people," said BAWN Chairman Gail Schwartz back in September regarding the group's support for this amendment.
A previous assault weapons ban had mixed success.
An explainer by the Washington Post detailed the federal assault weapons ban passed in 1994. That ban expired after 10 years, but that measure was littered with loopholes with easy workarounds.
Lawmakers sought to avoid effectively banning every semiautomatic weapon. But the loopholes they carved out led to many manufacturers working around the prohibitions that did exist.
It's also unclear what effect the ban had on crime, according to a University of Pennsylvania study cited by the Post.
Mass shootings have appeared to spike in years since the ban expired, and many shooters utilize weapons which would be covered by the ban.
But mass shootings were also rare prior to the passage of the federal assault weapons ban. And multiple recent shootings, such as the Thousand Oaks shooting and the Santa Fe shooting, were carried out without rifles.
Still, BAWN will make its case that the amendment would do more good than harm. The group has raised nearly $410,000 through Nov. 1, spending more than $280,000 of that.