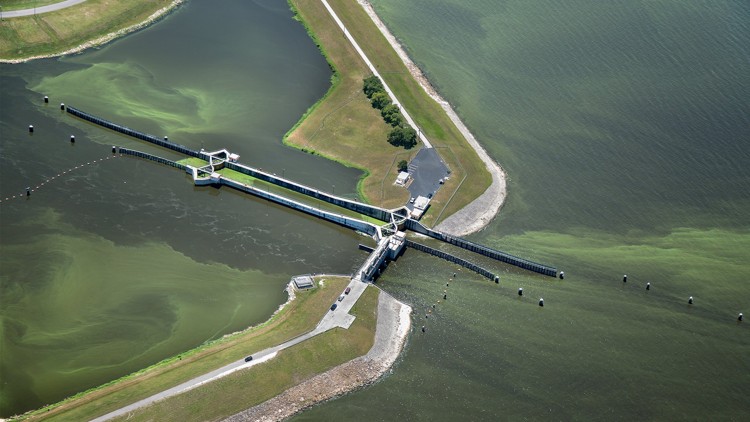 Citing Florida statute put in place by a law passed two years ago, U.S. Sugar said Thursday that the land acquisition option agreement between the company and the state can now be terminated.
The bill, SB 10, mandated the construction of a reservoir south of Lake Okeechobee to reduce discharges to the St. Lucie and Caloosahatchee estuaries in an effort to quash the harmful blue-green algal blooms that have wreaked havoc on Florida waters in recent years.
The legislation was the priority of former Senate President Joe Negron.
In a Thursday statement, U.S. Sugar spokeswoman Judy Sanchez said that the law as written requires the state's option agreement to be terminated.
"Many compromises were made to pass Senate Bill 10, bringing together advocates for agriculture and the environment. As part of that compromise, the EAA reservoir is being constructed well ahead of schedule and now, in accordance with SB 10 (F.S. 373.4598(6)), the state's option agreement can be terminated," Sanchez said.
The text of that statute: "The district must terminate the option agreement at the request of the seller if: (a) The post-authorization change report receives congressional approval; or (b) The district certifies to the board, the President of the Senate, and the Speaker of the House of Representatives that the acquisition of the land necessary for the EAA reservoir project, as provided in subsection (4), has been completed."
Sanchez's statement came after the first of those outs — congressional approval on Oct. 10 of a post-authorization change report — got the green light.
"With this condition met and the requirement of the law fulfilled, there's no need for the South Florida Water Management District to hang on to the remnants of a failed scheme. These approximately 150,000 acres of U.S. Sugar's actively productive farmland were never slated for any planned or approved restoration project," she continued.
"U.S. Sugar will continue to support the EAA Reservoir project, the Florida Legislature, the South Florida Water Management District and the U.S. Army Corps of Engineers as they move forward to build and operate the projects that will store, clean and convey more water south of Lake Okeechobee to reduce discharges, protect our coastal estuaries and the Florida Everglades," Sanchez concluded.
In a presentation to the Senate Appropriations Committee earlier this year, SFWMD Executive Director Ernie Marks said the district had all the land it needed and that the reservoir project was on schedule. Still, Negron sought to acquire more land.
SB 10 prohibits the use of eminent domain to acquire land and Marks made clear in his presentation the vast majority of large landowners south of Lake Okeechobee are not selling. Glades farmers are steadfastly against losing valuable, productive agricultural land.
Thursday evening, SB 10 sponsor Sen. Rob Bradley lauded the developments on Twitter as an "anticipated milestone … an incredible achievement … Great progress!"
Today's news of the termination of the option is an anticipated milestone. The option was a barrier to making southern storage a reality- its terms delayed southern storage for decades longer and diverted taxpayer dollars from critical restoration projects. 2

— Rob Bradley (@Rob_Bradley) November 30, 2018
The timelines in SB10 contemplated this day, and the fact that this day arrived means one thing-the Reservoir is happening! The pace of implementation of SB10 has exceeded my expectations and @RonDeSantisFL is committed to keeping EAA Reservoir on fast track. Great progress! 3

— Rob Bradley (@Rob_Bradley) November 30, 2018