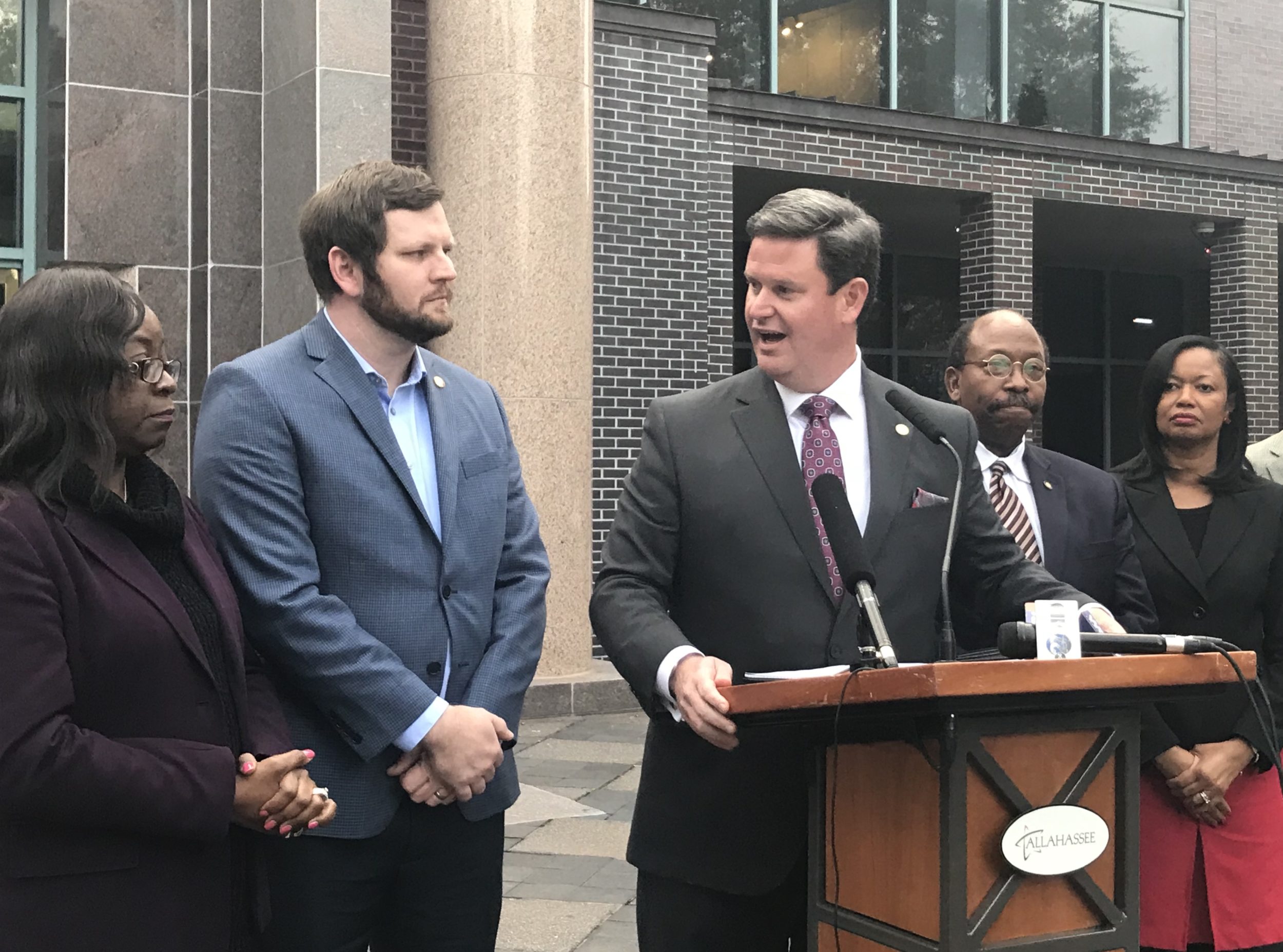 The culmination of a years-long public corruption investigation in the capital city isn't spoiling John Dailey's spirit.
Instead, the new Tallahassee Mayor sees the recent 44-count indictment of City Commissioner Scott Maddox as a chance to reset the city's tainted brand.
"It's our responsibility as the leaders of Tallahassee to turn this page, write the next chapter," Dailey told reporters in Tallahassee during a Wednesday evening news conference. "That's exactly what we're going to do."
That sentiment also is shared by newly elected City Commissioner Jeremy Matlow.
"For the better part of two years there's been a cloud hanging over City Hall," Matlow said in a statement provided to Florida Politics. "With the recent elections and now the indictment of Mr. Maddox, we can begin to put that chapter of history behind us."
Gov. Rick Scott suspended Maddox indefinitely from the City Commission just moments before Dailey appeared alongside commissioners to discuss the panel's next steps, namely selecting someone to fill the Seat 1 vacancy created by Maddox' suspension.
"We are dedicated to finding the most talented individual that can help move this community forward," Dailey said.
Dailey and City Commissioners Matlow, Curtis Richardson, and Dianne Williams-Cox soon will review applicants for Maddox's seat.
The application deadline for the vacancy is 5 p.m. on Dec. 22, a Saturday. More details are available here.
Dailey warned that postal delivery of an application must occur by Dec. 21, as City Hall does not receive mail on Saturdays.
Each member of the City Commission will review applicants and submit a shortlist of three candidates by Dec. 26. Dailey has scheduled a special meeting of the City Commission at 4 p.m. on New Year's Eve to determine Maddox's replacement, who will serve through 2020, when Maddox's term expires.
That's unless Maddox is able to return to the seat, something Dailey referenced as a possible and positive "resolution."
The Maddox and Carter-Smith trial is set for Jan. 14. North Florida's Chief U.S. District Judge Mark Walker will hear the case in Tallahassee.
Dailey expressed support for Maddox and his family and noted that Maddox is by law innocent until proven guilty.
"We're here because we're turning the page," Dailey said at the news conference. "It's a bright day in Tallahassee and we're moving forward."
Dailey refrained from commenting on the indictment of Maddox and former Executive Director of the Downtown Improvement Authority Paige Carter–Smith, both of whom are charged with spearheading "a racketeering enterprise that engaged in acts of bank fraud, extortion, honest services fraud, and bribery," according to charges made public by the U.S. Northern District Court of Florida on Wednesday.
The indictment focuses on Governance Services, LLC, and Governance, Inc., companies that Maddox and Carter-Smith "allegedly conspired to operate."
Maddox and Carter-Smith appeared with their ankles shackled before U.S. Magistrate Judge Charles Stampelos earlier on Wednesday to discuss their pleas and pre-trial release conditions.
Both Carter-Smith and Maddox, represented by different pairs of attorneys, entered not guilty pleas at their first court appearance.
More on the indictment can be found here. A copy of the indictment is available here.