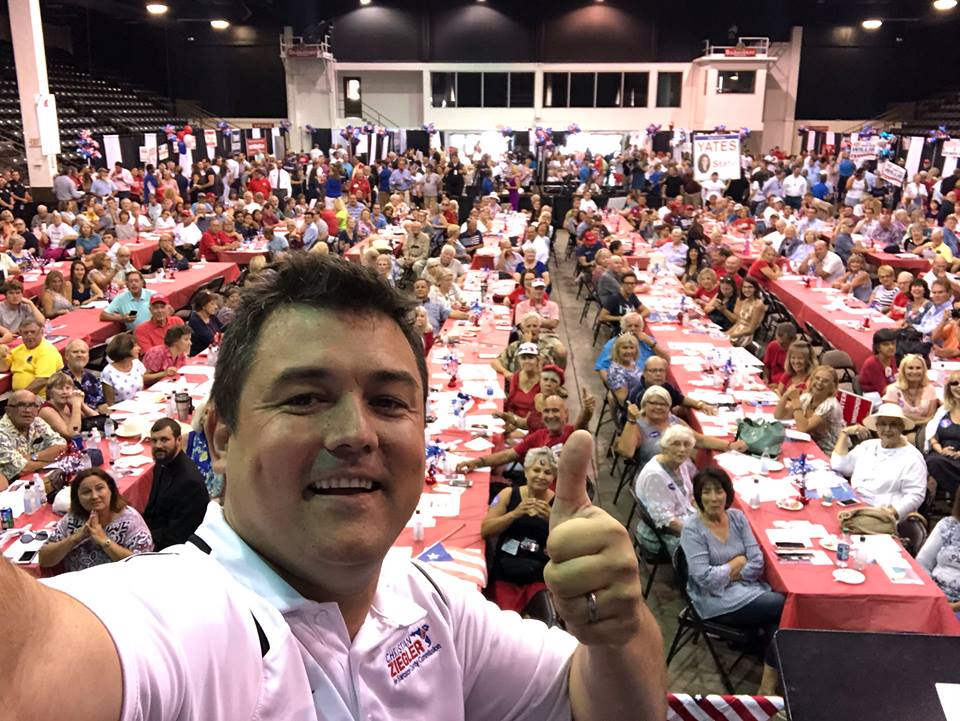 Christian Ziegler, currently the Sarasota County Republican State Committeeman, said he has racked up enough endorsements to guarantee his ascension to Vice Chair of the Republican Party of Florida.
He released a list Tuesday of 121 grassroots and State Executive Committee endorsements, including Joe Gruters, the front-runner for state Chair position, and Michael Barnett, the current state Vice Chair.
"Now, as we turn the page towards the political battle of our lifetime, I look forward to working for and alongside each one of you to help ensure President Trump's re-election, increase our majorities in the Legislature, and win at the local level," wrote Ziegler in a release announcing the endorsements.
If Ziegler wins the Vice Chair post, it will likely mean the top two elected positions running the Republican Party of Florida will hail from the same county.
Gruters, who won re-election as Republican Party of Sarasota chair last Thursday, became the clear front-runner for state chair when he got the backing of incoming Gov. Ron DeSantis.
Ziegler's list of 121 endorsements represents more than the 115 votes needed to clinch a victory, at least based on the number of members who voted in the state elections two years ago.
In seeking support, Ziegler has spun his local connection with Gruters as an asset.
"People see Joe and I as a team," he told Florida Politics. "We can work together more easily being 10 minutes from each other."
More importantly, Ziegler said his own relationships with party leaders around the state contributed to his easily tallying strong support.
"I've helped every county whenever they need help, no matter where they are located," he said.
Ziegler's biggest competition for the post, Leon County Republican Chair Evan Power, just pulled himself from the running last week after being stopped and charged with a DUI.
So far, no other major competitors have come forward to challenge Ziegler.
Gruters faces a challenge from Charlotte County Republican State Committeeman Bob Starr.
Ziegler and Power, in fact, spent much of the last two years rallying votes to win the state chair post themselves. DeSantis interviewed both as he considered who to back for position.
But as Gruters emerged as the front-runner, both Power and Ziegler turned to the Vice Chair position.
Ziegler this month also won public office and was recently sworn in to a four-year term on the Sarasota County Commission.
RPOF will hold its annual meeting of the state executive committee in January. Officers will be elected Jan. 12.
Complete list of endorsements below:
121 Grassroots / State Executive Committee Endorsements
John Martin (Alachua County)
Sherrie McKnight (Alachua County)
Tony McKnight (Alachua County)
Chris Norton (Baker County)
Danny Norton (Baker County)
Chuck Brannan (Baker County)
Thelma Rohan (Bay County)
John Salak (Bay County)
Debbie Wood (Bay County)
Donna Solze (Bradford County)
Richard Solze (Bradford County)
David Dodge (Bradford County)
Rick Lacey (Brevard County)
Cheryl Lankes (Brevard County)
Mike Thomas (Brevard County)
Richard DeNapoli (Broward County)
George Moraitis (Broward County)
Deborah McMullen (Charlotte County)
Bob Starr (Charlotte County)
George Gasparini (Citrus County)
Avis Craig (Citrus County)
Mike Moberley (Citrus County)
Doug Rankin (Collier County)
Robert Staton (DeSoto County)
Gertrude "Trudi" Super (DeSoto County)
Ted Zolkos (DeSoto County)
Skip Lynar (Dixie County)
Judith Youngblood (Duval County)
Dean Black (Duval County)
Jeremy Evans (Escambia County)
Susan Moore (Escambia County)
John Roberts (Escambia County)
David Sullivan (Flagler County)
Sharon Demers (Flagler County)
Ned Pooser (Franklin County)
Joyce Estes (Franklin County)
David Biddle (Gilchrist County)
Doug Korinke (Glades County)
Bob Murhee (Glades County)
Margaret Pass (Glades County)
David Ashbrook (Gulf County)
Joanna Bryan (Gulf County)
Barbara Radcliff (Gulf County)
Dr. Ben Norris (Hamilton County)
Tom Moffses, Jr. (Hamilton County)
Sue Birge (Hardee County)
Patty Clark (Hardee County)
Dan Graham (Hardee County)
Steve Nisbet (Hendry County)
Tom Gaitens (Hillsborough County)
Clarice Henderson (Hillsborough County)
Jim Waurishuk (Hillsborough County)
Joseph Coakley (Indian River County)
Colin Barton (Jefferson County)
Carolyn Land (Lafayette County)
Ralph Smith (Lake County)
Chris Crowley (Lee County)
Nancy McGovern (Lee County)
Jonathan Martin (Lee County)
George Lambka (Levy County)
Michelle Finnen (Levy County)
Bob Bezick (Madison County)
Teri Armstrong (Marion County)
Chuck Pardee (Marion County)
Rocky Stacy (Marion County)
James Campo (Martin County)
Stacey Hetherington (Martin County)
Bruno Barreiro (Miami-Dade County)
Liliana Ros (Miami-Dade County)
Kathy Ovide (Monroe County)
Stephen Hammond (Monroe County)
DeeDee Corbin (Nassau County)
Justin Taylor (Nassau County)
John Martin (Nassau County)
Sandra Atkinson (Okaloosa County)
Jeff Hinkle (Okaloosa County)
Joe Arnold (Okeechobee County)
Melissa Arnold (Okeechobee County)
Jim Craig (Okeechobee County)
Rich Crotty (Orange County)
Kathy Gibson (Orange County)
Charles Hart (Orange County)
Michael Barnett (Palm Beach County)
Joe Budd (Palm Beach County)
Cindy Tindell (Palm Beach County)
Bill Bunting (Pasco County)
Randy Evans (Pasco County)
Sandy Graves (Pasco County)
Nancy Riley (Pinellas County)
Dan Tucker (Pinellas County)
Debbie Hannifan (Polk County)
Ed Shoemaker (Polk County)
Mike Cribby (Putnam County)
Tom Williams (Putnam County)
Diane Williams (Putnam County)
Mary Ann Russell (Saint Lucie County)
Anthony Bonna (Saint Lucie County)
Mary Golden (Santa Rosa County)
Martin Simmons (Santa Rosa County)
Joe Gruters (Sarasota County)
A.J.Janson (Sarasota County)
Susan Dolan (Seminole County)
Kathryn Townsend (Seminole County)
Tom Rivers (St. Johns County)
Marina Woolcock (Sumter County)
John Temple (Sumter County)
Sherri Ortega (Suwannee County)
Chris Summerlin (Suwannee County)
Elmer Coker (Taylor County)
Pat Coker (Taylor County)
Vince Brown (Union County)
Sara Owen (Union County)
Mike Rich (Union County)
Paul Deering (Volusia County)
Tony Ledbetter (Volusia County)
Dana Dougherty (Volusia County)
Ralph Thomas (Wakulla County)
Charlotte Flynt (Walton County)
Mark Foley (Walton County)
Tim Norris (Walton County)
Zenna Corbin Washington County