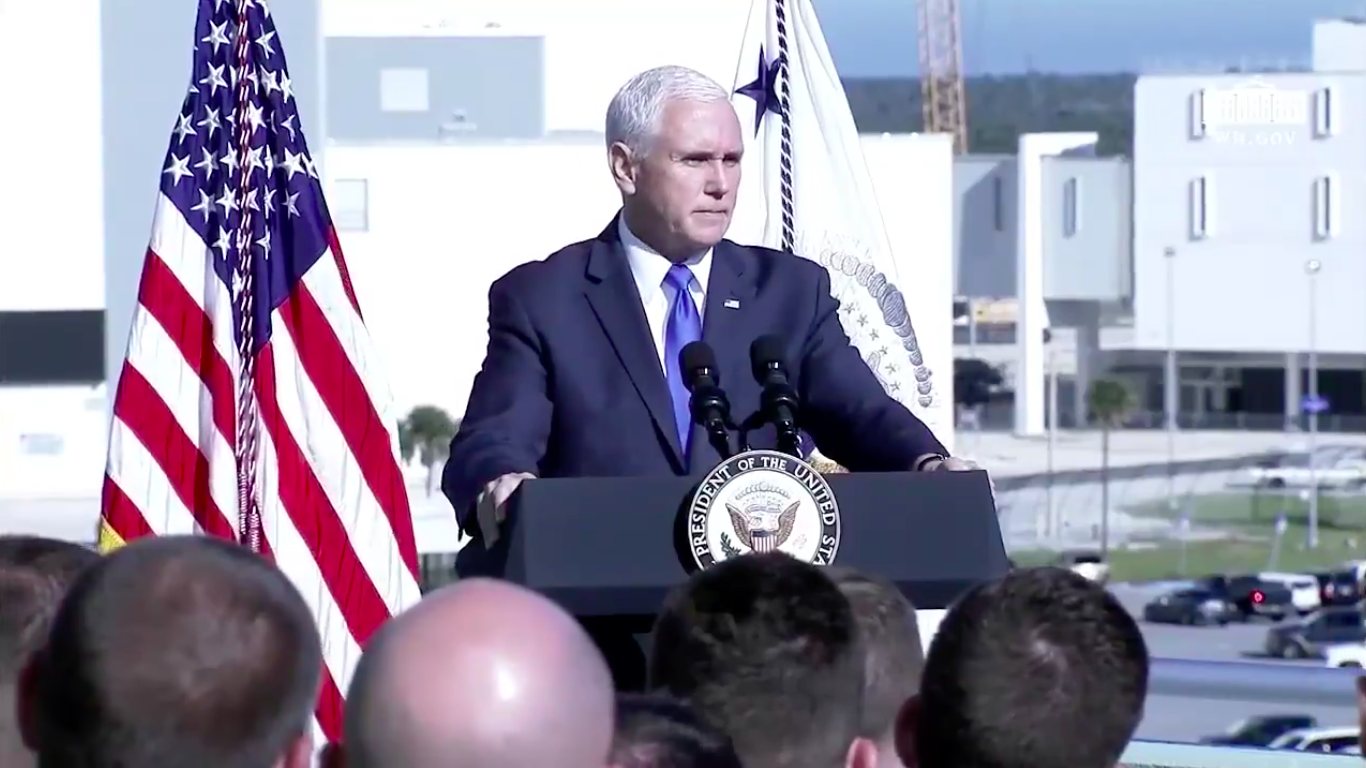 Vice President Mike Pence was at Kennedy Space Center Tuesday to shed light on how the U.S. Space Force will fit within the structure of the U.S. military.
"A new era of American national security in space begins today," Pence said.
Pence told a crowd of airmen that President Donald Trump would soon establish the Space Command and hoped to have a Space Force standing by 2020.
"Today, President Trump will direct the Department of Defense to establish a Combatant Command that will oversee all of our military activities in space," Pence said.
"This Space Command will be the 11th Combatant Command in the U.S. military. Joining the Indo-Pacific Command, the European Command, but also it will serve alongside what are known as functional commands such as Strategic Command and Special Operations Command. It will be led by a four-star flag officer."
Space operations currently fall under the jurisdiction of Strategic Command and will likely remain there through 2019, as Congress already passed legislation keeping it there for next year.
The change in command structure comes, Pence says, as nations like Russia and China develop technology for jamming and disabling satellites
Effectively, establishing such a command will integrate all national defense-related space capabilities from across all branches of the military. Pence said there's currently about 18,000 military and civilian personnel working in space operations with the Department of Defense.
Over the next few days, Pence said, the administration will lay out the specifics for the Space Command, which will be tasked with space doctrine, tactics, techniques and procedures to "enable our war fighters to defend our nation in this new era."
The administration remains in talks with Congressional leaders from both parties, Pence said, on timelines for implementing policy.
But he said Trump remains committed to establishing a Space Force as a sixth branch of the military, something the president first announced in June.
Pence sounded confidence that the Space Force would stand before the end of 2020, when Trump faces re-election.
Pence traveled to Kennedy Space Center today with Air Force Secretary Heather Wilson, according to Florida Today.
The visit came the same day SpaceX scrubbed a Falcon 9 rocket launch at Cape Canaveral. But the vice president toured facilities to see private spacecraft being developed to transport U.S. astronauts to the International Space Station.