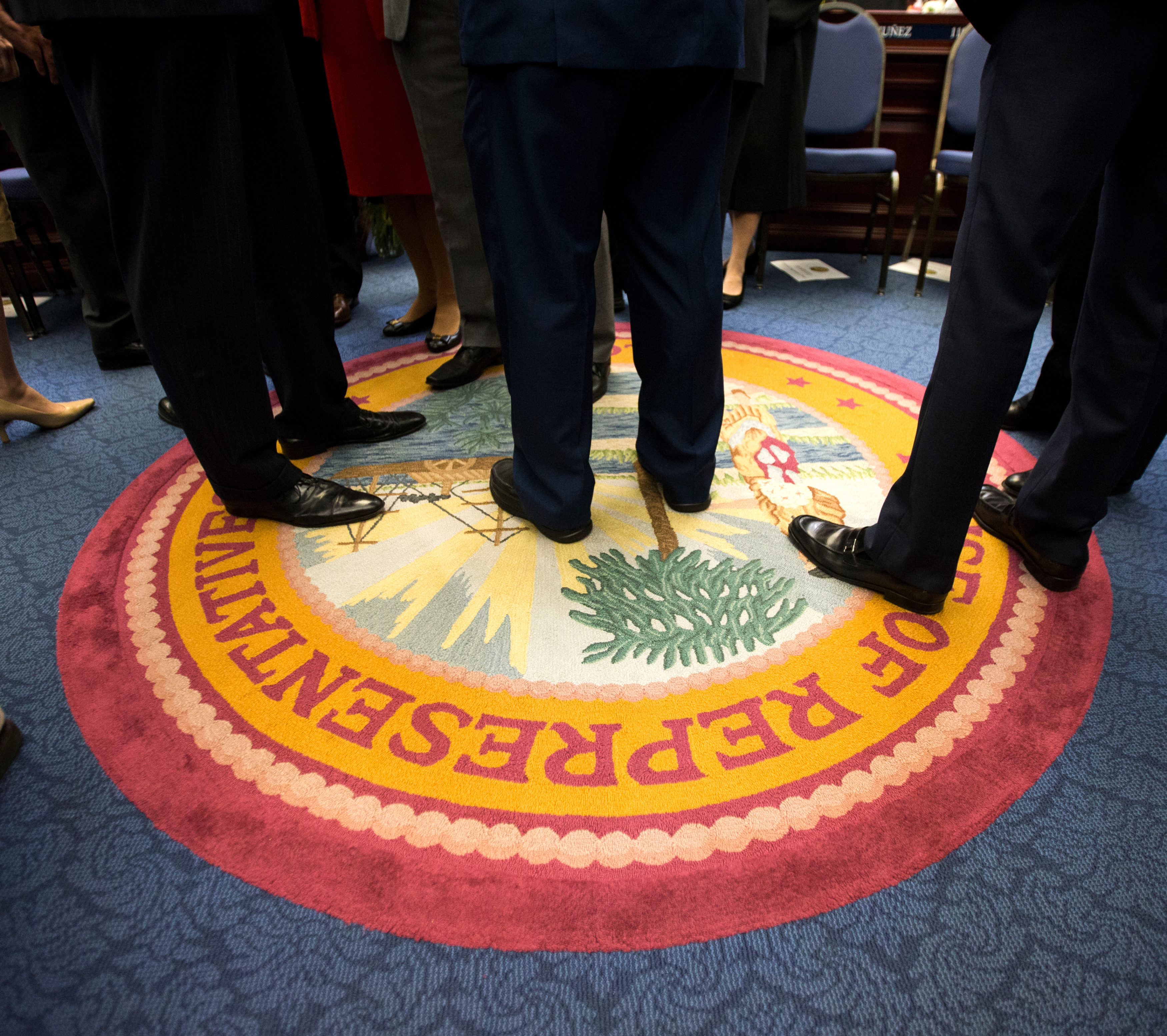 Five more incumbent state representatives — three Democrats and two Republicans — have opened campaign accounts to run again in 2020.
Among those filing their paperwork last week were three members of the 2018 freshman class in the House:
— Riverview Democratic Rep. Adam Hattersley.
— Lauderdale Lakes Democratic Rep. Anika Omphroy.
— Howey in the Hills Republican Rep. Anthony Sabatini.
Second term Reps. Wengay Newton, a St. Petersburg Democrat, and Jackie Toledo, a Tampa Republican, also took the first step for another term.
Hattersley was elected to Hillsborough County's House District 59 after earning a 3-point win over Republican nominee Joe Wicker in the general election. Hattersley was one of eight Democratic candidates to win a Republican-held seat this cycle. Prior to his victory, HD 59 was held by Dover Republican Ross Spano. Spano was elected to the U.S. House last month, though there is a possibility he may not be seated due to the illegal use of personal loans to fund his campaign.
Omphroy finished the 2018 election cycle early. Due to a paperwork error by former Democratic Rep. Barry Russell, Omphroy declared the winner of Broward County's House District 95 in June. She joined 25 incumbent lawmakers, including 21 Democrats, in earning a seat at the end of the candidate qualifying period.
Newton, a former St. Pete City Commissioner, was first elected to the House in 2016. Newton was re-elected in August after taking more than 49 percent of the vote in a three-way Democratic primary for House District 70, which covers parts of Hillsborough, Manatee, Pinellas and Sarasota counties.
Sabatini similarly faced his toughest challenge in the August primary. Despite a fundraising gap, the former Eustis City Commissioner made it out of House District 32's three-way nominating contest with a W and went on to dispatch Democratic nominee Cynthia Brown by 12 points on Election Day. He succeeded former Republican Rep. Larry Metz in the Lake County-based district.
Toledo was elected to the Florida House in 2016, succeeding former Sen. Dana Young in Hillsborough County's House District 60. Despite the so-called "blue wave" hitting Hillsborough in a big way, Toledo was able to defeat Democrat Debra Bellanti by 5 points last month. The second-term lawmaker was recently named vice chair of the House's Criminal Justice Subcommittee and Rules Committee.
Division of Elections records show Hattersley, Omphroy and Sabatini opened their campaign accounts Thursday, with Newton and Toledo following on Friday.
As of Tuesday morning, 64 incumbent members of the state House had filed for re-election.
Additionally, 12 of the 14 state Senators eligible for another term have filed for re-election. The other six Senate seats up in 2020 are held by Republican Sens. Rob Bradley, David Simmons, Lizbeth Benacquisto and Anitere Flores as well as Democratic Sen. Bill Montford, all of whom are facing term limits.