Mark Inch, former director of the federal Bureau of Prisons, has been named Secretary of the Department of Corrections, according to the transition team of Governor-elect Ron DeSantis and Lt. Gov.-elect Jeanette Nuñez.
The transition announced the move, first reported by Florida Politics, on Thursday.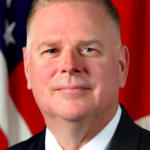 Inch, a retired U.S. Army major general, served briefly as federal prisons head from September 2017-May 2018.
There, he oversaw 122 detention facilities, 39,000 staffers and 186,000 inmates, according to his LinkedIn page.
Before that, Inch was Provost Marshal General of the Army, Commanding General of the Criminal Investigation Command (CID) and Army Corrections Command, and Executive Manager of the Defense Forensics and Biometrics Agency.

He was a military police officer for 35 years, serving in Afghanistan, Iraq and Somalia.
"Mark Inch is an exceptional leader who has dedicated his life to serving and protecting our country at home and abroad," DeSantis said in a statement.
"Mark is one of the foremost experts on criminal justice, having Directed the Federal Bureau of Prisons and I am proud to have him bring his knowledge and expertise to this new administration. I look forward to working with him to strengthen Florida's Department of Corrections and ensure efficiency and accountability at such an important agency."
Inch has an undergraduate degree in biblical archaeology from Wheaton College in Illnois, a graduate degree in geography from the University of Texas at Austin and a graduate degree in Military Operational Art and Science Studies from the U.S. Army Command and General Staff College.
He "completed professional certification with the American Correctional Association and was the first association member to earn the Certified Corrections Executive designation with Honor" the LinkedIn page says. "He also received the American Correctional Association's highest honor, the E.R. Cass Award for lifetime achievement in Corrections."
The department is "Florida's largest state agency, and the third largest prison system in the country," its website says. The agency "employs 24,000 members, incarcerates approximately 96,000 inmates and supervises nearly 166,000 offenders."
Inch would replace Julie Jones, Corrections Secretary since 2015 under outgoing Gov. Rick Scott.
Last updated on January 3, 2019