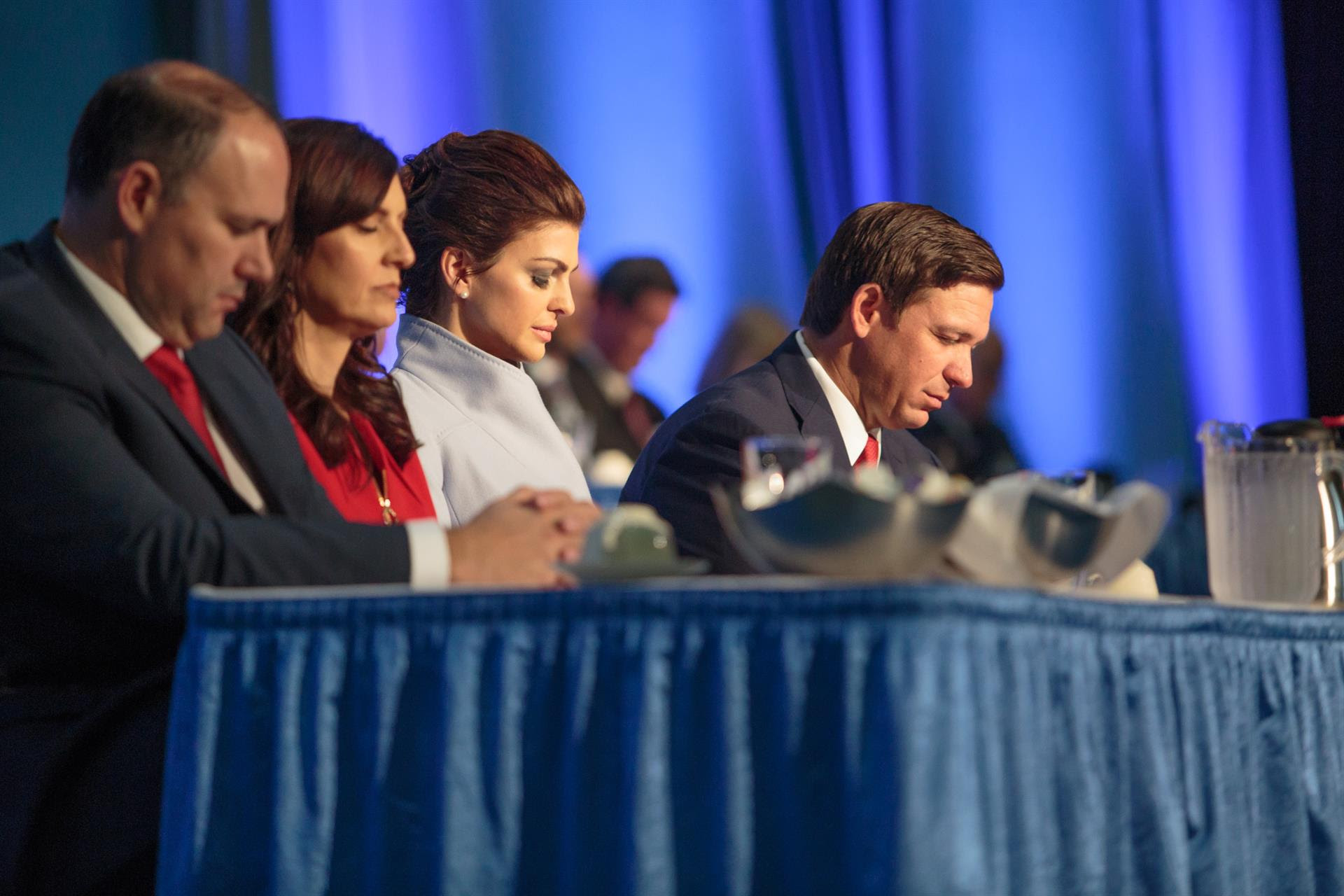 Gov. Ron DeSantis and wife, Casey DeSantis, will hold a baptism ceremony Tuesday afternoon for son Mason in the Governor's Mansion, he told the audience at a pre-inaugural prayer breakfast.
That's why he did not want a traditional parade after his 11 a.m. inauguration, DeSantis said at the event, held at the Alfred Lawson Jr. Multipurpose Center on the campus of Florida A&M University in Tallahassee.
Mason, born last March, will be baptized with water taken from the Sea of Galilee in Israel, added DeSantis, a Roman Catholic. The couple also has a daughter, Madison, born in 2016.
The DeSantises delayed the baptism because, with the now-new Governor on the campaign trail last year, they couldn't find the time, he said.
"There was never really a good time to do it, so we just said 'let's get through the election,' " he said. "Once that was over, we figured what better time to do it here."
DeSantis, a Ponte Vedra Beach Republican, will be ceremonially sworn in Tuesday morning, though he officially took office at midnight.
He also used the prayer breakfast to set a tone of comity for the months and years ahead: "The more we turn to God, the easier it will be for us to work together and solve problems."
The event was led by Darrick McGhee, Vice President of Government Relations at the Johnson & Blanton lobbying firm and pastor of Bible Based Church in Tallahassee. He also was former Gov. Rick Scott's director of legislative affairs.
Also speaking were Reps. Mel Ponder, a Destin Republican and Methodist, and Randy Fine, a Brevard County Republican who is Jewish.
Lt. Gov. Jeanette Nuñez told the crowd she realizes she and DeSantis "have people praying for us every step of the way" as they start their first term.
She attended Christian school from kindergarten through 12th grade and called herself "a woman of faith": "We may not know what the future holds in store for us, but we know who holds it."