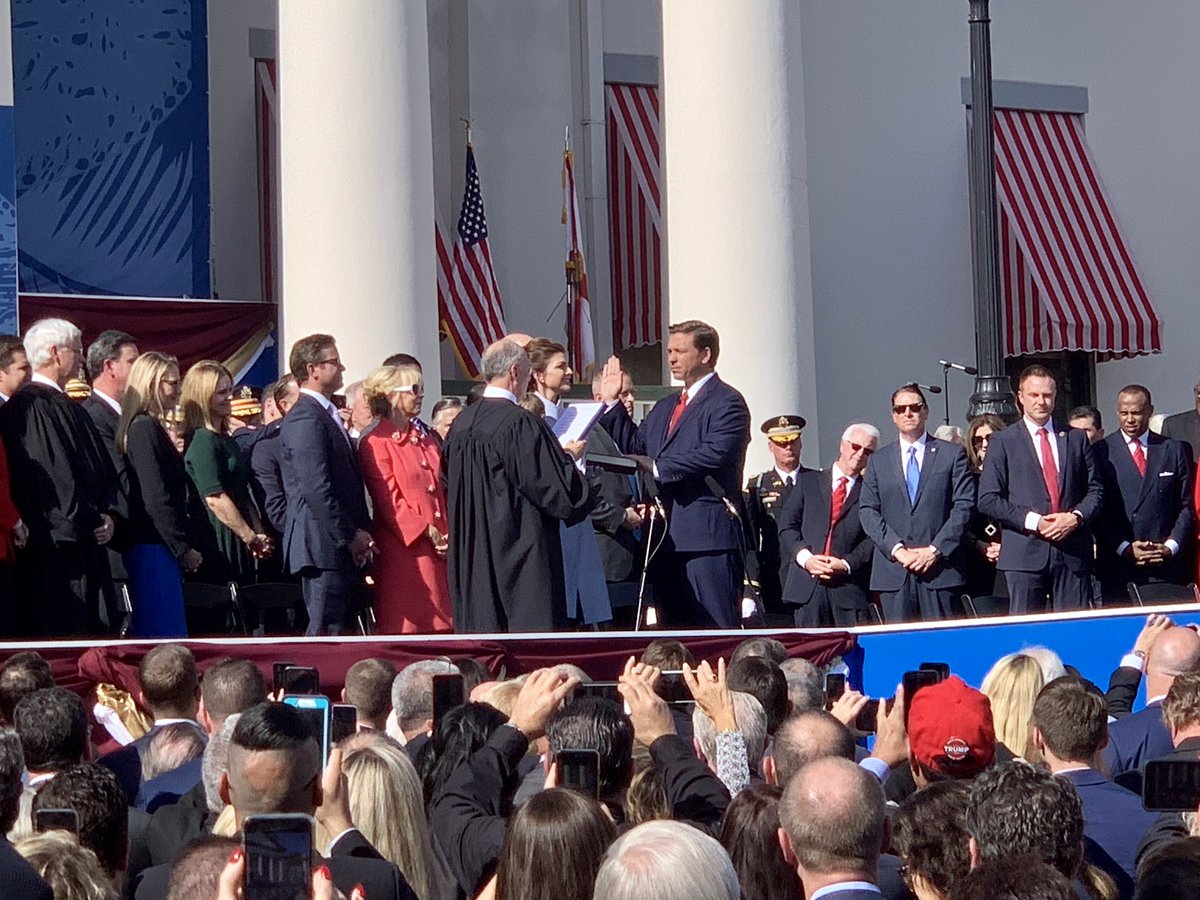 In his inaugural speech, newly sworn-in Gov. Ron DeSantis promised to maintain fiscally conservative tax policies for Florida, while saying the state must fiercely protect the environment or face financial peril.
"Our economic potential will be jeopardized if we do not solve the problems afflicting our environment and water resources," DeSantis said.
Florida's 45th governor stressed his roots as a Florida native and his study of the Founding Fathers' principles as he ceremonially took his place as Florida's top executive.
In a speech that quoted both Yogi Berra and Benjamin Franklin, DeSantis promised to bring the state together after a historically close election.
"If we meet the challenges that lie before us," DeSantis said, "if we overcome the tribalism that has dominated our politics, if we set aside the interests of hard-working taxpayers as our true north, then I have no doubt that the state of Florida will cruise to bright new horizons."
Stridently conservative in parts of the speech and conciliatory in others, the former Congressman relayed policy directions on a broad array of issues including school choice, regulatory environment and environmental preservation.
Supporters heralded the speech as a bold and energetic agenda with the promise of a new generation of leadership in Tallahassee.
"His focus on growing on the successes of the last eight years means that Florida will continue to lead by example when it comes to lower taxes, environmental stewardship and the security of Floridians," said Gus Corbella, Greenberg Traurig, senior director of the Tallahassee office Government Law & Policy Practice at Greenberg Traurig.
"He's a fellow Gen X'er with a young family, and we're excited to witness this generational change in leadership and all that it will bring to our state."
Indeed, the governor stressed he arrives at the Governor's Mansion with wife Casey and two small children, and said he would forgo the traditional parade to have his son Mason baptized with water from the Sea of Galilee.
DeSantis also signaled an administration focused on accountability for politicians at all levels of government, promising to remove any official "neglectful of required duties."
That could be dire news for Broward County Sheriff Scott Israel, long criticized by DeSantis for the handling of the Parkland shooting. DeSantis got big applause with an apparent allusion to the Parkland shooting in February.
"We must never turn a blind eye to those who represent a danger to our schools and community," DeSantis said. "We cannot sacrifice the safety of our people at the altar of social experimentation."
DeSantis promised to keep corporate taxes low and to exploit the "follies" of states driving business to the Sunshine State. He especially expressed hope in expanding Florida's innovation sector.
Since releasing his economic plan while running for governor, DeSantis stressed the importance in growing high-tech jobs in the state.
"An expanding economic base will yield more high-paying jobs for our citizens and is the best way to generate the revenue needed for public priorities like education, protecting our natural resources and infrastructure," DeSantis said.
"We know what works and what doesn't — let's not veer off course."
But he also emphasized that Florida's economy, particularly the vital tourism industry, demand stewardship of the land.
"People want to come to Florida because of its natural beauty," DeSantis said.
"Tourism is not only a pillar of our state's economy, it helps spread the tax burden to non-Floridians, limiting taxes on our citizens. But this could be in jeopardy if we do not solve our pressing environmental problems."
He repeated his own desire to see civics play a greater role in school curricula. And he reinforced a commitment to school choice, something previously made obvious when he tapped former state House Speaker Richard Corcoran as Education Commissioner.
"In a large and diverse state, our education system needs to empower parents to choose the best possible school for their children," he said.
"One size does not fit all. No family should be denied the opportunity for their child to succeed due to insufficient income or to living in the wrong ZIP code. And this opportunity must extend to every Floridian regardless of race, color or creed."
He promised upcoming judicial appointments, which include three picks for Florida's Supreme Court, will show judicial restraint.
"Judicial activism ends, right here and right now," he said.
"I will only appoint judges who understand the proper role of the courts is to apply the law and Constitution as written, not to legislate from the bench. The Constitution, not the judiciary, is supreme."
He at one point quoted Alexander Hamilton, America's first Treasury Secretary and the subject of the musical that provided a surprise assist to DeSantis' gubernatorial ambitions.
"Alexander Hamilton wrote that, 'Energy in the executive is the leading character in the definition of good government.' I agree," DeSantis said.
"So let there be no misunderstanding: as governor, I will lead with purpose and conviction on behalf of the people of Florida."
He wrapped up his address promising to veto wasteful spending and protecting the environment whenever it gets threatened.
He then alluded to a speech by Franklin at the Constitutional Convention where the Founding Father said he felt assured the sun was rising for America.
"We will see that rising sun," DeSantis said. "So Sail on, O' Ship of State, For the future of Florida is strong and great."