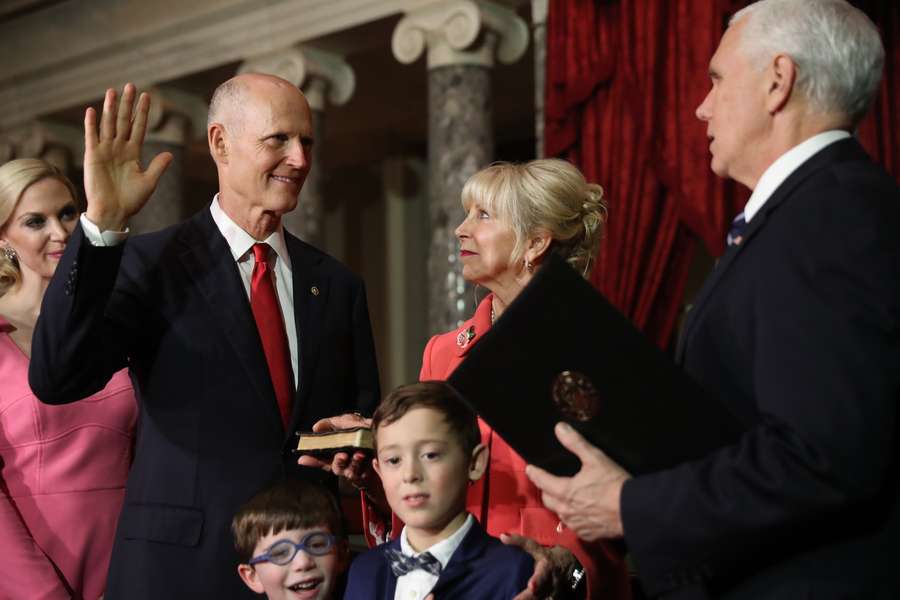 Just hours after the inauguration Tuesday of Gov. Ron DeSantis, his predecessor, Rick Scott, was sworn into the U.S. Senate.
Scott appeared at DeSantis' inauguration ceremony in Tallahassee and then went to Washington, where Vice President Mike Pence administered the oath of office
Scott was joined by fellow Republican U.S. Sen. Marco Rubio, and former Florida Republican senators Connie Mack, Mel Martinez and George LeMieux.
Sen. Rick Scott sworn into the Senate. #116thCongress pic.twitter.com/Uzm0mO4dHi

— CSPAN (@cspan) January 8, 2019
Scott is one of seven freshmen in the U.S. Senate's 2018 class and is the first new U.S. Senator from Florida since Rubio was elected in 2010. Scott unseated three-term Democratic U.S. Sen. Bill Nelson in the Nov. 6 election in one of the closest statewide elections of the 2018 cycle.
The election was one of the closest in the state, with the margin between Scott and Nelson shrinking to just 10,033 votes — 0.12 percent of more than 8.1 million votes cast — after state mandated machine and manual recounts.
Scott was the only U.S. Senator sworn in Tuesday, as he technically filled a vacant Senate seat since Nelson's term ended on Jan. 3.
Instead of leaving early and passing the baton to former Lt. Gov. Carlos Lopez-Cantera for a week, Scott elected to serve out the remainder of his term.
With Scott's addition in Washington, Florida will be represented by two Republicans in the U.S. Senate for the first time since the Reconstruction Era, when Abijah Gilbert left office in 1875.
___
The News Service of Florida contributed to this post.