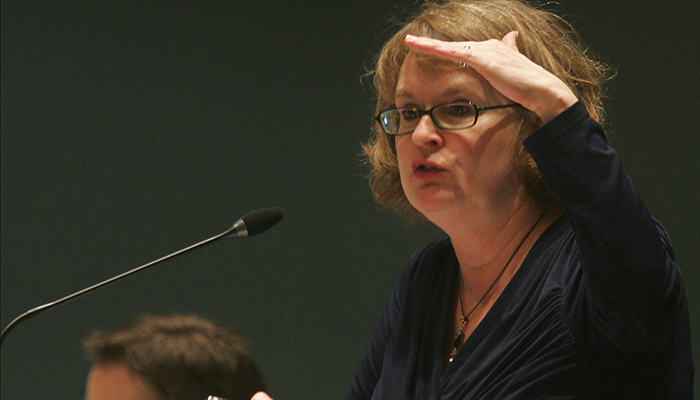 A top state economist advised the House Commerce Committee on Tuesday to take a more expansive approach to economic development than continuing to rely largely on low-wage tourism and recruiting out-of-state businesses to move here.
"This is essentially a grassroots or bottom-up theory of economic development," said Amy Baker, coordinator of the state Office of Economic and Demographic Research.
"It focuses government efforts on helping local businesses find, expand, or create new markets, very much related to the regulatory environment they're facing. It's focusing on things like infrastructure, research and development, financing — all of those issues — rather than the traditional toolkit of recruiting business by business."
Chairman Mike La Rosa, a St. Cloud Republican, seemed intrigued by the idea.
"The new technology is exciting," he said after Baker's presentation on economic trends. For more on her report, go here.
"That means folks can do things that maybe they weren't able to do in their backyards, because there wasn't a massive company that was providing jobs, gives people the ability to work from anywhere," La Rosa said. "That was certainly encouraging."
He didn't promise legislation this year, but said it's "something we're going to certainly look at."
La Rosa's main priority for the coming Legislative Session is deregulation.
"There is a strenuous push down on business owners, where we could use some more deregulation," he said.
"I know we have had many attempts in the past. But, at the end of the day, I want everyone to have an opportunity to create a business, to have a job, and to create jobs."
As for the broad picture, Florida's economy long has been driven by population growth, Baker said. Although the trend seems to be toward a growth rate slightly below the 1,000 new residents per day the state is used to, it will continue to lure businesses eager to serve the market.
Population growth "is an engine of economic growth, fueling both employment and income growth," she said.
That's not working in rural communities with small populations, however. So the state might want to focus more on growing in-state businesses and human capital "rather than a limited focus on just recruiting out-of-state businesses," she added.
"That means that, for this committee, the role is larger than just the toolkit of programs that we typically think about," Baker said.
"It has to include improving the quality of education, retaining graduates in Florida, developing different kinds of incentives and programs, developing other ways of reaching people and helping them participate in the economy."
One possible avenue is New Economy, she said — meaning business conducted electronically, including apps (like Uber or HomeAdvisor) that help independent contractors provide services, and remote work.
"It does provide some opportunity for rural economies that will make them less disadvantaged than they are now. However, they will still be disadvantaged to some extent," Baker said.
That's partly because service apps depend on population densities that rural areas lack. "Somebody trying to make a living as an Uber driver would probably find it difficult in Liberty County, or Gadsden County, or Wakulla County to do that," she said.
On the other hand, Florida's rural areas tend to contain relatively younger populations — the inverse of the picture nationally. Populations "more willing to work for on-demand employment," Baker said.
"If we start targeting training and educational opportunities for those residents, with the focus on developing their individual strengths, they can probably participate in the New Economy remotely. So there are some opportunities there that are different than trying to recruit business by business into a low population area."
That won't work unless Florida does more to eliminate the digital divide between people with access to high-speed data communications and those who don't, Baker said.
Such a move would be especially urgent in the Hurricane Michael disaster zone, which includes some of the most rural, poverty-stricken counties in Florida, where many have lost everything.
Following past disasters, insurance payments helped finance rebuilding that mitigated the economic wallop. However, the Michael zone tends to be underinsured — many people don't own their homes, or live in older homes they inherited mortgage-free.
"High levels of being insured go with high levels of being mortgaged, and a lot or purchasing activity going on," Baker said. "We're not confident they're going to bring in many insurance dollars or that they're going to be able to repair themselves quickly."
How to respond will be a major question for the committee, she said.
"What is our vision for that area going forward?" Baker asked. "Is it going to be helping those communities come back? Is it going to be allowing new kinds of development to come in? Or is it some other tool that might be available?"