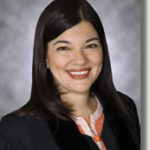 Gov. Ron DeSantis appointed Barbara Lagoa, chief judge of the 3rd District Court of Appeal in Miami, to be the newest justice and first Cuban American woman on the Florida Supreme Court.
DeSantis announced his selection Wednesday morning at the Freedom Tower on Miami's Biscayne Boulevard.
Her "proven commitment to upholding the rule of law, unparalleled legal career and vast experience on the appellate bench distinguish her among the most qualified individuals to serve on our state's highest court," DeSantis said.
Lagoa is the first of three picks that DeSantis will make to the high court. She will take the seat reserved for a resident of the state's Third Appellate District, which handles cases from Miami-Dade and Monroe counties; the other two seats are at-large.
Justices Barbara Pariente, R. Fred Lewis, and Peggy A. Quince all faced mandatory age-related retirement Tuesday. Lewis held the Third District seat.
The next justices will likely determine the court's ideological balance: Pariente, Lewis, and Quince have been regarded as the liberal-leaning contingent; Chief Justice Charles Canady and Justices Ricky Polston and Alan Lawson are the conservatives. Justice Jorge Labarga is often a swing vote, though he has recently been voting with the conservative bloc.
"Judicial activism ends, right here and right now," DeSantis – a Ponte Vedra Beach Republican – said in his inauguration speech Tuesday.
"I will only appoint judges who understand the proper role of the courts is to apply the law and Constitution as written, not to legislate from the bench," he said. "The Constitution, not the judiciary, is supreme."
Former Gov. and now U.S. Sen. Rick Scott, a Naples Republican, said DeSantis "made a fantastic choice."
Scott had wanted to name all three replacements to the court on his last day in office but was shut down by the court itself after progressive groups sued. Its opinion said DeSantis had "the sole authority to fill the vacancies."
"During her stellar legal career, Justice Lagoa has consistently shown a commitment to the rule of law and constitutional principles," Scott said in a statement. "I know she will be a strong voice for years to come."
Lagoa, a 51-year-old Cuban American born in Miami, was first appointed to the bench by Gov. Jeb Bush in 2006. She is fluent in English and Spanish, according to her court bio.
"Over her 12 years on the appellate bench, Justice Lagoa has heard more than 11,000 cases and issued more than 470 written opinions," the Governor's Office said in a press release.
Before becoming a judge, Lagoa was in private practice and was a federal prosecutor in Miami, working in the Civil, Major Crimes and Appellate Sections.
She received her undergraduate degree from Florida International University and law degree from Columbia University in New York, where she was an editor at the Columbia Law Review.
Lagoa also has been a member of the Federal Judicial Nominating Commission. She's married to Paul C. Huck Jr., also a lawyer. They have three children.
For more reaction to the Lagoa appointment, click here.