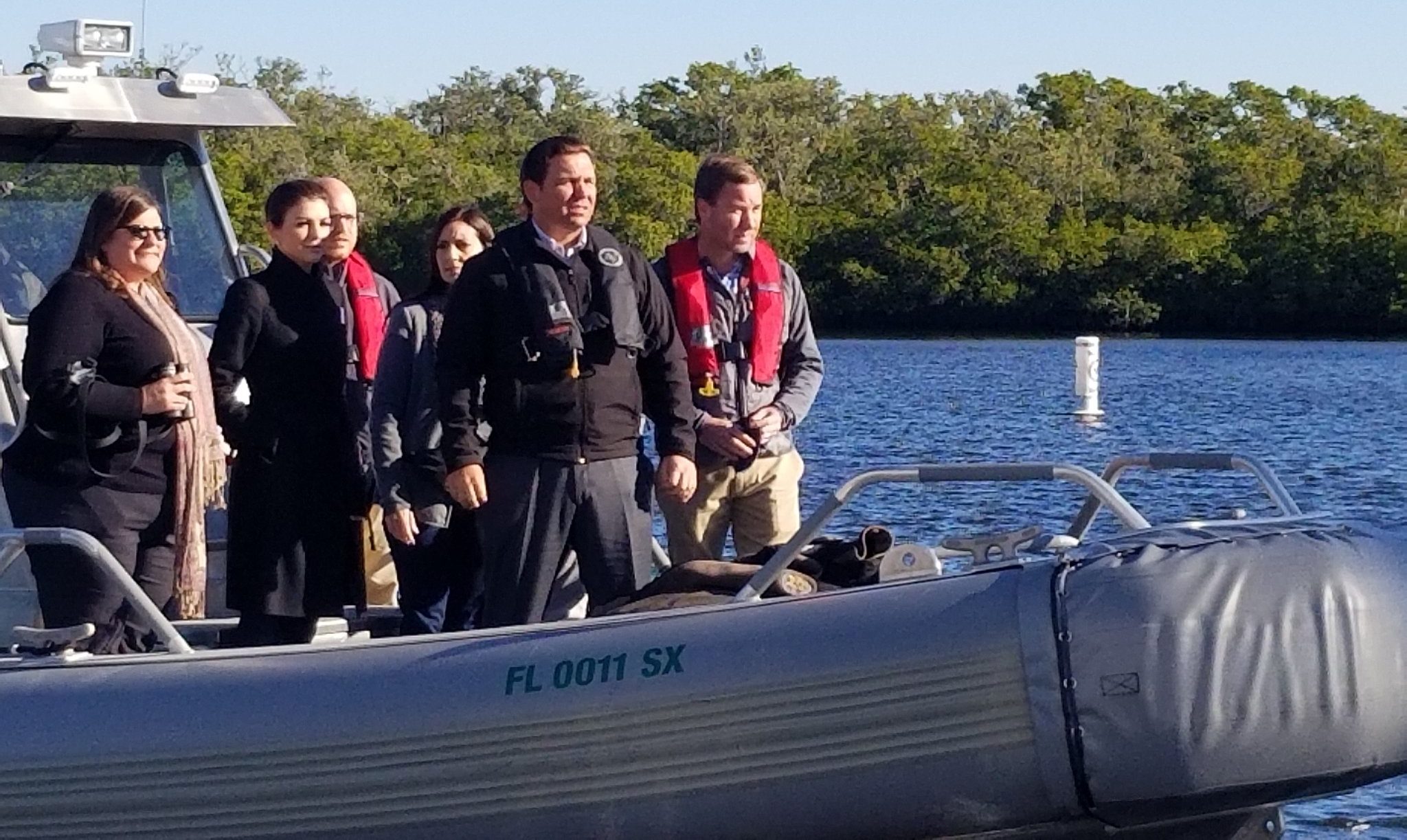 Gov. Ron DeSantis on Thursday morning signed a new executive order committing $2.5 billion over the next four years for Everglades restoration and other water protection.
He announced the order at a press conference where he also discussed major changes soon at the South Florida Water Management District and reemphasized his commitment to expecting construction on a reservoir south of Lake Okeechobee.
"We're ordering the South Florida Water Management District to begin the EAA Reservoir now and not wait around," DeSantis said.
"As long as the focus is on this and we keep pushing, we get progress," he added. "When we find other things to do, that's when things grind to a halt."
While DeSantis remained skeptical the Army Corps of Engineers and U.S. Environmental Protection Agency will complete their safety reviews on time next week, he wants to begin as soon as possible.
The order also established a Blue-Green Algae Task Force, directs a prioritization of building a reservoir, and creates an Office of Environmental Accountability and Transparency and a position of Chief Science Officer.
DeSantis also promised to enact changes in the make-up of the South Florida Water Management District board, and said more news would come about that in the next 24 hours.
He wants to see task forces tackling issues like Everglades restoration and harmful algal blooms to work together as a single entity in the future.
The new governor issued the order less than two days after promising to prioritize the environment during his inaugural address.
He traveled to Bonita Springs and made his announcement at the Florida Gulf Coast University's Vester Marine and Environmental Science Research Field Station.
The governor said the Fort Myers-based university could play a special role in studying the impacts of blue-green algae, which has bloomed three of the past four summers following discharges from Lake Okeechobee into the Caloosahatchee River.
Lawmakers representing Southwest Florida heralded the announcement, and welcomed the fact he took action so quickly.
"There are so many areas of the state that have been hit by environmental crises this past year, but nowhere in my humble opinion as much as Southwest Florida," said state Sen. Lizbeth Benacquisto, a Fort Myers Republican. "I'm so proud Southwest Florida was the first stop on the governor's comprehensive tour."
But the Senate's top Democrat, in a statement later Thursday, said she was "concerned by the lack of details in his directive."
"His order calls for the securing of $2.5 billion over the next four years to invest in Everglades restoration and protecting our water resources, but there is no identification of where that money will come from," Senate Democratic Leader Audrey Gibson of Jacksonville said.
"Will he turn to the Trump Administration? Or will he be seeking help from the Legislature? Can our state budget handle this increase? Is the plan to cut into other programs to raise the needed funds? Will Floridians lose services in one area to offset the costs for water cleanup?
An "executive order has to have more than just lofty goals, or admirable pursuits," she added. "It has to have the details we need to judge whether these goals are doable without hammering local governments and families throughout Florida with expenses they cannot possibly afford."
DeSantis left Bonita Springs bound for Sarasota, where he plans to tour Mote Marine Laboratory and will likely address red tide blooms that savaged both coasts. From there, he will head to Stuart, where he promised further newsworthy announcements.
Lawmakers present when DeSantis signed his order agreed the top priority should be movement on a reservoir, which theoretically would limit the number of necessary discharged the Army Corps of Engineers has to release into South Florida's rivers.
The announcement came a day after DeSantis flew to Miami to announce his first Florida Supreme Court pick. "He's putting action to (the) words in his inaugural address," said state Rep. Ray Rodrigues, an Estero Republican.
State Rep. Heather Fitzenhagen, a Fort Myers Republican who just started her fourth term in the Legislature, said DeSantis showed more enthusiasm toward environmental priorities than she's seen from any governor during her involvement in state politics.
"He understands what small businesses are going through here, both in tourism and in real estate," she said.
DeSantis, who traveled with Lt. Gov. Jeanette Nuñez and First Lady Casey DeSantis, shared his podium today with leaders from the Audubon Society and the Everglades Foundation.
"Less than 48 hours after taking his hand off the Bible, he [DeSantis] has set in motion this tremendous, aggressive plan," said Eric Eikenberg, Everglades Foundation CEO.
Department of Environmental Protection Secretary Noah Valenstein served as a master of ceremonies for the event, and thanked DeSantis for a focus on enforcement of environmental regulations, a responsibility DeSantis signaled would shift more into DEP hands as opposed to the Fish and Wildlife Commission.
DeSantis hasn't yet announced his pick for DEP, but deferred to Valenstein – a holdover from the Rick Scott administration – on a number of questions.
Asked after the event whether he had yet been asked to stay, Valenstein said, "I enjoy serving very much."
___
Ed. Note — A previous version of this story is here.