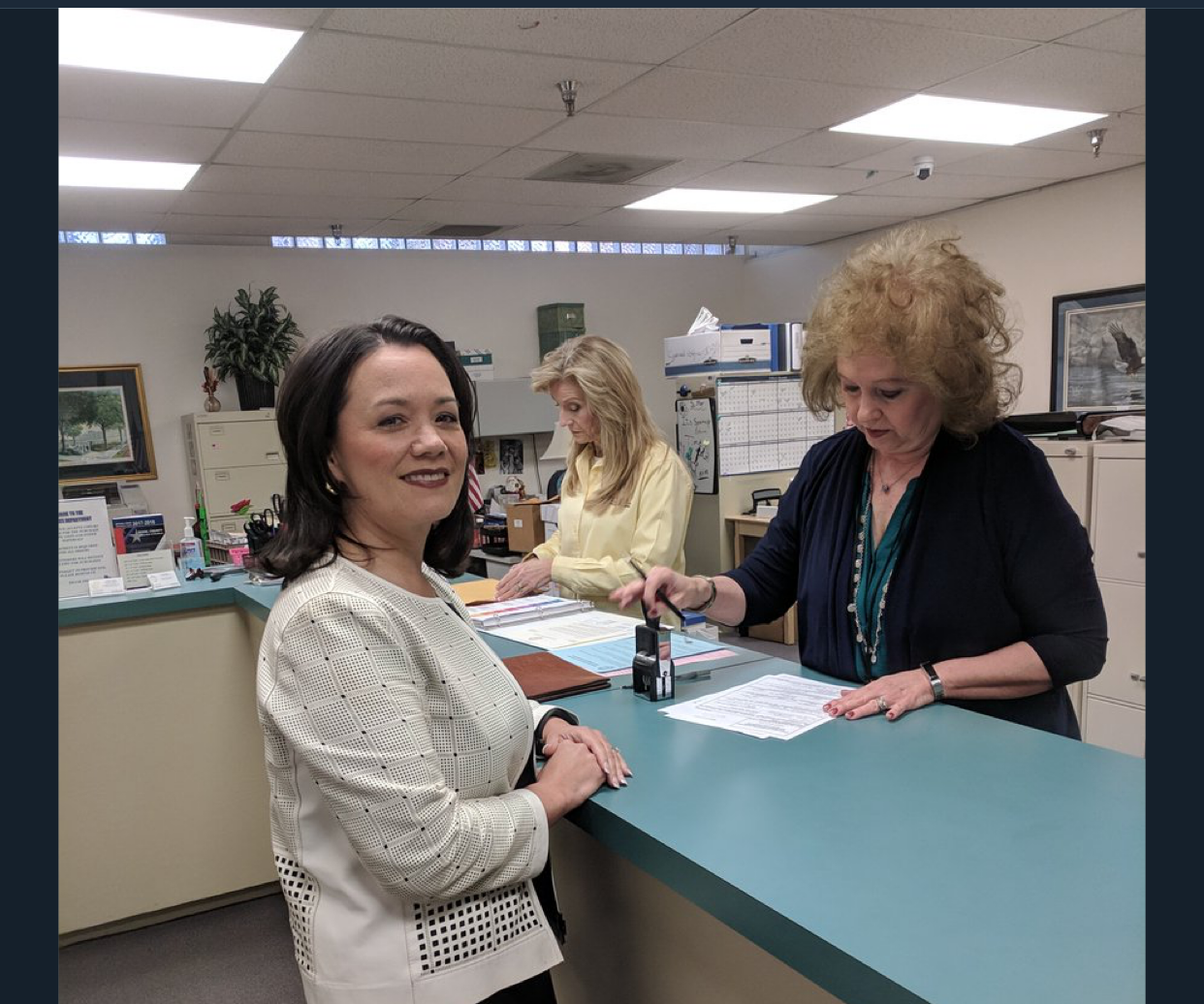 Jacksonville's March ballot promises the most pitched and invective-laden campaign in recent memory.
Defending his title with nearly three million dollars at his disposal: incumbent mayor Lenny Curry.
And his primary challenger, who telegraphed a run ahead of Friday's qualifying deadline, City Councilwoman Anna Brosche (who filed Friday).
The goal is simple for Brosche and less heralded members of the field: keep Curry under 50 percent in March and force a runoff in May.
On Friday morning, Brosche arrived at the Duval Supervisor of Elections to file paperwork.
Her remarks were brief on location, a prelude to remarks at a supporter event in the afternoon.
Brosche struck a combative tone in her first campaign speech of the cycle.
"I believe Jacksonville can do better and I'm the one who can take us there," Brosche said.
"Screaming and personal attacks must stop," Brosche said, vowing to end the "Curry crime wave."
"This campaign is about giving the citizens of Jacksonville your city back. It's about standing up to bullies and cronyism and having a mayor that works for us, not the other way around," said Brosche. "We must return to an era of good government, civility, and working together for our collective betterment."
Brosche then held a gaggle that ran just south of five minutes. We asked her about an endorsement of Curry from Council colleagues Aaron Bowman, Lori Boyer, Bill Gulliford, Sam Newby, and Tommy Hazouri.
Describing Brosche's campaign as her "latest example of leadership failure" after a Council Presidency with an "almost completely unrealized" agenda," the bi-partisan group lauded Curry for leading on pension, job creation, economic development, and public safety.
Florida Politics asked Brosche about these endorsements.
"I'm proud of my presidency and the things that we accomplished," Brosche said.
When asked what the greatest accomplishment of her presidency was, Brosche moved to the next question.
Expect further iterations of those talking points in the weeks ahead.
Brosche, in challenging Curry, will face opposition from the Jacksonville business establishment, public safety unions, and trade groups: many of which supported her in her run for City Council in 2015.
Curry's political committee has already spotlighted positions Brosche has taken.
Among the hits: that Brosche voted to get rid of term limits, that she voted to raise her own pay, and that she opposed hurricane relief funds for Northwest Jacksonville.
Curry has manufactured consent like no other mayor, often pushing major reforms through with (at most) a scattered no vote from the City Council. Among examples: the Kids Hope Alliance, a comprehensive reform of children's programs; radical changes to the composition of boards and commissions; pension reform, which included ending entry to cost-prohibitive defined benefit plans for new hires.
Expect that many of Brosche's Council colleagues, including Democrats like Hazouri, will endorse Curry at a time of the mayor's choosing.
Jacksonville has seen cakewalk re-elections before: consider Curry's Republican predecessors John Delaney and John Peyton as examples of relatively recent vintage.
However, the bet Brosche is making is that Curry can be beaten, with women bristling against the masculine presentation of the Mayor's Office, which some have likened to a boys' club.
It's personal between Curry and Brosche. And will stay there.
Brosche has alleged that an "unhealthy dynamic" has existed between the Mayor's Office and them, with Dennis contending that he got a concealed weapons permit in an abundance of caution last year.
The last three and a half years have been prologue to the next two months. That much is clear.
Brosche and Curry will face other candidates on the ballot, including former Atlantic Beach Commissioner Jimmy Hill.
Hill is running as a "principled patriot." He claims the Curry administration cancelled a boat show he ran, and that drove him into personal bankruptcy.
Former 2015 mayoral candidate Omega Allen is running again, saying that athough Lenny Curry was an "improvement" over Alvin Brown in some ways, that said improvement wasn't enough.
She finished fourth in a four-way field four years ago.
The most interesting returning candidate is running for City Council: Katrina Brown.
Though under federal indictment and suspended from Council pending resolution of fraud charges, Brown believes that she is "innocent until proven guilty," and that voters will agree.
Also running again for Council: Garrett Dennis.
The Democrat, essentially isolated on Council now, hopes to be Council President down the road.
If his ally Anna Brosche becomes Mayor, that's more likely than if Curry prevails.