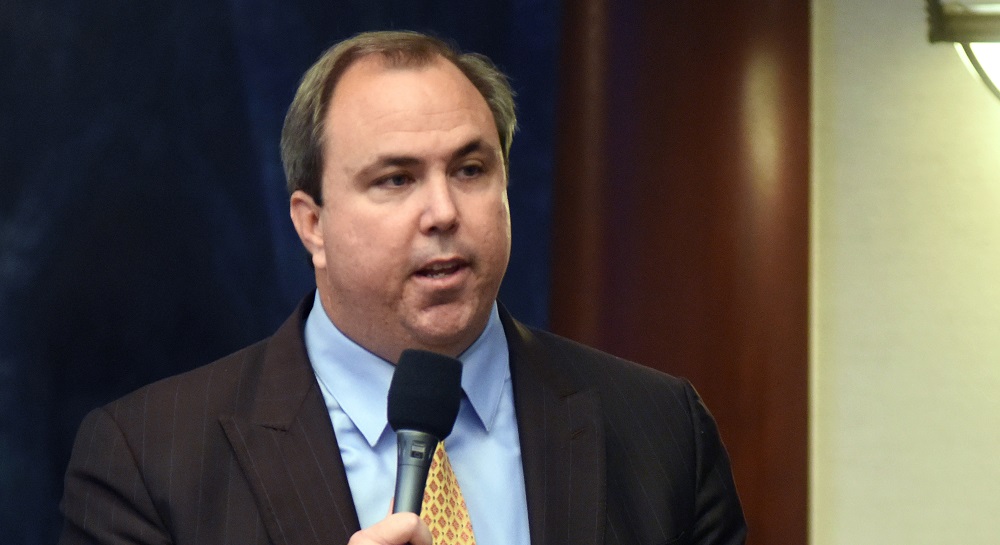 "Make no mistake we will be united because this is now the party of Gov. Ron DeSantis."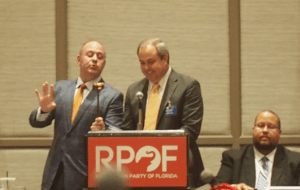 With Joe Gruters elected Saturday as the next chairman of the Republican Party of Florida, President Donald Trump has one of his top supporters in place in the Sunshine State, but make no mistake, Gruters said, this is now the party of Gov. Ron DeSantis.
At the RPOF's annual meeting in Orlando Saturday, Gruters, DeSantis pick for the state party's next leader, easily won election, and fellow Sarasota County Republican Christian Ziegler was elected vice chair.
The festive party gathering came at the end of DeSantis' whirlwind first week as governor and two months after the party defied many oddsmakers by electing him, U.S. Sen. Rick Scott, and most of the Florida Cabinet in what Democrats were expecting to be their year at last.
DeSantis entered the room Saturday morning to a rowdy standing ovation and gave a 15-minute speech that highlighted what had been by all accounts one of the fastest starts to reform seen by any Florida governor. Unlike Scott, who as governor had a contentious relationship with the state party including almost no relationship with outgoing RPOF Chair Blaise Ingoglia, and who received only a smattering of claps when his name was called out, DeSantis owned the room.
Gruters left no doubt.
"Make no mistake we will be united because this is now the party of Gov. Ron DeSantis," said Gruters, a state Senator from Sarasota. "Has our governor been on fire the last couple of days?"
Gruters fended off an almost token opposition from Charlotte County State Committeeman Bob Starr, who himself praised Gruters and called for party unity. Gruters, who previously had served as RPOF vice chair and has been Sarasota County's Republican chair for 10 years, won with 192 votes, with 25 votes going to Starr.
Gruters had been co-chair of Trump's 2016 Florida campaign and quickly turned attention to the party's efforts toward the 2020 election.
"You better believe we will deliver for our president," Gruters said. "We are in a battle for the soul of America, which is why we all need to lock arms, embrace the grind, and make the sequel that much better than the original."
DeSantis also called for the party to start campaigning now for Trump's 2020 re-election effort, saying, "I think we can win the 2020 election for Donald Trump in 2019."
Yet DeSantis also was there to take a victory lap through an appreciative crowd, and talked about the highlights of his first four days in office, including his appointments, his water quality executive order, and pardons granted to the Groveland Four. He also went over one of the lowlights.
On Friday afternoon, his flight to Fort Lauderdale was diverted to St. Petersburg with a mechanical issue. He was sitting with Attorney General Ashley Moody.
It was a scary flight, as DeSantis described.
The plane became the Governor's jet because Scott had his own private plane and had sold the previous Governor's jet. This one had been seized from drug dealers.
"We had some problems on this plane that we were on. I don't know we got it. FDLE paid ten grand for it or something. Not the best thing in the world," DeSantis recounted.
"So we're flying on this thing, and in the roof, they've got the masks. All of the sudden, boom, all the masks come down. I thought to myself, maybe just some latch hit or whatever. And I looked at Ashley and said, 'Are we really supposed to use those?' The pilot said, 'Yeah! Put it on!'" DeSantis continued.
"She wanted me to send her regards," DeSantis said of Moody, who did not attend the RPOF meeting. "I think she's had enough flying" for now.