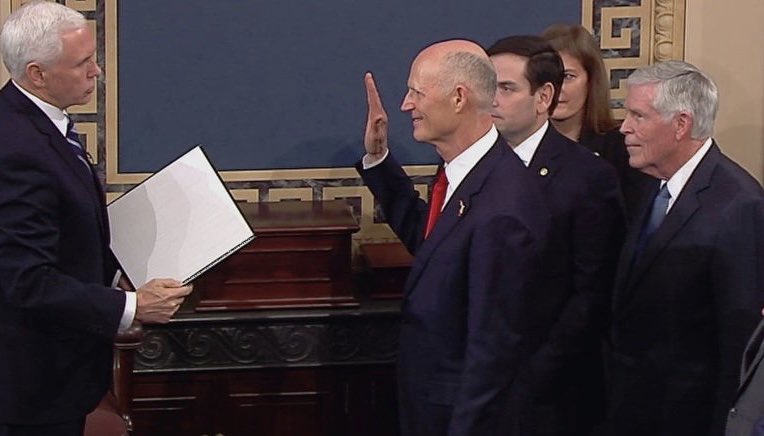 Pollsters for Sen. Rick Scott's campaign say the former governor's success with Hispanic voters made his November victory possible.
OnMessage Inc. released post-election survey numbers to the Washington Examiner showing the Republican won 48 percent of the Hispanic vote.
In comparison, recent numbers from Pew Research show just 29 percent of Hispanic voters nationwide voted Republican in the 2018 midterms.
Scott's performance with Hispanic voters likely played a big role in his narrow 10,033-vote victory over incumbent Democrat Bill Nelson.
"Our party is stronger when we share our message with all Americans," Scott said Saturday on Twitter. "But you have to show up."
The survey found 56 percent of Hispanic voters had a very or somewhat favorable view of Scott, compared to 53 percent who said the same of Nelson.
The survey in fact found Sen. Marco Rubio, one of three Cuban-Americans now serving in the Senate, in comparison had 53 percent favorables with Hispanic voters.
President Donald Trump holds favorable ratings among 45 percent of Florida Hispanic voters, the survey shows.
Scott performed best among Cuban voters (67 percent favorable), the only Hispanic demographic that also has a positive view of Trump (61 percent favorable).
But 50 percent of Puerto Rican and other Hispanic voters also had a favorable view of Scott. Meanwhile, just 34 percent of Puerto Rican voters and 37 of other Hispanic voters have a favorable view of Trump.
Scott's job approval rating as governor with Hispanic voters also remained high (61 percent favorable, 36 percent unfavorable).
About 58 percent of those surveyed agreed with the statement Scott cares about Hispanics. A similar number said he'd made the state somewhere Hispanic voters could prosper.
And 53 percent of respondents, and 50 percent of Puerto Rican respondents, said Scott's work to help Puerto Rico after Hurricane Maria made them more likely to vote for his in the Senate race.
The survey also called into question certain conventional wisdom about Hispanic voters' priorities.
The survey found 64 of Hispanic voters want somewhat or much stricter enforcement of immigration laws.
It also found 57 percent of those surveyed feel the term "nationalism" reflects patriotism, and just 30 consider the term racist.
About 69 percent of voters surveyed agree with the statement immigrants should assimilate to American culture and not create a separate culture within this country.
The survey included responses from 1,014 Hispanic voters in Florida based on bilingual interviews conducted Dec. 10-15. Pollsters report a margin of error of 3 percent.
Scott told the Examiner he worked through his eight years as governor to improve his Spanish and made constant inroads with Hispanic constituents.
The needs of the community remain no different than others, outside certain communication barriers, and Scott said he worked to address those.
"I put a lot of effort into making sure I could speak Spanish," he said.
He rejected the notion any racial demographic should be ignored or considered un-winnable by a Republican candidate.
"As governor, what I found is most issues come down to one of three things: They want a job, everybody does. They want their kids to get a good education. And they want to live in a safe community," Scott said. "And so what I did was I showed up, and I showed up and I talked to everybody."