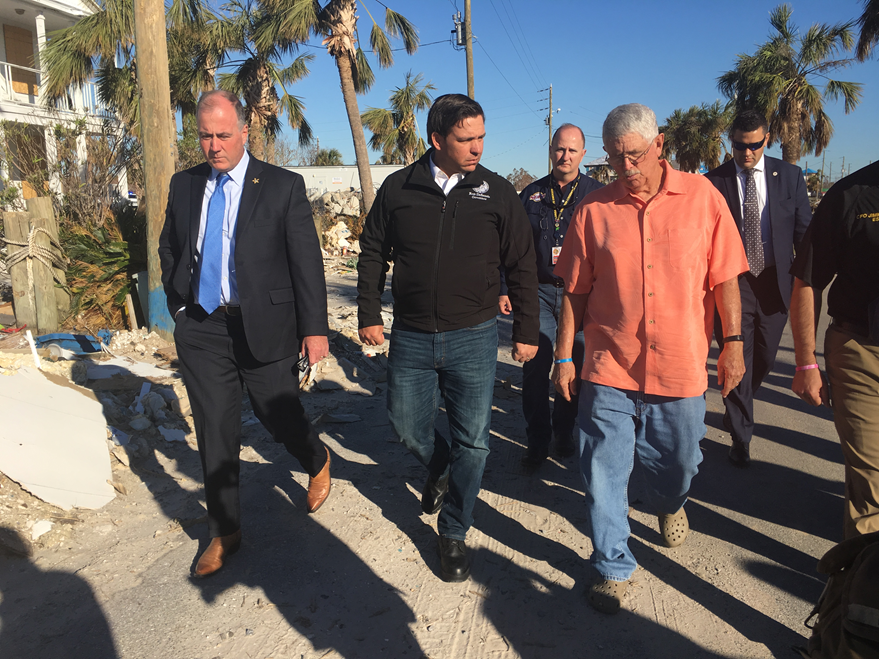 In his second week on the job, Gov. Ron DeSantis will take a second tour of the Panhandle communities hardest hit by Hurricane Michael.
In a Monday news conference in Miami-Dade, DeSantis said he'll head back to the other corner of the state on Wednesday, this time with Federal Emergency Management Agency Administrator Brock Long in tow.
The visit comes a few days after President Donald Trump floated the idea of using Army Corps of Engineers funds earmarked for disaster recovery in Florida and Puerto Rico to start construction on his border wall.
DeSantis, who rode a Trump endorsement to the Republican gubernatorial nom last year, has expressed concerns over the plan, though he hasn't outright rejected it.
"We have people counting on that [money]," he said Friday. "If they backfill it immediately after the government opens, that's fine, but I don't want that to be where that money is not available to us."
He reiterated that point Monday, saying "I don't think that you should rob Peter to pay Paul on that with disaster funds. … That [disaster relief] money is very time-sensitive. I mean, they need it now, and we need to get moving on this."
The planned trip follows up DeSantis' Mexico Beach visit last week.
He, First Lady Casey DeSantis, state CFO Jimmy Patronis and Florida Director of Emergency Management Jared Moskowitz were escorted through the area Mexico Beach Al Cathey and city council members.
"It is easy to see why people would want to visit these beautiful beach communities and they will return more vibrant than ever," he said at the time.
Hurricane Michael made landfall near Mexico Beach in early October, killing more than three dozen Floridians and causing an estimated $5 billion in damage to homes, businesses, infrastructure and other facilities, such as Tyndall Air Force Base.