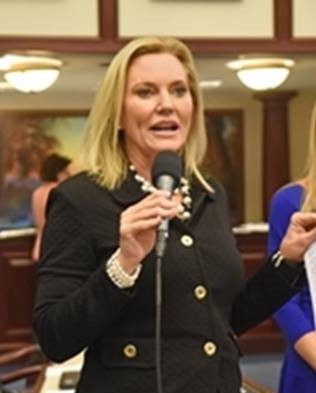 Will a fracking ban advance with support from the governor's mansion?
State Rep. Heather Fitzenhagen wants to see a ban on fracking before anyone starts drilling near the Everglades for natural gas.
"It's important given Florida's delicate ecosystem," said the Fort Myers Republican. "Fracking makes no sense in Florida."
Her new bill (HB 239) will ban drilling of wells to fracture rock formations and in order to recover oil or gas. Any such practice would be completely prohibited should the bill become law.
It's legislation that won praise from a host of environmental groups at the Lee County Legislative Delegation hearing in Fort Myers on Tuesday.
Kelly McNab, an environmental planning specialist with the Conservancy of Southwest Florida, said the language in Fitzenhagen's bill and in companion legislation filed in the Florida Senate cover sensible prohibitions.
"Our ecosystem serves as the bedrock of our tourism-based economy," McNab said.
Groups like Captains for Clean Water, Florida Commercial Watermen's Conservation and the Sanibel Captiva Conservation Foundation all sent representative to the Lee delegation meeting to voice support for a fracking ban.
Fitzenhagen said she's supported a fracking ban for years, even as the measure failed to move through the Florida Legislature.
Former state Sen. Dana Young filed legislation the last two years to try and ban the practice. But last year, the bill stalled in the Senate in subcommittee.
Still, advocates felt bolstered when Gov. Ron DeSantis, while announcing an order promising $2.5 billion in funding for water quality improvements, made known his support for a fracking ban.
"I was nothing short of elated that the governor has a strong focus on the environment," said Fitzenhagen. "Any support his office can give to push this legislation will be appreciated not only by me but by millions of Floridians."
Floridians Against Fracking released a statement praising the governor for taking a stance early in his administration but measured optimism.
"There is still a way to go before this directive becomes a reality," reads a statement released by Courtnee Connon of Floridians Against Fracking.
"The Florida Department of Environmental Protection should begin the rule-making process immediately and be sure to prohibit all forms of fracking including hydraulic fracturing, matrix acidizing and acid fracking."