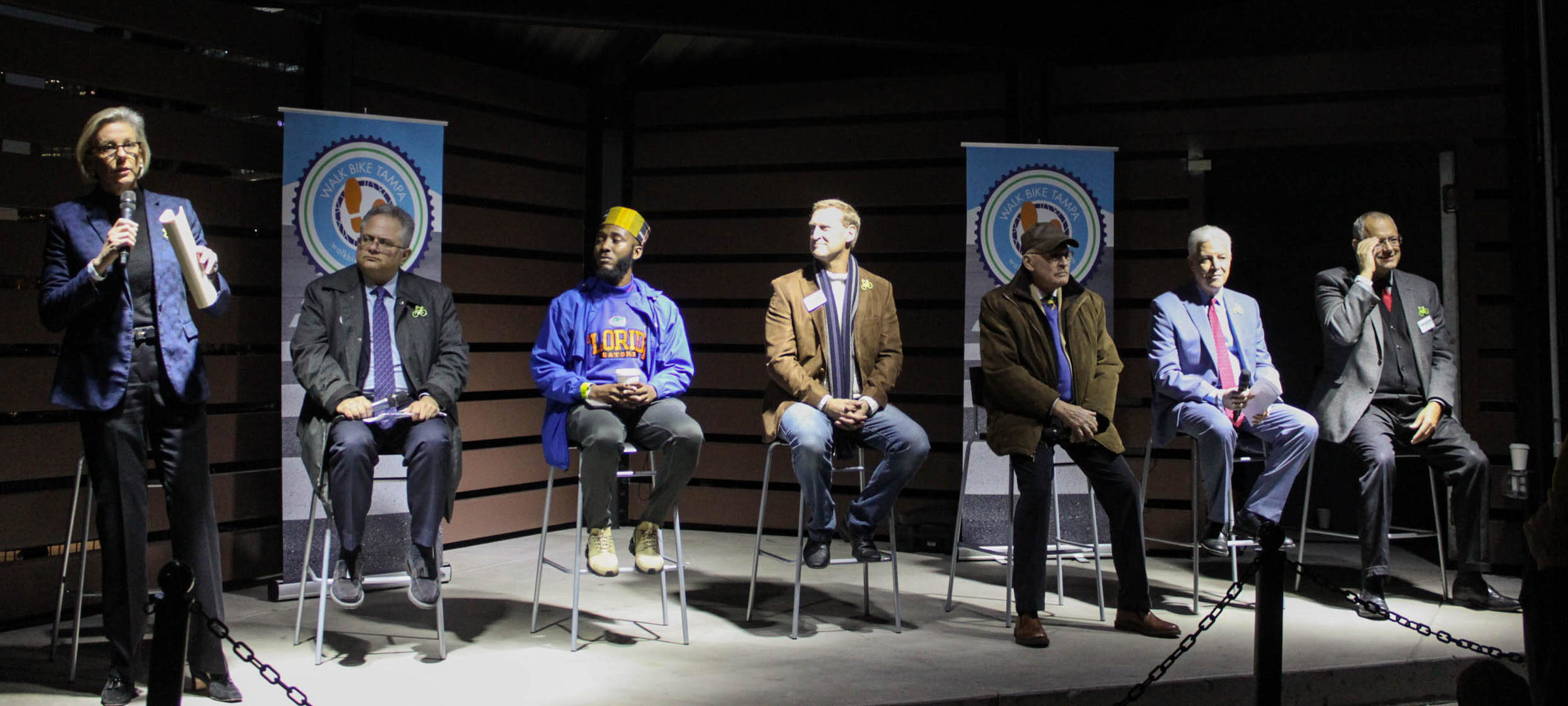 "We need to address this before it changes the fabric of our community."
Tampa mayoral candidates tackled affordable housing and corporate and talent attraction issues Tuesday during a forum with the Society of Real Estate Professionals and Society for Marketing Professional Services.
Only Dick Greco Jr., who just entered the race last week, and LaVaughn King were not in attendance.
Retired businessman and philanthropist David Straz again distanced himself from the pack on the topic of affordable housing by placing the onus on the private sector and involving local government merely as a helping partner.
"I believe in private enterprise. We need to provide affordable housing that the urban core wants," Straz said after several other candidates talked about affordable housing innovations like tiny homes and container housing.
Former Tampa Police Chief Jane Castor didn't offer specific details on her plan, but said it was a top priority that needed to be addressed immediately. She referenced a recent benchmarking trip to Austin, Texas in which an official explained that only 8 percent of the city were minorities.
"That's just wrong," she said. "We need to address this before it changes the fabric of our community."
Tampa City Council member Harry Cohen was the one to bring up container housing and tiny homes. Container houses are made from old shipping containers and retrofitted into small apartments that are storm resistant and cheap to manufacture. Tiny homes offer similar benefit by often time providing high-end amenities in small spaces, which can be built with multiple units per lot.
Cohen also said the city should establish some sort of down payment assistance program and resources to help prospective homeowners budget.
"[That includes] the cost of maintenance … and have that factored in so that people can actually stay in their house once they get it," Cohen said.
Cohen said identifying solutions is crucial not only for residents, but also for the city to attract young talent and new businesses.
"Business want to make sure that their employees can afford to live in the city they work in," he said.
Topher Morrison, a small business owner and consultant, targeted the city's parking policies, which require a minimum number of spaces per development. He suggested either minimizing or doing away with entirely such policies, which would save developers money that could be used to create more affordable housing. He also suggested beefing up transit to mitigate the need for residents to own a car and offering free transit along some routes.
Tampa City Council member Mike Suarez also said parking minimums need to be reevaluated but suggested a form of land trusts to drive down housing costs noting that the cost of land is often a huge chunk of a project's budget.
Ed Turanchik, a former Hillsborough County Commissioner made four points including improving transit in order to encourage new development.
He also wagged a finger at the Florida Legislature for raiding the Sadowski Affordable Housing Trust Fund. The Legislature in 2017 moved $130 million from the fund, which raised revenue through doc stamps, into its general revenue to balance the budget, according to the Sun-Sentinel. The Legislature has been doing that every year since 2003.
The group of candidates also discussed ways to bring more young professionals and the companies that employ them to the city. Several candidates said the city needs to up its marketing game.
"Being 62 miles away from the Magic Kingdom and 32 miles away from the Gulf of Mexico – we are truly at the center of everything," Cohen said.
Castor and Straz agreed.
Morrison disagreed, saying the city is already doing a good job of attracting young professionals but said the city is not as competitive as it could be.
"I know what the next generation's complaints are," he said. "They are inheriting a transportation system from their parents and grandparents they just don't want."
Suarez and Turanchik both praised the University of South Florida for its technology and innovation programs as a huge bonus for both companies and their employees.
Turanchik said he'd create an Office of Innovation and Public/Private Partnerships to expand on that success, but acknowledged the issue is complex.
"There simply is no easy answer," he said.
Candidates have been attending several campaign forums a week with less than two months before the March 5 election. The group will be speaking again with members of the Tampa Downtown Partnership Wednesday evening.
If no candidate receives a majority of the vote in March, the top two vote-getters will face off in a runoff April 23.