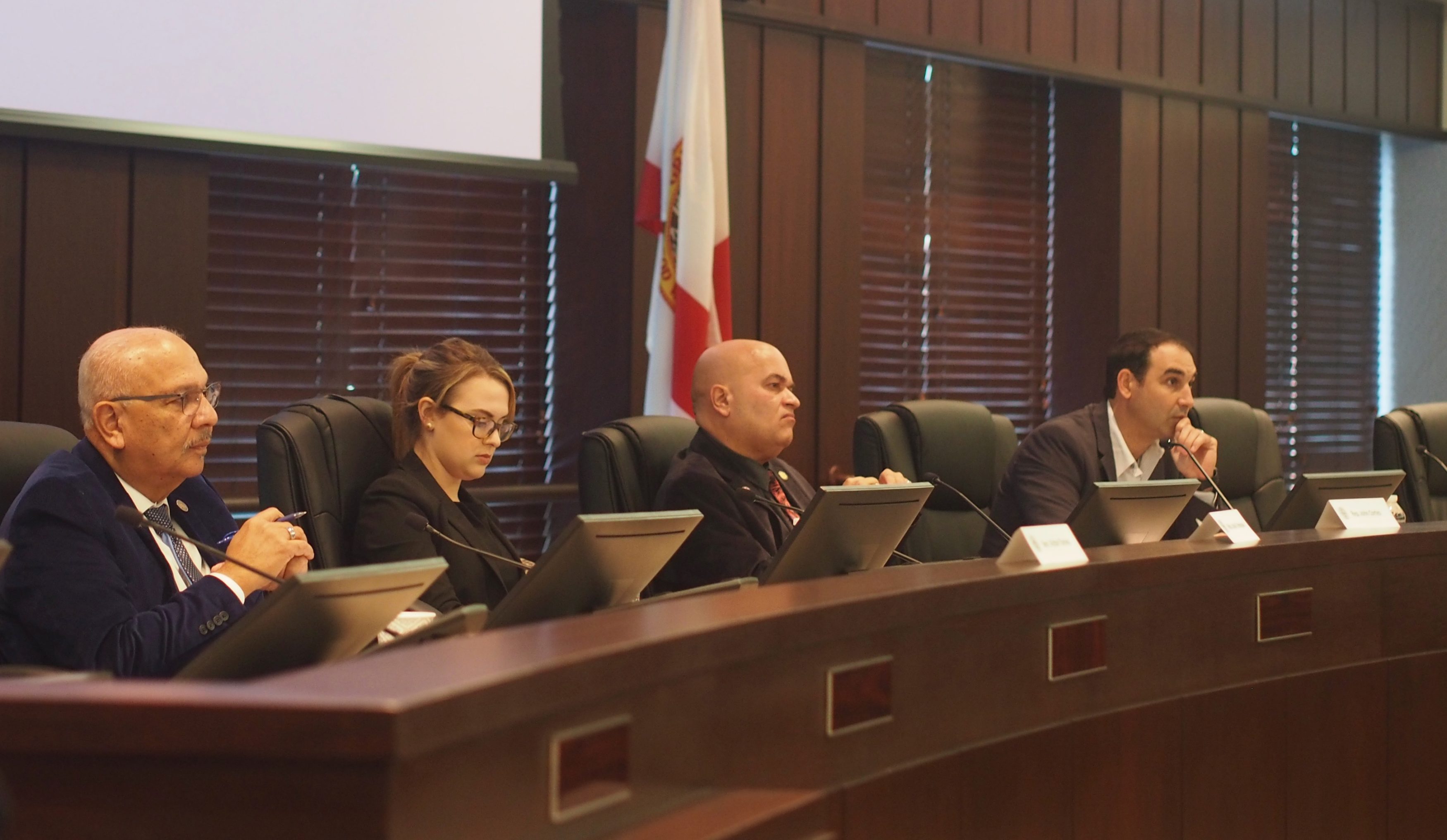 "This is a good project. We are trying to make it a great project," Newstreet said.
Osceola County's biggest economic development project is going strong, thanks in part to $12 million in state funding so far.
But this year, BRIDG could use another $18 million, County Manager Don Fisher told Osceola's legislative delegation Wednesday.
The Bridging the Innovation Development Gap center opened two years ago as the centerpiece of Osceola County's NeoCity high-tech development beginning its first sales this fall of microelectronics specialty sensors, a business nurtured through local and state grants and participation from the University of Central Florida.
Osceola and Kissimmee officials are counting on BRIDG, a 109,000-square-foot nanotechnology center, to anchor a new high-tech sector, balancing the tourism economy that has long defined the area.
But it needs another $8 million in recurring funding and an additional $10 million in money for tools from this year's Legislative Session, Fisher and John Newstreet, president and CEO of the Kissimmee Osceola County Chamber of Commerce told area lawmakers Thursday.
That was the biggest ask from area officials as Democratic state Sen. Victor Torres of Orlando, Republican state Rep. Mike La Rosa of St. Cloud, Democratic state Rep. John Cortes of Kissimmee, and Republican state Rep. Josie Tomkow of Polk City held their annual Osceola County delegation meeting Thursday.
"Because of the successes and the help from the state of Florida we have been able to achieve some successes," Fisher said. "That's a direct result of the appropriations that BRIDG received for tools to go with the 200-millimeter [wafer fabrication] line that could be commercialized. This year… we're seeking an additional $8 million in recurring funding for the budget, which is currently $5 million right now. And then an additional $10 million for tools.
"Should we be successful in getting the recurring dollars into BRIDG's budget in some form, we won't be coming back asking for recurring funds in the future," Fisher promised. "We will be coming back asking for money for tools because it is the tools that create the product lines that can be sold. Without tools, we've got nothing to sell."
The center will be seeking another $38 million in state funding for tools over the coming years, including the $8 million sought this year, Fisher said.
BRIDG and a high-tech high school at the NeoCity complex going up east of Kissimmee, plus programs at Valencia College are the keys to the county's hopes to diversify its economy. Osceola officials estimate that the development could generate between 4,000 and 20,000 jobs eventually.
"This is a good project," Newstreet told the lawmakers. "We are trying to make it a great project, and you are a key player in getting it to that next level."
Among other asks from various officials:
— Kissimmee Mayor Jose Alvarez asked for $960,000 to help the city make up a budget shortfall to build a new public safety training complex, that would include an indoor firing range, a firefighter training tower and other facilities. He also asked for $1.2 million for some stormwater drainage improvement projects and $500,000 for affordable housing construction assistance.
— Alvarez and St. Cloud Mayor Nathan Blackwell also asked for very similar local bills, to allow smaller-than-standards restaurants to get liquor licenses in their historic downtown areas.
The delegation voted unanimously to support those local bills, with La Rosa agreeing to take on St. Cloud's and Cortes, Kissimmee's. At the same time, La Rosa and Torres wondered aloud if the issue was bigger than a couple of local bills, and they both pledged to explore statewide legislation that would make it easier for cities like St. Cloud and Kissimmee to include such restaurants in redevelopment efforts. Orlando sought and received state clearance for such liquor licenses last year.
"It probably needs to be addressed from a statewide perspective so that every delegation doesn't have to deal with this," La Rosa said.
— Blackwell also asked for $2.2 million as a state match for, against $6.5 million of local money, for St. Cloud's downtown revitalization efforts, and for state support to open up a welding training center in the city.
— The Osceola County Public Schools sought additional money for safe schools programs, including for school resource officers, school hardening and mental health outreach.