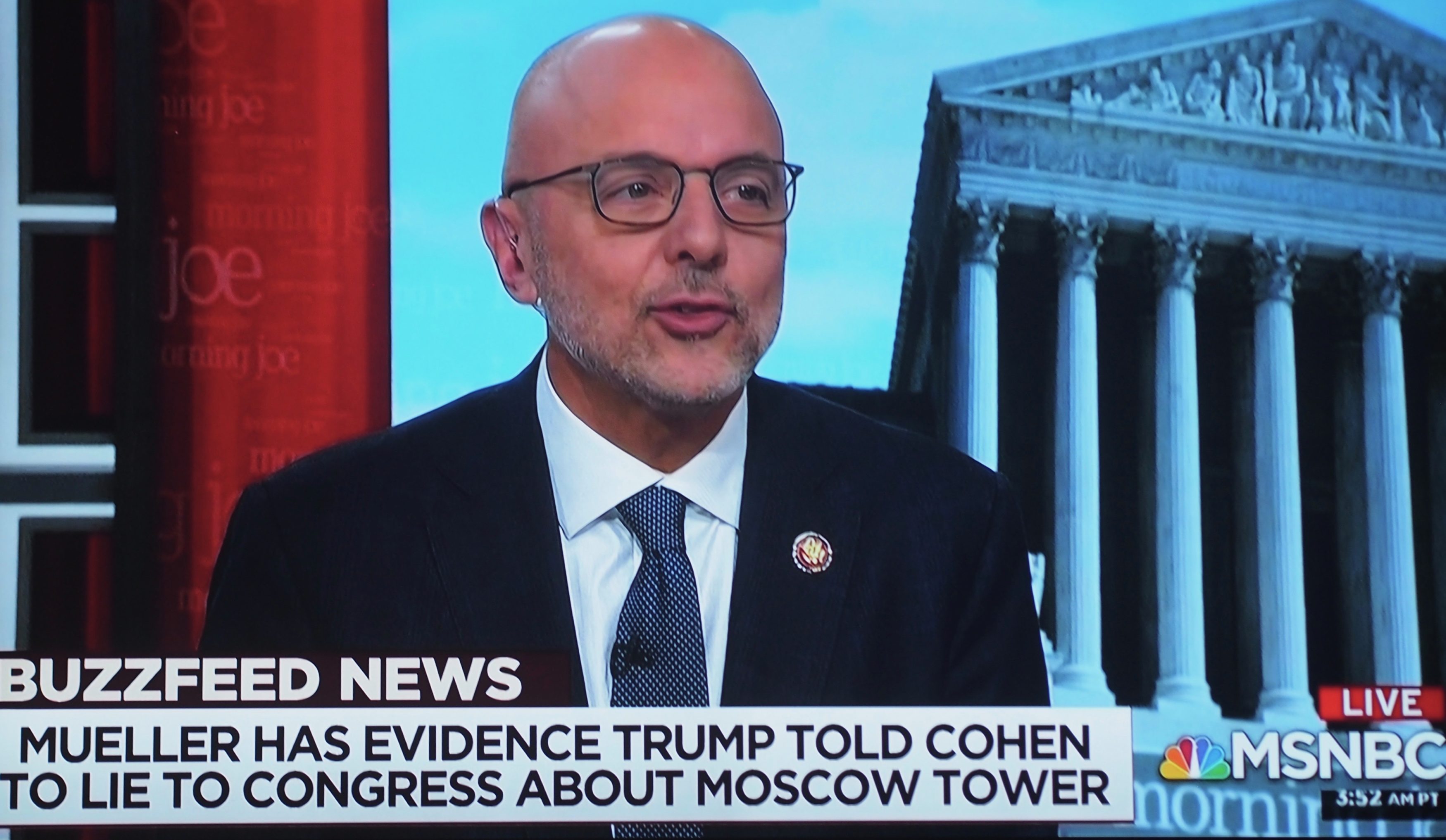 "This is damning. And it's terrible," Deutch said.
Boca Raton's Democratic U.S. Rep. Ted Deutch said on a national broadcast Friday morning that if reports are true that President Donald Trump told his then-lawyer Michael Cohen to lie about Russia then that would constitute a violation of Trump's oath of office.
Deutch, who chairs the U.S. House Ethics Committee, stopped short of saying he would consider that an impeachable offense despite several direct questions to that point on MSNBC's "Morning Joe" show Friday morning.
But while careful to not use the "impeach" word, Deutch said the latest report was part of a bigger case, and declared, "What's Congress going to do about it?" He did not indicate that his House Ethics Committee would investigate, but said the House Judiciary Committee is ready to hold hearings on it.
Deutch was on the show to talk about reports published by Buzzfeed News late Thursday that said that Trump directed Cohen to lie to Congress about negotiations to build a Trump Tower in Moscow. In the same story, Buzzfeed reported that Cohen, already convicted of arranging hush money on Trump's behalf, had arranged a plan for Trump to visit Russia during the presidential campaign to meet with President Vladimir Putin to forward efforts to build the tower. Buzzfeed cited two unnamed federal law enforcement sources for the reports.
"If this is true this is more evidence that the president has violated his oath of office," Deutch said of the report that Trump told Cohen to lie. "The president didn't take an oath of office to be above the law. The president took an oath of office to execute the laws. And if he told Michael Cohen to lie Congress, if he suborned perjury, this is as serious as it gets."
At that point, "Morning Joe's" guest co-host Willie Geist asked him for the first of three times if Deutch thought such a violation would be impeachable. Deutch would not give a "yes" or "no" answer.
"If this report is true, if the President of the United States violated the law, if he told Cohen to commit perjury, then that's going to go into the whole discussion we have about whether the President should continue in office," Deutch responded.
Asked again, Deutch added, "You've got to realize that alone is not all that we've got. That's why we keep saying, we say we have to wait for the [Special Counsel Robert] Mueller report. This is damning. And it's terrible. The fact that the President told Michael Cohen, his coverup lawyer, to go and commit a felony in order to for him to win the presidency, and then to try to cover that up, those two things are awful enough. That's before you even get to the Mueller report and Russia and all the huge news that's broken on Russia," Deutch said.
Deutch also pushed back on suggestions that Trump's dealings with Cohen during the campaign might constitute only campaign violations, saying, "Let's remember it's a campaign finance violation, a felony, that the president committed in order to win the White House."
The congressman's comments came during an extended spot on "Morning Joe" during which Deutch also discussed the fact that Trump cancelled federal support for House Speaker Nancy Pelosi's planned trip to Afghanistan, Syria, the partial government shutdown, and what the House and Democrats expected to happen with the shutdown and Trump's request for funding for a border wall. Deutch spent about a half hour on the show.