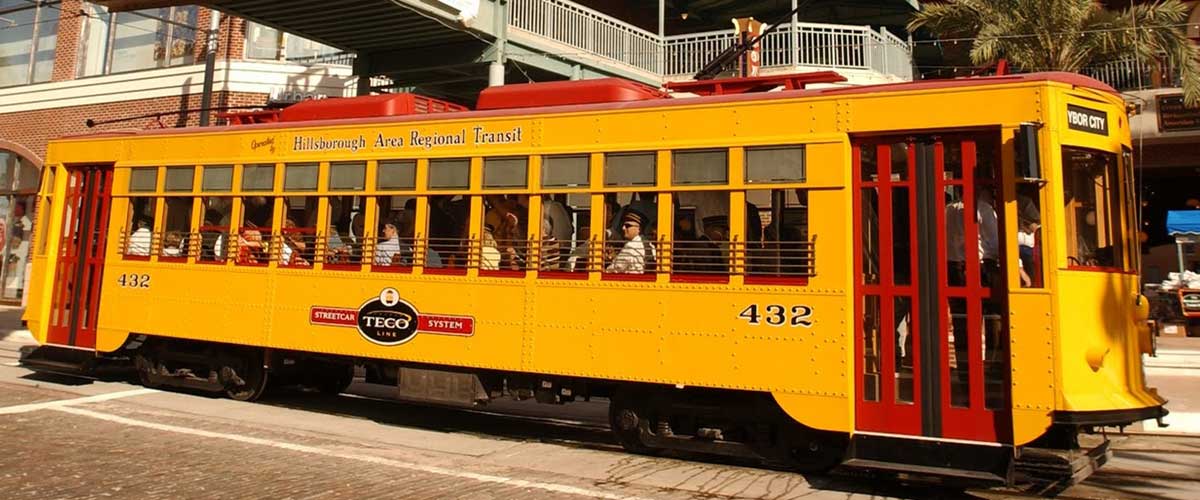 Free fares and longer hours are proving transit success can happen.
Clarence Eng, the smart mobility and transit practice leader for the consulting group Kimley-Horn, cautioned Hillsborough residents to take transit progress slow, but steady, because it's the best way to get big projects funded and done.
Eng has been working with the Florida Department of Transportation's District 7 office in the Tampa Bay region on the Tampa Streetcar extension and modernization project.
The current iteration of that $100 million plan includes extending the current route north of Interstate 275 along Florida Avenue and then back south along Tampa Street. The project development phase so far does not include expansions to that proposal east or west to include access to more residential units and affordable housing.
"Oftentimes I find the projects starting to fall apart when we're throwing the baby out with the bathwater," Eng said during a talk at Cafe Con Tampa at the Oxford Exchange Friday.
He's worried that could happen with the Streetcar project as people develop a passion for specific ideas on how a streetcar system should connect parts of the city to its downtown core.
"It's not an either/or situation."
Starting small, Eng explained, gives the city the opportunity to create a proof of concept. By moving forward with a first phase of the streetcar expansion, it provides the city (or other funding agencies) the chance to show success, which could pave the way to future state and federal funding.
Improvements to the system already in place are a perfect example, he said.
Ridership on the Streetcar is up about 300 percent since a Florida Department of Transportation awarded a grant to the Hillsborough Area Regional Transit Authority to provide free fares and extended service hours.
"That is remarkable because when I talked about trying to get federal dollars, and we're competing nationally, they will look at this project for its productivity compared to elsewhere," Eng said.
The current route connects the Streetcar from Ybor City to downtown Tampa and offers downtown workers to hope a ride to Ybor for lunch, or Ybor residents to get to downtown for a night out.
That ridership makes the service ripe for state and federal funding.
The Streetcar project is just a sliver of what Tampa and Hillsborough County will be able to accomplish now that Hillsborough County voters approved a 1 percent sales tax increase to fund transit and transportation improvements. It'll raise about $300 million a year for 30 years.
"There really isn't a silver bullet," Eng said referring to plans for using that additional revenue. "Really, it is a suite of mobility services — options — that we need to think about."
Eng said those in charge of identifying spending plans — those groups range from city council members and county commissioners to HART leaders — will have to decide whether they want to invest new revenue in fixes immediately or if they want to pace themselves to leverage funds for larger, longer-term projects.
"I would say it's a mixture, but we need to make those decisions appropriately," he said.