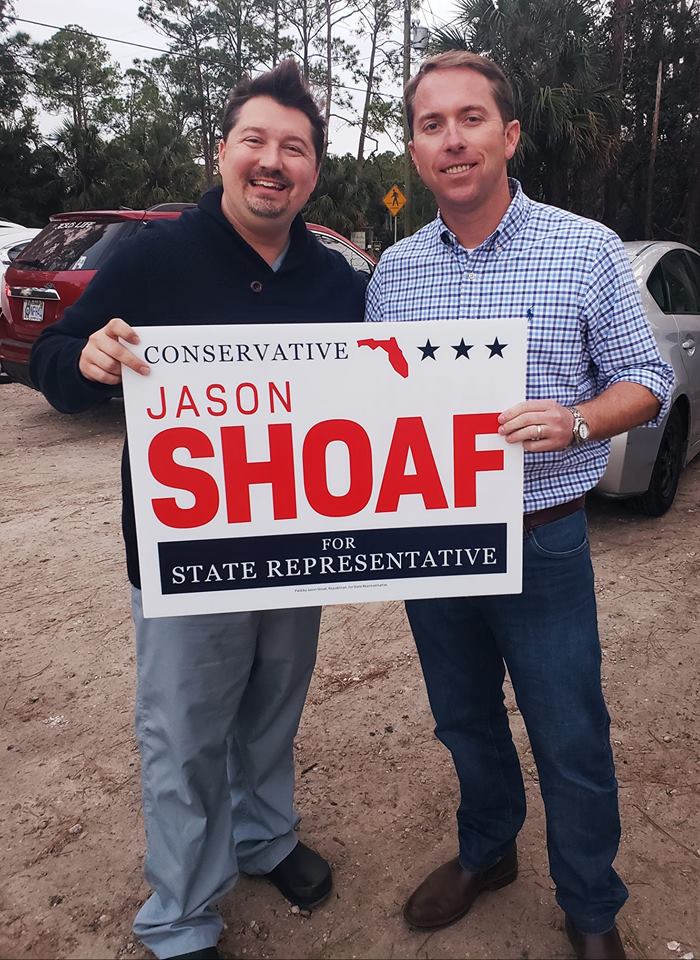 Becton James Roddenberry had just told Watkins he would back Shoaf in a special election.
A Sopchoppy Councilman says he knows what led to a blow-up between state House candidates Mike Watkins and Jason Shoaf.
Becton James Roddenberry said he spoke with Watkins minutes before an altercation between the two men at a Wakulla County political event.
"He was angry I had jumped ship," Roddenberry said.
By his account, he'd spoken months before with Watkins about the campaign for House District 7. But in the time between, he'd learned of donations Watkins made in 2013 to Democrat Andrew Gillum's Tallahassee mayoral campaign.
"If he's a true conservative Republican," Roddenberry said, "there's no excuse to be giving to a socialist liberal city commissioner running for mayor of Tallahassee." Now Roddenberry has endorsed Shoaf and started introducing him to other Wakulla County leaders.
After that testy conversation ensued, Roddenberry said Watkins walked over to Shoaf to confront him.
But Watkins said the fact Roddenberry since endorsed Shoaf should frame his version of events. He said many parts of Roddenberry's accounts don't jive.
"There shouldn't be any surprise he's trying to color events to his desire," he said.
Roddenberry described Watkins' "liquid courage" in a post on Roundtable Politics (a write-up that attacks Florida Politics, incidentally).
Yet Watkins said he didn't have a drink that night. In fact, he hasn't had a drink in eight weeks. "I just don't drink alcohol by choice," he said. "The inference is I had a few drinks, which I did not."
The conversation with Roddenberry did immediately precede the dustup with Shoaf, by multiple accounts.
Wakulla County Commissioner Ralph Thomas, who was speaking with Shoaf when Watkins approached him to talk, said Watkins clearly appeared agitated from the conversation with Roddenberry.
The conversation between Shoaf and Watkins, who both seek the Republican nomination in the HD 7 race, culminated with Watkins suggesting the men settle things outside.
Watkins maintains that came only after Shoaf touched Watkins' fiancée.
Roddenberry, though, said that never happened.
"As for this nonsense, that he laid his hands on his fiancée, that is a complete and blatant lie," Roddenberry said. "I was standing right there and in that conversation not on person in the group laid a finger on his fiancée."
Watkins said Roddenberry wouldn't know. "Mr. Roddenberry wasn't there when that transpired," he said.
Thomas said he never saw Shoaf touch Watkins' date either. By Thomas' account, the only people in the immediate vicinity of the conversation were himself, Shoaf, Watkins and Watkins' fiancée.
Roddenberry, Thomas said, was roughly ten feet away when the argument between Shoaf and Watkins escalated.
But Thomas' account largely lines up with Roddenberry's. Both men say Shoaf never touched anyone and never crossed any type of line.
As far as Watkins donations to Gillum, which spurred the disagreement between Watkins and Roddenberry, Watkins said that came years before the Democrat considered running for governor. Moreover, the Tallahassee city election was nonpartisan, and Gillum faced no Republican opponent.
In the 2018 election cycle, where Gillum won the Democratic nomination but lost to Republican Ron DeSantis in November, Watkins donated money to both DeSantis and to Republican primary challenger Adam Putnam.
He's also the only candidate to have donated to President Donald Trump's campaign in 2016, he stressed. Watkins said like Trump, he'd donated in the past to Democrats and Republicans.
"I've given thousands to Republicans and a few hundred to Democrats, and only ones who were not running for Republican-contested seats," he said,
Roddenberry, though, said putting money behind Gillum showed a willingness to buy political influence and cater to special interest politics. It also showed Watkins' political loyalties remain in the Tallahassee are, outside of District 7.
Wakulla County, one of 10 counties District 7 spans, serves as home to about 21,000 voters.