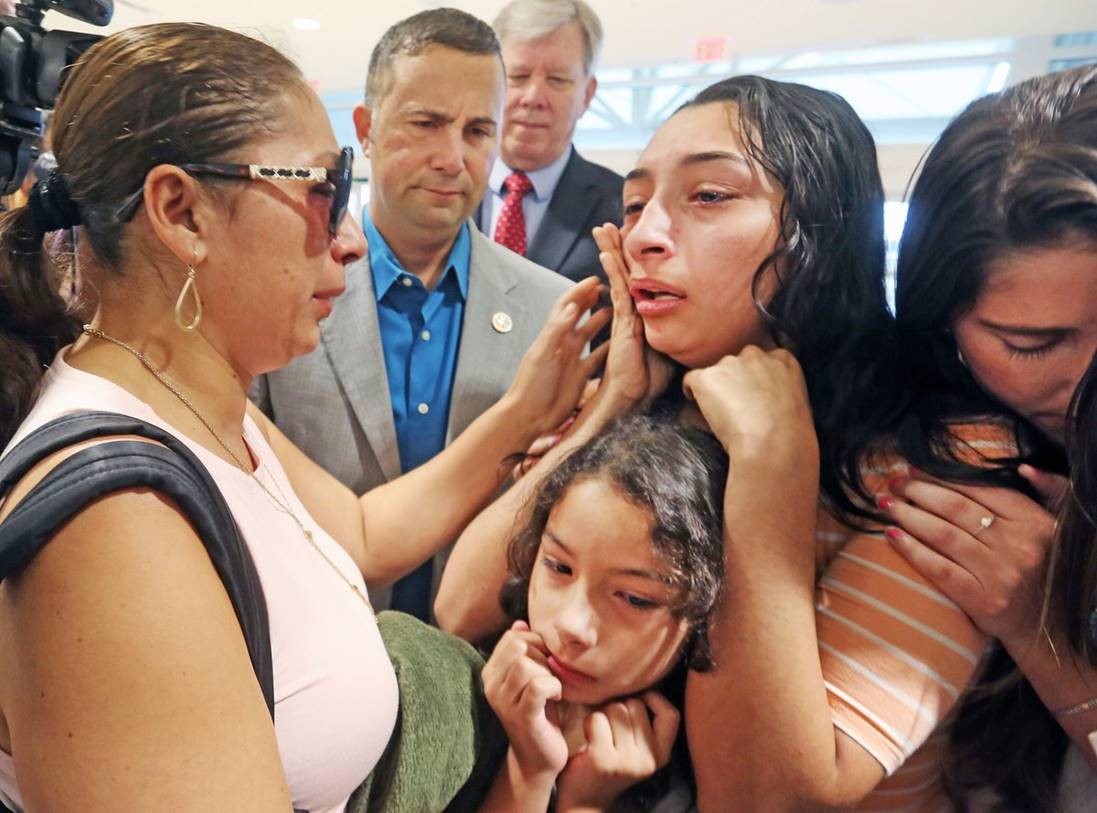 11,800 active U.S. military service members have family members facing deportation, Soto said.
Trying again under a U.S. House of Representatives that now has Democratic control, Kissimmee's U.S. Rep. Darren Soto introduced two bills Wednesday aiming to prevent immigration deportations of military spouses such asAlejandra Juarez, a Polk County U.S. Marine's wife who was deported to Mexico last year for being an undocumented immigrant.
Soto was joined out front of the U.S. Capital by Pamela Juarez, the 17-year-old daughter of Alejandra and Sgt. Cuauhtemoc "Temo," Juarez. Alejandra Juarez was deported last year in a nationally-observed case as Democrats railed unsuccessfully against President Donald Trump's "zero tolerance" policy toward illegal immigration. Last year, Soto's bills to address her status and that of other U.S. Military spouses who face similar situations went nowhere.
"There are over 11,800 active U.S. military service members who are dealing with family members facing deportation. That's 11,800 too many, for folks who are defending our country," Soto said. "This is not just an isolated incident. This happens. and this has happened for generations. It was heartbreaking to be there that day when literally the Juarez family was divided, split up, because of this zero tolerance policy."
They were joined by U.S. Rep. Ruben Gallego of Arizona, who is a Marine veteran; U.S. Rep. Joaquín Castro of Texas; and U.S. Rep. Mark Takano of California, who chairs the House Committee On Veterans' Affairs; as a show of support for the bill in among Democrats who control the House.
"Working to assure veterans and their families can remain together should be a top priority," Takano said.
Takano said he also is awaiting a report on deported American veterans, and will pursue legislative solutions to keep them in the United States as well.
Soto's bills are the House Resolution 557, entitled the "Protect Patriot Spouses Act", and House Resolution 591, a private bill specifically to allow the return of Alejandra Juarez, who now lives in Mexico with her younger daughter, Estela, 8; while Pamela lives with her father in Polk County. HR 557 would give priority for green cards to spouses of military service members, and also would allow for discretion to be practiced in deportation procedures involving immigration violations.
"The bill is more generous this year than last year's bill because it's a new Congress. And because we believe strongly in second chances. So this bill would specifically address Alejandra's specific situation and many others," Soto said.
The bills have not yet been assigned to any committees, but Soto said he has had initial discussions and is encouraged it has support, saying, "I view this new Congress as being fertile ground for a bill like this."