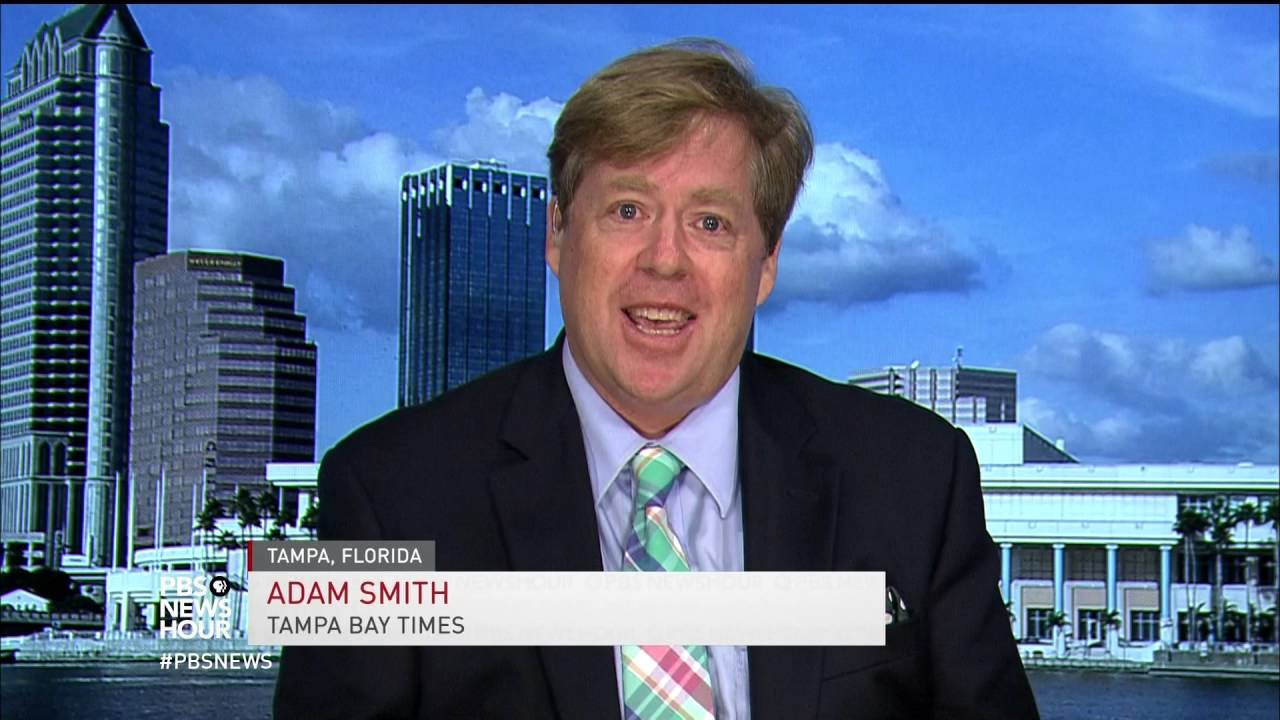 Smith is taking a job with the Mercury public relations firm.
Longtime Tampa Bay Times Political Editor Adam Smith is leaving his post and the journalism industry to join public relations and strategy firm Mercury. 
The company announced Smith's hire on Thursday. He joins the Mercury team as a Senior Vice President on Feb. 11 and officially leaves the Times at the end of next week. 
"Mercury's Florida operation is comprised of the state's top strategists across party lines," Mercury partner Ashley Walker said in a news release. "Adam's vast experience in Florida politics will be a major asset to our work locally and nationally as we broaden our communication abilities in the nation's largest swing-state." 
Smith, who has worked for the Times since 1992, has more than 20 years experience covering politics in Florida. Mercury, a global bipartisan public relations shop, works with political candidates and campaigns and other clients all over the world.
"After covering many of the major political events of the last two decades in Florida in journalism, I'm excited to use those experiences and skills to craft strategy and messaging, and solve problems for clients at the highest levels," Smith said.
"Mercury's reputation precedes itself as one of the top public strategy firms in the country, and I am thrilled to be joining such a talented team."
Smith founded the Times' political blog, The Buzz, and was once named one of the top 10 political reporters in the country by the Columbia Journalism Review.
Steve Bousquet, until recently the Times' Tallahassee bureau chief, said his former co-worker "held one of the most prestigious reporting assignments in Florida and at the Times — a job held by, among others, Howell Raines and Tim Nickens.
"It's a demanding job and he did it longer than anyone as he built the Times' brand for smart political coverage," said Bousquet, who departed the paper after the 2018 elections. "It's hard to imagine now, but when he started The Buzz blog in 2006, he faced resistance from some colleagues, but he saw the future clearly. He leaves a void, and Times readers will miss him."
Smith has covered top political issues and races, including the most recent gubernatorial election and the several recounts for cabinet positions after one of the state's closest ever political contests.
Smith also covered President Donald Trump's election in 2016 and produces a daily email consisting of the region's top political headlines.
Smith is originally from New York and received his undergraduate degree from Kenyon College in Ohio. He will work from Mercury's Tampa office. 
After Smith's new position was announced, a flood of well wishes came in from fellow political reporters and others in the process.
Good luck to @adamsmithtimes, and congrats on two decades in the toughest press corp in the country

Tampa Bay Times political editor to join Mercury Public Affairs
https://t.co/jtWETVaXMd

— Matt Dixon (@Mdixon55) January 24, 2019
Congrats @adamsmithtimes on your new position at Mercury— they're lucky to have you. Thanks for always being great to work with! pic.twitter.com/cmKfmvem4Y

— Ashley Bauman (@ashleybauman) January 24, 2019
End of an era in Florida political journalism with @adamsmithtimes leaving @TB_Times and
moving into PR/political messaging pic.twitter.com/FNnBLLNj64

— Mitch Perry (@MitchPerry18) January 24, 2019
Congrats @adamsmithtimes on the move! It's the end of an era — and the press corps will feel a lot smaller without you. https://t.co/6NGzdTikJF

— Joshua Karp (@JoshuaKarp) January 24, 2019