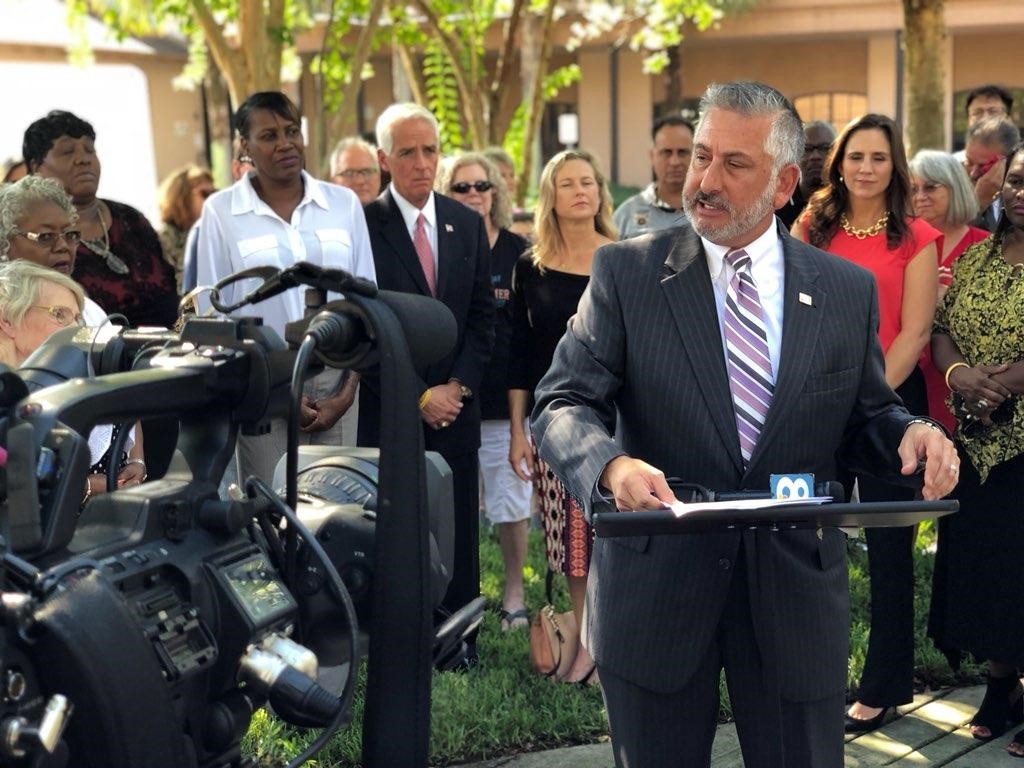 St. Pete wants to evict Gibbons, he says it's political retribution.
The city of St. Petersburg is in the midst of a nasty legal dispute over land near Tangerine Plaza on the Southside in the area formerly called Midtown.
The city is trying to evict the development group run Devron Gibbons, a former candidate for mayor, and his partner, Doug Cobarras, claiming the two have not met the terms of its agreement to lease land from the city.
But Gibbons claims the city is acting at the behest of a bitter mayor, is seeking political retribution.
St. Petersburg officials accepted a lease and development plan with Gibbons' TLM Investment Group in 2014. Under that agreement, the city would provide its own land, and Gibbons' group would build a nationally known gas station chain and convenience store. TLM later added to its plan the inclusion of a restaurant chain like Dunkin' Donuts.
Trouble started last May when the city sent a letter to Gibbons and his partner claiming they had failed to complete a financing plan or begin construction by the May 1 deadline. The City Council voted to evict TLM from the property, but the group refused and still occupies the property.
The city then filed a lawsuit seeking a court-ordered eviction.
But Gibbons' countersued, arguing TLM had met the terms of its agreement with the city and saying the city's attempts to renege on its deal were politically motivated.
Gibbons is a registered Republican. St. Pete Mayor Rick Kriseman is a Democrat. Further, Gibbons supported former Mayor Rick Baker in his unsuccessful bid to unseat Kriseman in 2017.
Gibbons, through his attorneys, argues the city is discriminating against him based on political affiliation.
Gibbons' attorneys, Howard Ross and Andrew Pardun of the Battaglia Ross Dicus & McQuaid law firm, claim construction activities could be easily visible before the May 1 deadline. They also provided email documentation of correspondence with the city supporting its claim.
In an April 27 email, the city informed Gibbons that if he picked up "the approved building permit today, you can start moving debris, dirt, etc. immediately to comply with your contract."
TLM also filed a notice of commencement of construction activities with Pinellas County before the deadline.
Another email from the city in February informed Gibbons they were accepting the investment group's financing documentation.
In its lawsuit, the city is merely trying to regain access to its property and recoup legal and other expenses.
In Gibbons' countersuit, he seeks to reinstate the lease and to recoup damages including legal fees and costs associated with plan delays related to the city's eviction attempts.
The suit does not say how much the group is seeking in damages and Ross, Gibbons' attorney, said it's premature to provide a specific dollar amount. A judge would determine damages.
Ross said he expects the legal process to be lengthy, but didn't specify how long that potentially means. Ross said his client has already gone through mediation proceedings with the city to no avail. He referred any further comment to statements made within his client's countersuit.
A spokesperson for the city of St. Pete declined to comment because officials cannot comment on pending litigation.
The most recent court filing was January 14.