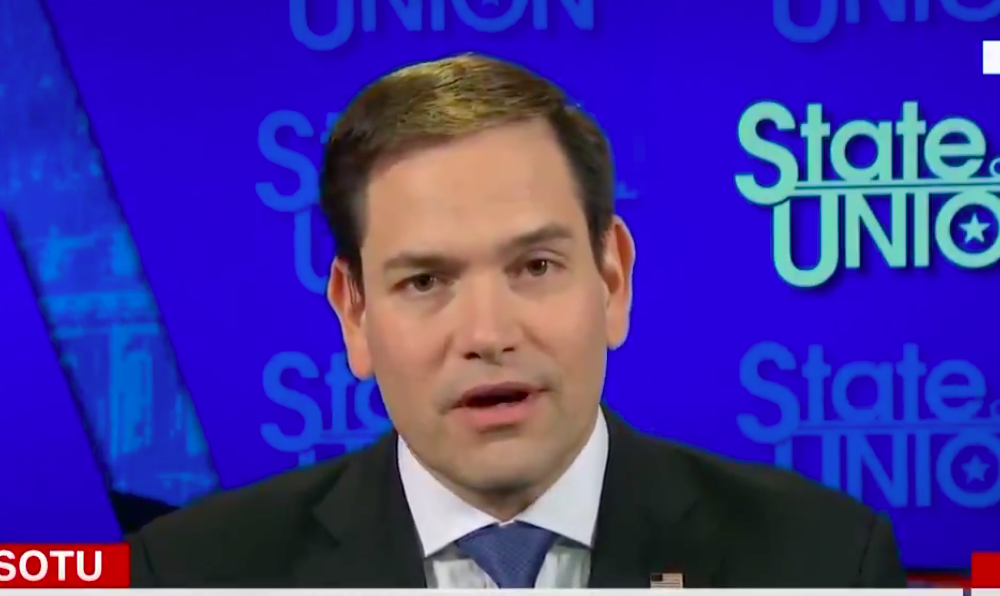 U.S. Sen. Marco Rubio said a government shutdown served as poor strategy to get border wall funding.
But he said Democrats must work with President Donald Trump to further talks on immigration, and cheered the administration for recent actions regarding Venezuela.
On CNN's "State of the Union," Rubio told host Jake Tapper that he has yet to see government shutdowns effectively change policy.
"I don't think shutdowns are good leverage," he said. "It's a lesson I've certainly learned in my time here. There have two shutdowns since I've been here. The aggressor in neither one was the winner."
But he said it was important to separate Trump's poor choice of tactics from his ultimate goal. Rubio said Trump's priority remains a border wall largely because that was a top campaign promise that helped him get elected.
The Florida senator believes Trump will be willing to discuss other immigration reforms Democrats support as long as the wall moves forward. During the shutdown, Trump said he could support extending Temporary Protected Status for refugees and Deferred Action for Childhood Arrivals.
"People will be surprised at how much this white house is willing to do," Rubio said.
Rubio defended the decision this week for the U.S. to recognize Venezuelan opposition leader Juan Guaidó as the country's Interim President.
Tapper posted comments by Minnesota Rep. Ilhan Omar opposing the move. The Democrat characterized the refusal to recognize Venezuelan President Nicolás Maduro as spurring a "U.S. backed coup."
But Rubio pushed back on that, saying the administration acted a day after millions on Veneuelans took to the streets. He said Guaidó won a legitimate election in the country, and the Maduro won an illegitimate one.
Procedurally, he said the U.S. does not recognize Maduro, which effectively means the presidency there is vacant. By default, that means the legislative leader, Guaidó, acts as president until new elections get called.
"This is not a U.S.-sponsored anything," he said. "Anyone who chooses to ignore that because they don't like Donald Trump, that's silly."
And regarding the recent indictment of Trump associate Roger Stone, Rubio reiterated his support for Special Counsel Robert Mueller's probe to advance. But he cautioned that everyone wait for the full report before making final judgments on who ultimately will be ensnared.
Rubio said he's privy to much of the same information about Russian communications with political operatives, and of meddling in U.S. democracy. As a member of the Senate Intelligence Committee, he gets presented information not from a justice perspective, but regarding counterintelligence.
All observers would be wise, he said, to exercise patience for now.
"It's a mistake to make pronouncements until we have it all before us," he said.