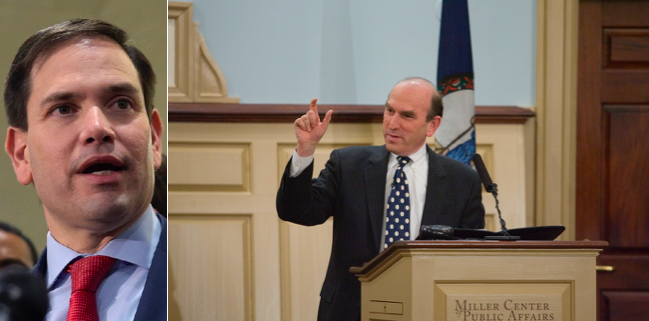 The neoconservative is filling the role during a major in shift in relations.
Following a dramatic shift in U.S. relations with Venezuela, Sen. Marco Rubio congratulated the new special envoy to the nation.
The State Department on Friday named Elliott Abrams, a vocal neoconservative, to oversee U.S. policy toward the South American nation.
Florida's senior Senator said he strongly supports the choice.
"While the road to Venezuela's full reconstruction will contain challenges for all of us," Rubio said, "Abrams is a tough and experienced foreign policy expert with knowledge of the region and a long history supporting democracy, human rights and the national interest of the United States."
When Secretary of State Mike Pompeo announced the choice of Abrams, it surprised many because of history between Abrams and Trump.
When former Secretary of State Rex Tillerson considered Abrams for Deputy Secretary of State, Trump nixed the choice based on the criticism that the career foreign policy official had levied during the presidential campaign, according to POLITICO.
Now he takes on a lower State Department role, but will represent U.S. interest during a tumultuous time.
President Trump announced Wednesday the U.S. no longer recognizes Nicolás Maduro as Venezuela's head of state following an election tainted by corruption.
The decision came a day after top elected officials, including Rubio, lobbied the administration to recognize Venezuelan opposition leader Juan Guaidó. Rubio, Sen. Rick Scott, U.S. Rep. Mario Diaz-Balart and Gov. Ron DeSantis held a press conference at the White House on Tuesday.
Abrams, previously as deputy assistant to president and deputy national security advisor under George W. Bush, where he supervised U.S. policy in the Middle East. He has most recently worked at the Council on Foreign Relations as a senior fellow.
He also worked in the Reagan administration during the Iran-Contra affair, and according to the New York Times pled guilty to two misdemeanor counts of withholding information about arms deals with Nicaraguan rebels.