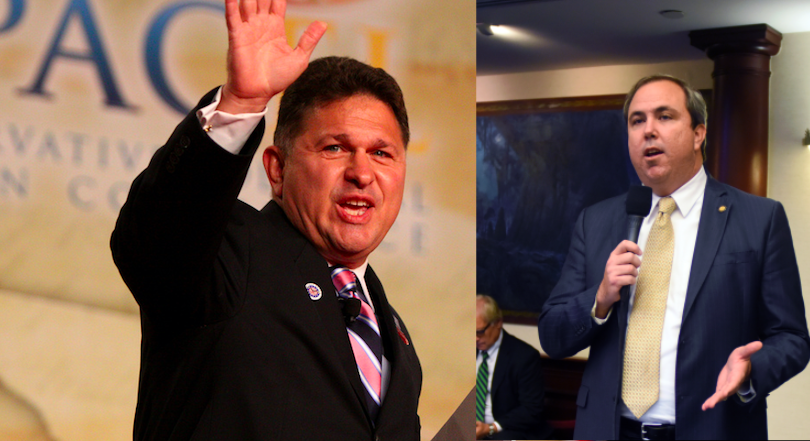 Suggesting gay people be protected from termination goes too far, he says.
Conservative activist John Stemberger is calling on the chairman of the Republican Party of Florida to resign.
The move by the Florida Family Policy Councilpresident comes after state Sen. Joe Gruters, who won election as chair earlier this month, introduced legislation aimed at ending workforce discrimination against LGBTQ Floridians.
"If passed, this bill will be used as a weapon to punish Christians for simply acting out their faith as small businessmen or private individual," Stemberger said in a statement.
"It also invades the privacy and dignity of female employees in the workplace who are forced to use showers, changing areas and bathrooms with men who claim to be women."
Stemberger said the legislation put Gruters "out of step with the base of the GOP, state legislative leadership, Governor DeSantis' agenda, the Republican President of the United States and even the most recent U.S. Supreme Court opinion on similar statutes."
Gruters, though, pushed back, saying Florida law already exempts religious organizations from the state's civil rights law, and that his legislation explicitly reiterates that point. He maintains his bill fixes state law in a way that stops workforce discrimination that hurts businesses in Florida.
"This is common sense," Gruters said. "You shouldn't be fired for being gay. It's baffling that Mr. Stemberger has chosen to deliberately misrepresent my bill and question my Christian faith."
Ironically, the legislation comes as Gruters' bill divides Florida's traditional LGBTQ advocates.
Equality Florida has thrown its support to rival legislation, the Florida Competitive Workforce Act, filed by state Sen. Darryl Rouson in the Senate and state Rep. Jennifer Webb is the House.
Gay lawmakers including Webb and state Rep. Carlos Guillermo Smith have said ending discrimination against LGBTQ Floridians should mean extending all civil rights protections, including for housing.
"Offering just 33 percent of protections under the FL Civil Rights Act to LGBTQ people to placate the lies about transgender bathroom predators that do not exist isn't good strategy or policy," Smith tweeted last week.
Interestingly, Smith, an Orlando Democrat, voices support for Gruters keeping his leadership post in the Republican party.
"Right now is the perfect time for the Florida GOP to show John Stemberger the door and allow comprehensive legislation to move forward that treats LGBTQ Floridians fairly and equally under the law," he tweeted.
Gruters as a House member co-sponsored past versions of the Competitive Workforce Act, but in 10 years it has not passed. He said last week he wanted to take a more modest approach with a higher likelihood of passage.
"I want to pass good legislation," Gruters said. But the bill has won support from some conservatives, especially younger ones.
"The modern GOP must stand to protect the rights of everyone — including the LGBT community," tweeted U.S. Rep. Matt Gaetz. "I'm proud of Joe Gruters for understanding this."
Gaetz stressed to Florida Politics that he hasn't endorsed Gruters' bill. But he said a state senator must come up with and support approached to solve Florida's problems.
"Reasonable people should disagree," Gaetz said. "Merely invoking a desire to extend anti-discriminations protections to LGBTQ people does not mean you are de facto ineligible to be a leader in the Republican Party."
And Gaetz suggested inferred Stemberger's lack of influence in the state party right now means he's in no position to dictate who leads it.
"Someone who two years ago was picking out music performances for Adam Putnam's gubernatorial ball isn't in a position to dictate who should lead the party in 2019 and 2020," he said.
Some conservative voices, though, saw reason for anger at Gruters over his bill.
Conservative blogger Ian McDonald wrote the bill "isn't exactly a very conservative move for 'Trump-supporting' Joe."
"It sounds great on paper to ensure no human beings get discriminated against," he wrote. "But in a society that believes in freedom of religion and choice, this bill could create certain dangerous scenarios and set even more dangerous precedents."
Stemberger said the offense to social conservatives cannot be ignored by the Grand Old Party. Supposed nondiscrimination legislation in fact stymied free speech and religious freedom, he added, while opening business owners up to lawsuits by former employees who claim they were fired for being gay or transgender.
"No state Republican Party chairman in the history of America has ever supported a bill this dangerous and irresponsible," he said. "The bill represents both bad policy and bad politics and because of his refusal to pull his support from this egregious legislation, we are announcing a grassroots campaign to unseat him as state party chairman."
Last updated on January 28, 2019