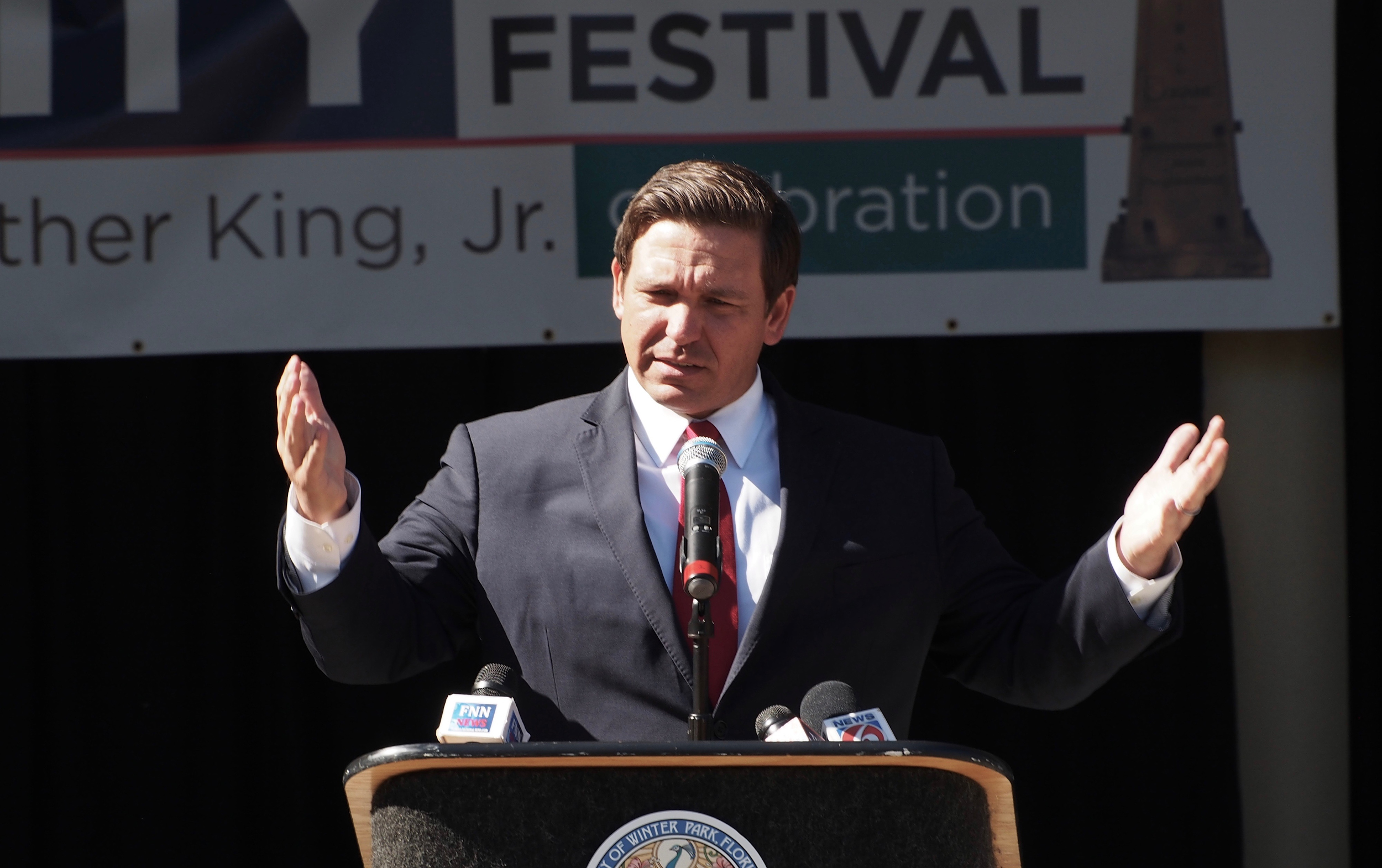 "There's no free pass to engage in commercial discrimination against the state of Israel."
Gov. Ron DeSantis ripped Airbnb's policy toward rentals in Israel's West Bank territory Tuesday leading the State Board of Administration to sanction the company amid charges it participates in the international Boycott, Divestment, Sanctions movement widely seen as anti-Semitic in origin and backing.
The action, making the vacation home rentals marketing company the first American firm on Florida's anti-BDS "scrutinized" list, is largely symbolic for now, but DeSantis and a representative of Israel both expressed hope that it would lead to further sanctions by other states and countries.
The three-member board voted unanimously on Attorney General Ashley Moody's motion to add Airbnb to the now seven-company blacklist because in November the corporation announced a new policy that refuses to accept listings from vacation rental homes owned by Israeli Jews in the settlements of Judea and Samaria. Chief Financial Officer Jimmy Patronis joined DeSantis and Moody. There was no debate.
Airbnb has vehemently insisted its policy only recognizes the disputed nature of the West Bank and is not a part of the BDS movement.
The company argues that while it has a robust business in and with Israel, its West Bank policy is a separate matter.
However, no one from Airbnb spoke at Tuesday's meeting, leaving the case to be made by Florida Chief Investment Officer Ash Williams, DeSantis, and Guy Gilady, deputy consul general in the state's Israeli consulate.
Afterward, the company released a statement:
"We unequivocally reject and oppose the BDS movement and are disappointed by today's vote. There are over 20,000 Airbnb hosts in Israel who open their doors and showcase the best of Israeli hospitality to guests from around the world, which boosts local families, businesses and communities. Our community of hosts in Israel has already welcomed more than 1 million guests and we will continue to invest in Israel."
Williams, DeSantis and Gilady each condemned Airbnb's policy.
Gilady, speaking on behalf of the state of Israel, called the company's policy "shameful," and its statements of defense as "a smokescreen."
He also expressed appreciation for the board's action: "The state of Israel regards Airbnb's policy as pure discrimination against Jews," pledging that the Israeli government will take action against Airbnb.
DeSantis spoke long and passionately about his admiration and appreciation for Israel as a unique and important Middle East democracy as well as a strong ally that shares America's values.
The Governor offered some praise of Airbnb as a company that does good things, but Florida must not forgive it for its West Bank policy, which accepts listings on its website from non-Jewish property owners in the West Bank, but not from Jewish property owners.
"It's really a problematic policy when you drill down into it," DeSantis said. "Here if you are an Israeli Jew you get treated worse. That is wrong. I think the thing too is, Florida law is triggered irrespective of whether a company explicitly says it supports BDS.
"Obviously, if you do that, that is a problem. But Airbnb said we don't support the BDS movement. But really the statute is triggered by the conduct and what the company actually does. And in this case, clearly, the statute is triggered," DeSantis added. "And I also think the statute doesn't make a distinction between companies that have been successful or done good things or whatever. There's no free pass to engage in commercial discrimination against the state of Israel."
Though an Airbnb representative was said to be present at the meeting, no one from the company spoke.
Airbnb General Counsel Robert Chestnut met with state officials Monday. And two weeks ago, he sent a lengthy defense letter to the state declaring Airbnb had "unequivocally rejected the BDS movement."
DeSantis railed against the company's policy as "so unnecessary," charging that Airbnb made a mistake and has been very stubborn, tying itself "up in knots."
"I don't think Florida is the only state that is going to take this stand," he said. "I think you're going to see it throughout the country, and I think it's something that is unfortunately happening. I don't think it is necessary. But here we are, given the choices that Airbnb made."
Practically speaking, Florida's sanctioning of Airbnb as a "scrutinized" company is symbolic, at least for now.
Scrutinized companies are corporations in which Florida forbids investment; San Francisco-based Airbnb is privately held.
That being the case, Florida investments are not possible anyway, though DeSantis suggested that the company may be intending to go public.
Still, Florida is one of Airbnb's biggest markets in the world, and a state sanction can have reverberations in the business sector that is facing tough competition. Rivals include similar internet platforms for vacation rental homes, notably HomeAway and its affiliated companies and brands VRBO and VacationRentals.com.