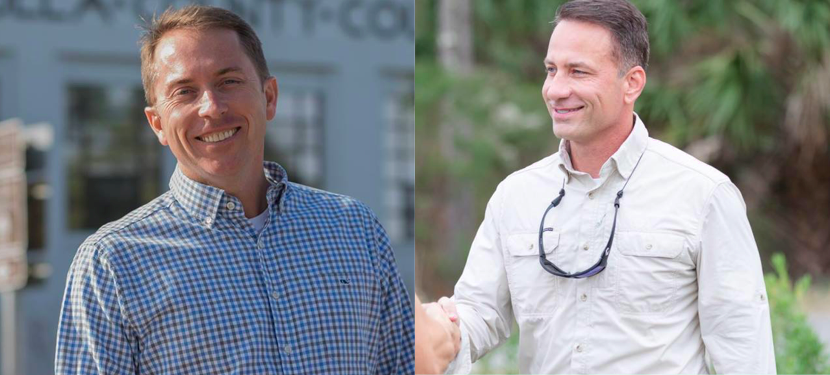 Mike Watkins thinks fundraising is getting in the way of Hurricane Michael relief.
One candidate's ties to a nonprofit charged with administering BP settlement money is causing a stir in the race to fill House District 7. 
Republican Mike Watkins recently called on his likely primary opponent Jason Shoaf to leave his board spot at Triumph Gulf Coast, Inc.
Watkins suggested Shoaf is using his connection to the panel — members of which include big names like former House Speaker Allan Bense and former Senate President Don Gaetz — to raise money for the special primary and general elections, set for April 9 and June 18, respectively.
"With the exception of hosting fundraisers with other Triumph board members, my opponent has remained silent and failed to provide the relief our communities deserve," Watkins, the CEO of child-welfare group Big Bend Community Based Care, wrote in a recent Facebook post.
"We shouldn't have to wait to put dollars and resources directly into our community to accelerate the recovery. Politicians like Jason Shoaf have waited too long when so many are hurting."
Triumph, a nonprofit corporation, administers 75 percent of funds recovered by a state settlement following the 2010 Deepwater Horizon oil spill. State leaders are eyeing the pot of money held by the nonprofit for Hurricane Michael relief efforts, and the board will consider creating a "Triumph Hurricane Michael Recovery Fund" at its Feb. 8 meeting.
In a text message, Watkins told Florida Politics that he's calling on Shoaf to resign because Shoaf "has turned Triumph from a board that should be rebuilding the Panhandle to a personal fundraising ATM."
Shoaf has fundraised alongside fellow Triumph Board members like Gaetz and Pam Dana.
Shoaf, in response, noted his connection to the district. He lives in Port St. Joe and rode out the storm on Oct. 10.
"Members of my family, along with so many others, lost their homes, lost everything," Shoaf said. "North Florida families can count on me to make sure we get every dollar, every volunteer, every ounce of support we need to rebuild stronger and better than ever — because this is personal to me."
Shoaf's campaign was more frank.  
"This is a shameless political stunt," said Amanda Bevis, Shoaf's spokesperson. "Mike Watkins is capitalizing on a natural disaster that destroyed homes, devastated communities and tore apart families, just to further his own political career."
Ryan Terrell, the only Democrat so far lined up to compete for HD 7, said he thinks Shoaf's spot on the board is a positive for constituents in HD 7.
"I don't think [Shoaf] should resign because I think it's a benefit for us to have a voice on that board in the region," Terrell said. 
Watkins' affront follows contentious times in the race to replace former state Rep. Halsey Beshears. A physical altercation reportedly almost broke out between Watkins and Shoaf at last week's Wakulla Republican Women's Club State of the Union Ball.
Watkins has endured criticism from Don Gaetz's son, U.S. Rep. Matt Gaetz, a powerful Florida Republican with a massive national profile who is supporting Shoaf. 
Asked recently about Matt Gaetz wading into the race, Watkins said Gaetz represents areas further West along the Panhandle. Endorsements from outside HD 7 "are not relevant to District 7" Watkins said.
This story was updated to more accurately reflect Watkins' remarks about endorsements from outside the district.