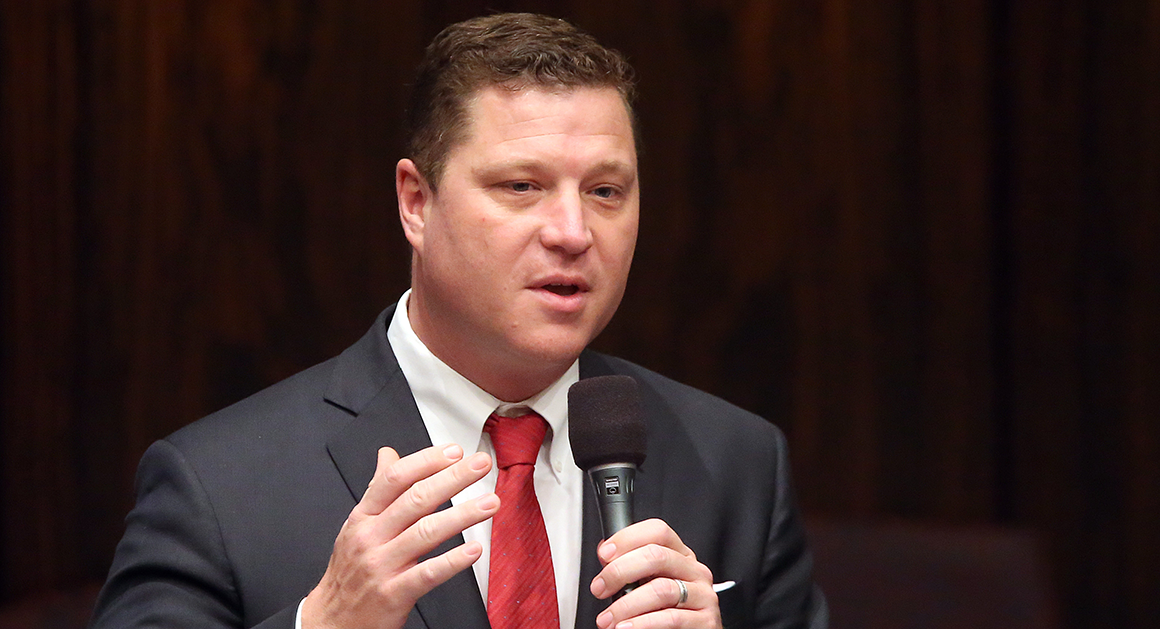 A criminal justice overhaul is ready for lawmakers to review.
State Sen. Jeff Brandes on Thursday filed the Florida First Step Act, named and modeled after a landmark criminal justice reform package recently signed into law by President Donald Trump.
Brandes' bill (SB 642) addresses the sentencing of criminals and focuses on re-entry services in an attempt to reduce crime and save money.
It also provides cost-cutting changes to probation services and requires prisoners to be kept within 150 miles of their primary residence "unless the safety of department employees or inmates requires other placement."
If they become law, the changes would create "a more efficient, effective criminal justice system," Brandes said.
The St. Petersburg Republican called the legislation "less controversial" than reform attempts from the past.
"It should be fairly easy for the members of the Legislature to digest and to support," Brandes said, noting that other — and perhaps less agreeable — criminal justice measures may be left isolated for consideration.
Among the Florida First Step Act's language is a provision that would allow judges to depart from the mandatory minimum when sentencing certain drug offenders.
Brandes said the language gives judges a "safety valve" when considering certain cases, like for nonviolent "traffickers" who are not involved in a continuing criminal enterprise.
"If you're caught with a certain amount of pills, you're considered a trafficker," Brandes said.
The current law, he added, doesn't "care whether you're a drug addict, a drug mule or the kingpin of a drug organization."
Greg Newburn, the Florida director for FAMM, a national organization focused on sentencing and other areas of criminal justice reform, suggested the judicial discretion change in the Florida First Step Act could free up space in prisons.
"Like its federal counterpart signed by President Trump last month, the Florida First Step Act will allow courts to hold low-level drug offenders accountable and prioritize prison space for dangerous offenders," Newburn said.
With respect to re-entry, the bill focuses on creating more opportunities for the imprisoned.
As Skylar Zander, director for Americans for Prosperity-Florida (among a number of conservative-minded organizations backing the bill), puts it: "Nearly every person who walks into a state prison will one day walk out."
And having a felony record, Brandes said, often precludes former prisoners from getting a job. That's why part of the legislation would allow the Department of Corrections to create a "Prison Entrepreneurship Program." Inmates who participate in the program or complete a high-school diploma equivalency or vocational track would be eligible to cut their time served by 60 days.
The bill also would create a "release orientation program" that would connect exiting prisoners with community resources.
Brandes called the first three days after release "pretty telling" when it comes to recidivism.
"Most of the individuals today are released with $50 and a bus pass," Brandes said. "If they have no place to go they'll be homeless within 72 hours."
The bill also provides for low-risk offenders to be eligible for "administrative probation," which would cut costs, Brandes said.
Each judicial circuit, should the bill become law, also would have to establish "alternative sanctioning" for certain former prisoners who violate probation. 
Some members of the Legislature already have weighed in on the legislation.
State Sen. Joe Gruters, who was recently elected chair for the Republican Party of Florida, will co-sponsor the Florida First Step Act. Republican state Rep. Byron Donalds is expected to file similar legislation in the House.
Chelsea Murphy, state director for Right on Crime, suggested there's political appetite for the changes.
"Poll after poll shows Florida voters are ready to get smart on crime," Murphy said. "We'd get better public safety if we reserve prison for people we're afraid of."
Notably, the Florida First Step Act excludes some other criminal justice reform bills currently in the Legislature.
For example, a separate bill authored by Brandes would raise the felony-theft threshold to $1,500.
Brandes said that bill deserves standalone debate but didn't rule out the possibility that other measures could be tacked onto the larger reform package during Session.