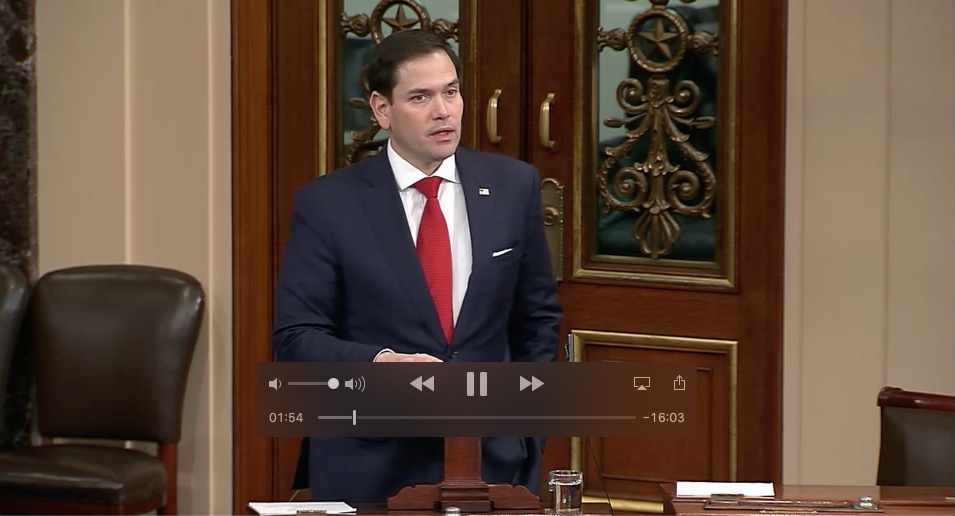 "We are who they want to strike at," Rubio said of ISIS.
In an 18-minute speech on the U.S. Senate floor on Thursday, Florida's senior U.S. Sen. Marco Rubio blasted President Donald Trump's plans to withdraw from Syria and Afghanistan, saying,  "This is a very dangerous situation. That's why this is a bad idea."
"If the United States and the anti-ISIS coalition is not in Syria and operating until ISIS is completely wiped out, there will be no sustained pressure on ISIS or on Al-Qaeda. and they will both grow back stronger and they will have the capability to plot against the homeland and American interests around the world. And that is something we cannot allow to happen," Rubio said. "We cannot have that happen."
Rubio's comments came in advance of the U.S. Senate's 68-23 bipartisan vote on an amendment denouncing Trump's announced plans to withdraw from the conflicts in Syria and Afghanistan.
Rubio, a member of both the Senate Committee on Foreign Relations and the Senate Select Committee on Intelligence, led the charge to support that amendment, with a lengthy speech warning against ISIS's continued presence and activity, and the futility of leaving the conflicts to Russia, Turkey, and the growing power of Iran. He also warned against any further withdrawal from Iraq.
His comments do not reflect a new position. Rubio has opposed Trump's declared plans to withdraw since they were announced in December, and on Thursday he said he had expressed his dismay directly o Trump.
To the Senate, Rubio contended that ISIS cannot be defeated by air power alone without special forces troops on the ground because it has become an insurgency, where its fighters are bakers, accountants and merchants by day and bloody fighters by night.
He also dismissed assumptions that America's allies in Syria, the Syrian Democratic Forces, the Kurds, Turkey, Russia and others can or will keep ISIS in check because they either are unable or uninterested in doing so without U.S. support and pressure. He also argued that a U.S. withdrawal would be a big win for Iran and its Hezbollah militias, ceding to them operating space in southern Syria from which to target Israel.
"This is not other people's wars. This is ours. These people, who are going to operate in these safe havens and Iran, we are their target," he said. "We are who they want to strike at. And if you're not in Afghanistan and you're not in Iraq and you're not in Syria, then where exactly are we going to conduct operations against terrorism? From where exactly are we going to be postured to defend ourselves if Iran decides to strike our other military facilities in the region? The answer is we won't have any place to do that from, we won't.
"And we can ignore ISIS and we can ignore Al Qaeda and we can ignore Iran, but they will not ignore us. We can decide not to go after them, but they will come after us. And I think it's a grave mistake because if we allow Al Qaeda and ISIS or both to have a resurgence, they will attack the United States of America," Rubio added. "They will attack our allies and our interests around the world, and they will try and they will plot to attack us here at home."