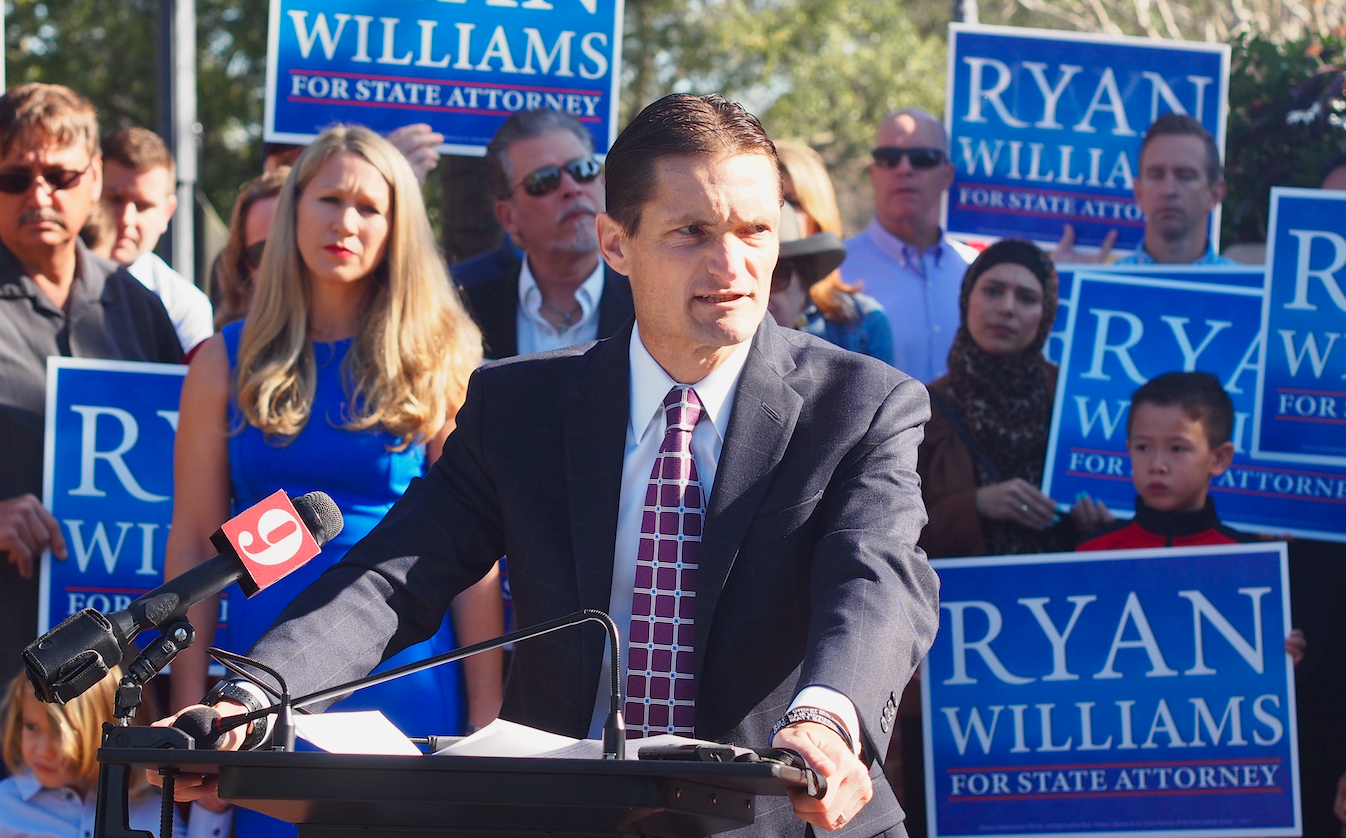 Ryan Williams charged State Attorney Aramis Ayala with politics and ego.
Ryan Williams says his commitment to justice is renewed early every single morning when he peeks in on his sleeping children and thinks about every child victim in every case he's ever prosecuted.
And his anger toward Orlando's State Attorney Aramis Ayala is renewed every time he recalls how his former boss surprised and disappointed him when she announced her office would no longer pursue death penalties in capital murder cases, during a press conference in March, 2017.
On Tuesday Williams, a longtime assistant state attorney in Florida's 9th and 5th Judicial Circuits kicked off his 2020 campaign to be elected state attorney in the 9th Judicial Circuit, presumably taking on his former boss there, Ayala.
In his first speech as a candidate, during his campaign kickoff in Winter Garden, he blasted her, charging that she was playing politician, not prosecutor, and that she had used victims' families as pawns "in pursuit of political fame" and publicity.
"Justice depends on the rule of law. Justice for victims and the accused requires a willingness to follow the law free from prejudice, politics and ego. And that is not happening in our community right now," Williams said.
Williams is running on more than 11 years experience as a prosecutor, much of it with high-profile cases involving serial rapists, drug traffickers, corrupt former police chiefs, police officers accused of excessive use of force, including acting as co-counsel during the successful murder prosecution of Bessman Okafor. For the past two years Williams has been handling homicide cases that Gov. Rick Scott moved from the 9th Judicial Circuit to the 5th Judicial Circuit.
When Scott stripped those cases from Ayala in 2017 after her announced no death penalty policy, Williams went with the cases. His new boss, 5th Judicial Circuit State Attorney Brad King, joined Williams at his campaign kickoff and called him "one of the best prosecutors I have ever worked with."
"The timing of this campaign is largely a function of State Attorney Aramis Ayala's refusal to do her job, and the damage it is doing to the office I love and to law enforcement more broadly," Williams said. "Ms. Ayala's tenure as state attorney is the primary and best example of what happens when a prosecutor cloaked with enormous authority, views victims and the law as secondary concerns to personal priorities. She stands to in contrast to the character and honesty of many of the women who work for her."
While he expressed firm commitment to capital punishment because it is the law, Williams also pledged to support diversion programs for low-level crimes by first offenders, and to assure that drug addicts get treatment and assistance, and said he minimum mandatory sentences for drug abusers "do not serve the community."
"I do and will support smart criminal justice reform that eliminates racial disparities in sentencing," Williams added.
"But," he added, "The office I lead will have no tolerance for violent crime. Every person in our community knows that there are dangerous people walking among us."
While Ayala ran for the office in 2016 on a platform of criminal justice reform and has announced programs addressing several of the reforms Williams urged. But he said she has not only not delivered but believes many attorneys would say things have gotten worse.
Born in Winter Park, Williams grew up in Clermont, then got a bachelor's degree from Rollins College and a law degree from University Of North Carolina School of Law, where he served as editor of the law review. He and his wife Stacey Williams, a teacher, have two children, Lincoln, 4, and Kennedy, 6.
Williams, 38, also has the curious background of being the son of a convicted felon. In 2009 his father Gary Williams was sentenced to prison for grand theft over $100,000 for an apparent embezzlement scheme. He remains in prison, and likely will beyond the November, 2020, election.
"When my father's crimes were discovered, my family was destroyed," Williams said. "So unlike most prosecutors, I know what it's like to be on the other side of the courtroom, the side where defendants and their families sit. I understand the shame that a conviction brings, even for those close to a defendant who did nothing wrong. And I can tell you a trial never passes where I do not look at the defendants following the verdict and feel sympathy.