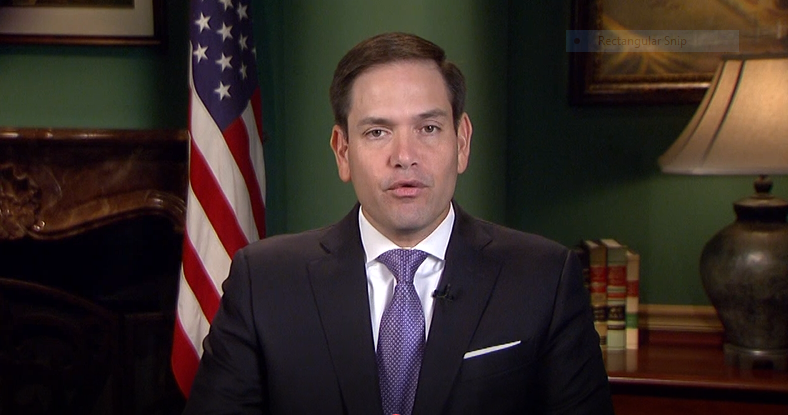 Earlier Rubio decried "false claims" by Senate colleagues but his measure passed 77-23.
U.S. Sen. Marco Rubio's Middle East security bill including provisions to make it easier for states and cities to blacklist companies boycotting Israel got broad, bipartisan approval in the U.S. Senate Tuesday.
The Senate approved Senate Bill 1, the  Strengthening America's Security in the Middle East Act of 2019, by a 77-23 vote Tuesday, sending it to the House of Representatives, where it's expected to reveal the divides among Democrats, some of whom have shown discomfort with American rebukes of the international Boycott, Divestment and Sanction movement that has been targeting Israel.
SB 1 packages several bipartisan bills from the last Congress including authorizing U.S. security assistance to Israel, reauthorizing the U.S.-Jordon Defense Cooperation Act of 2015, and imposing new sanctions against Syrian President Bashar al-Assad's regime and its supporters.
But the political linchpin has been the provisions that declare the BDS movement is discriminatory economy warfare against Israel and grant authority to state and local governments to fashion their own sanctions against nations, companies and individuals participating in the movement. Just last week, Florida sanctioned Airbnb for a policy that Gov. Ron DeSantis declared to be a BDS policy. Several cities such as Miami, Bal Harbour Village, and Surfside also have issued various sanctions.
Rubio and Florida's then-U.S. Sen. Bill Nelson, a Democrat, cosponsored a similar stand-alone measure last year but it died.
Earlier Tuesday Rubio published a column in the New York Times decrying what he said were lies about the anti-BDS measures, and about the BDS movement, and said some of his Senate colleagues had "echoed false claims."
Now it's the House's turn.
"Despite the growing influence of pro-BDS voices on the left, a bipartisan supermajority in the Senate voted overwhelmingly to pass the pro-Israel Combating BDS Act and other bipartisan measures included in the Strengthening America' Security in the Middle East Act," Rubio stated in a news release Tuesday. "This bill's security cooperation provisions will boost America's important alliances with Israel and Jordan amid the Middle East's growing dangers from the Iranian regime and the many terrorist groups who operate in the region. This bill will also hold Syria's Assad regime and its supporters accountable for their egregious human rights and crimes against humanity. I urge Speaker [Nancy] Pelosi to quickly take up and pass this important bill in the House of Representatives so that the President can sign it into law."